Previous:
Blog May 2004
Next: Blog July 2004
I've been without web access at home for most of the last month, so this is a bit sparse!
29th June 2004
Been at
Glastonbury Festival
(working) for a week. Well, I didn't actually work for the whole week, just 24 hours of it, in the free property lockups...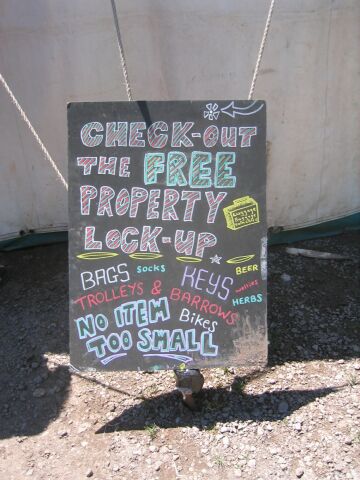 Very nice, quite quiet this year. "Lost the edge" I heard a few people say, no sense that you'd be mugged for your mobile phone - not even any completely pissed up lads. Some lovely stuff up in the green fields, but a lot of punters delayed arriving due to the weather. I even met one guy who turned up just to see Paul
Mc Cartney
. I tried to get the audience to shout "Frog Chorus" after each song, but although a few too it up, this experiment in memential art (

failed. Best thing was the Insect Circus Museum, a converted beetlebox with posters, pictures, postcards and performances from the old-time insect circuses. An amazing collection of memorabilia from a time almost forgotten....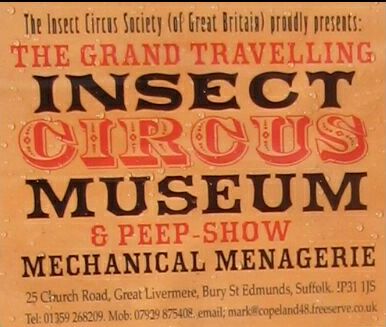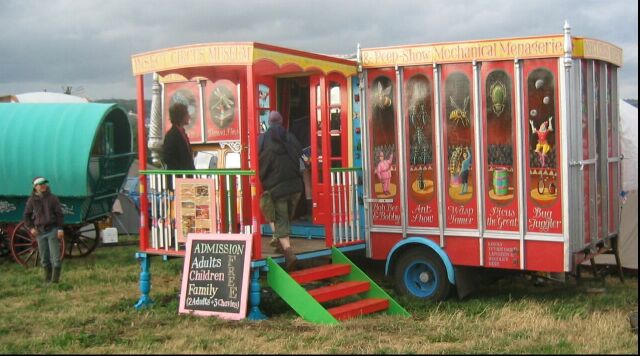 "In things" this year were dressing up as animals...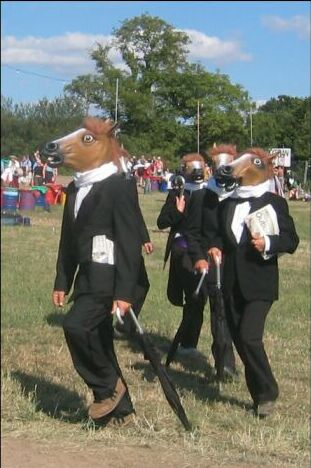 or birds...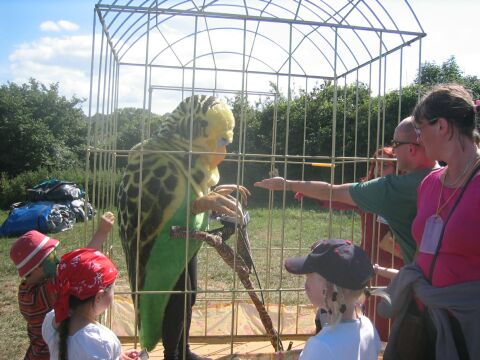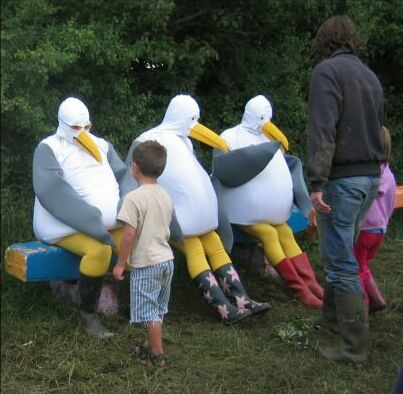 It was also slightly muddy...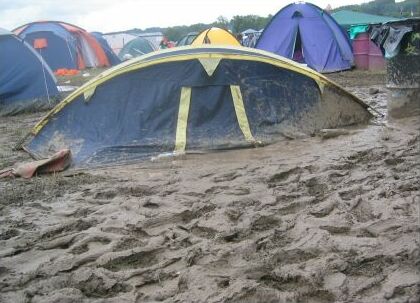 ...but the toilets reflected blue skies...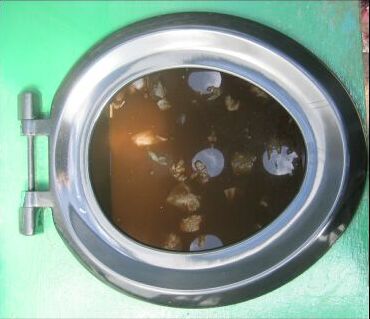 ...and the sun did come out after the rain...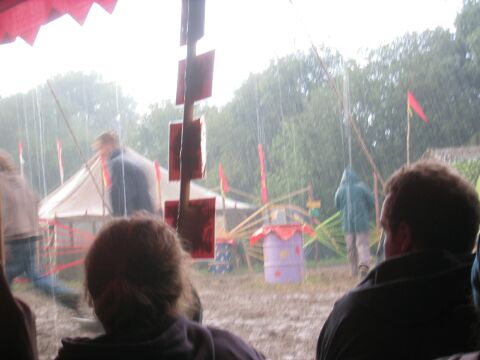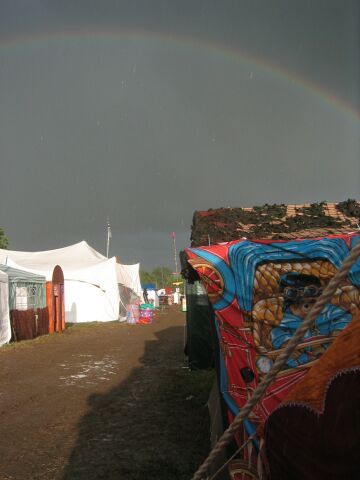 Also updated my
Birmingham Bloggers
page to include
http://sixmonths.blogs.com/
- a blog by Phil, who's taken six months off work to tour round stone circles! What a great idea

17th June 2004
New Scientist
finally print the article describing my vist (with others) to see the Nanniebot writer and chat to his bot. More in
My Meeting With A Nanniebot Writer
.
5th June 2004
Super Night Shot - Gob Squad
A fantastic film, made by 4 performers, live on the streets of West Bromwich in the hour before it was show. Best moments:
2 retired people talk about relationships and kiss for the camera.
3 Women on a night out tell the hero their problem - "They only get 2 orgasms a night".
Synchronised musical moments, with camera slowly rotating
Looking back to see the Gob Squad watching their work for the 1st time, holding up their hands to indicate that their soundtrack was coming to a good bit.
4th June 2004
Saw Guillermo Gomez-Pena at the old X-Ray factory (scene of the previous
Radioactive
exhibition) More than 50 people waited outside to be let in. First, we were told that
There was nudity involved
We were free to leave at any time
No photographs
A "caller" with a clipboard came out and asked all "people newly arrived in England with legal immigration papers" to enter, next to be called were all "black" people, then "Asians", "women and gay men" and finally all "men and people of white or other origins". We entered into a room, a body lay on a table, covered in a sheet - the St George flag, the crowd gathered around, at a slight distance, it was hard to see. A video projected onto the wall in one corner, while a wall with stained glass was behind the head end of the table. After a few minutes, a man wearing a "american indian" head-dress, beads in a similar style, a black tutu and red shoes appeared. He spoke, loudly and clearly, in a language which I couldn't understand but which appeared to be native american. Then in English. He explained that tonight was a community event, we should move about, talk to our friends. This was a collaboration between two artists, one of Mexican American / other roots, and one Japanese/European (I hope I got that right!), and a acupuncturist. He lifted the bottom of the flag, to reveal the feet and calves of the body underneath. The acupuncturist readied needles, each tipped with a flag. First to be inserted were flags of the United States of America, up the leg, flag being raised, until they reached the lower torso. Then flags of the UK, down the right leg to the foot. The crowd were encouraged to move around so everyone could see what was happening. The upper body was covered too, with a few Israeli flags added for good measure. The woman shivered and heaters were brought (not part of the performance) to keep her warm. Now the man in the head-dress started to speak. He spoke about the relationship between the body and politics, opression, borders. He spoke about the relationship between body and language. Occasionally words of the unknown tongue would be chanted. The evening continued, with Maruichi(?) style music, then speech, then music, then speech. He spoke in poems, "imagine a language consisting of a mixture of english, spanish, french, latin, chipotas(?) and (something else)". He spoke, understandably in his "new esperanto". "I always suspected that the English understand more Spanish than they admit", he spoke lines in Spanish "neuvo york est paris" "argentinio est england" which we repeated after him. He spoke about the Spanish speaking underclass in the USA, about "mulattos" and people of four or more racial origins, in poetry again, always "We are ?". About recent wars, "We are the thinking people", "We are?", "We are?" in a hypnotic, ranting style reminiscent of William Boroughs. He spoke of imperialism, of a world dominated by the rich west, and invited members of the audience to free the body before us of it's flags. He picked a couple of people, who removed the first few flags, a slow but steady stream of volunteers came to remove the rest. When it was done, he spoke briefly, we clapped, we left. Why is this a long entry? Because I wrote it soon after the event. That's how it goes!
Previous:
Blog May 2004
Next: Blog July 2004
---
See Also:
Web Changes
for other recent updates,
All Blog Pages
for previous blogs This is my blogchalk: United Kingdom, West Midlands, Birmingham, Moseley