Previous:
Blog June 2005
Next: Blog August 2005
One Year Back: Blog July 2004
Sat 30 Jul 2005
Freezepop - Stakeout
I linked to some Freezepop mp3s
back on the 15th
, now I've downloaded the flash video to Stakeout from
http://www.freezepop.com/fun/videos.html
It's a really catch song, bouncy, happy and the video is fun and funny. Check it out and you'll find something which makes you happy

Fri 29 Jul 2005
Mayfly
This performance in a 2 person tent took place in Highbury Park in Kings Heath,
Birmingham
. It traces the life of a mayfly from its watery beginings through birth into its adult form, mating flight and finally death. It consists of a series of lighting effects created from the inside of the tent, accompanied by wonderfully spooky music which reminded me of some sci-fi insect movie! In keeping with the mayfly's short (adult) lifespan, the performance is only 5 minutes so if you get the chance to see it, make sure you get there in time!
Overheard conversations
Overheard mobile phone call at the 50 bus stop in the city centre "but mermaids don't lay eggs". Sure it made sense to someone.
Posted on the move at 17:59:28
Thu 28 Jul 2005
Moseley Tornado
Moseley village was hit by a tornado at about 14:35 today. At least a dozen large trees were felled, and the Wake Green road blocked. A number of cars were hit by falling trees and branches, roofs damaged and chimney stacks destroyed. The entrance to my house is completely blocked by tree trunks and branches.
More pictures on my Moseley Tornado
page.
Posted on the move at 16:04:48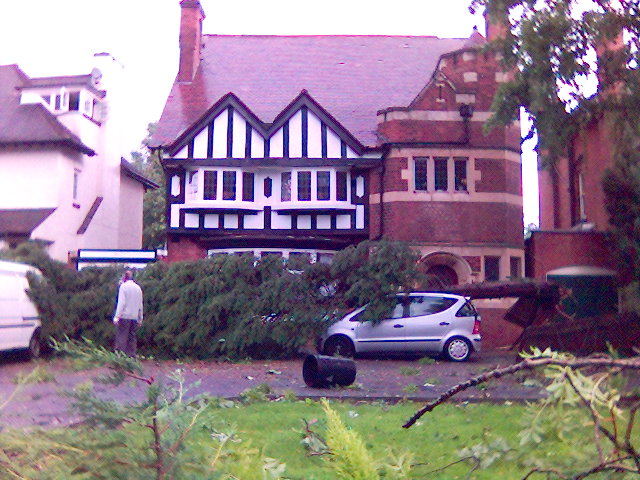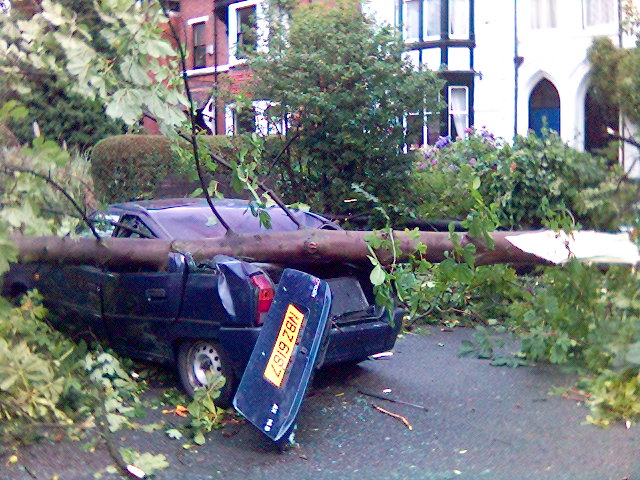 Tue 26 Jul 2005
BUGA 2005
Munich is host to
BUGA 2005
, the national garden festival. For 14euros you get a day pass, and there's definately a day full of things to see. Almost all of the information displays are auf deutsch though there is a selection of audioguides in english. A giant nest and eggs by Nils Udo was a suprise. I knew he was exhibiting in a gallery in the city centre, but I didn't expect to run into his work by accident! The site is big, with a cable car to take you from one side to another (7 euros return). The rotary club have a garden showing the similarity of natural and artificial forms, including nature inspired technology such as
Lotus Effect
tiles. There's also a great spray garden with tiles, reminiscent of Pompei. There's more pictures on my
BUGA 2005
page.
Nils-Udo egg:

A perfect rose:

Wind energy vision:

Sun 24 Jul 2005
Am Wasser
There's a big exhibition happening in Munich at the moment. "am wasser". It features artists and groups from many countries including the Romantic Geographical Society from Finland (which was discussed at the artists talk given by Oliver and Tellavo at the
Springhill Institute
back in May). Here the society are displaying the flags of imaginary countries, an (incomplete) catalogue of wild places where they have drunk and also building a boat. Other work on display includes an artificial waterfall consisting of transparent, looped pipes through which was piped a glowing liquid illuminated by UV light; a village of water coolers, each in their own shelter; a series of outline images with text showing the evolution of humans from a sponge; a freezer-full of found objects, each frozen into a neat block of ice - a doll, a cigarette stamp, some cherries etc.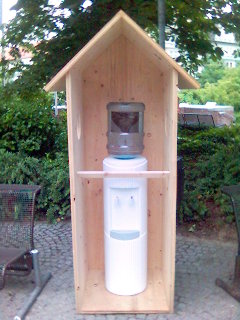 Poster for "am wasser" exhibition:

8000 Year Old Ice. Melting.:

Freezer-full of found objects:

Waterfall of light:

Water drop containers:

Message to the sky:

Altar with Message to the Sky:

Flags of imaginary nations:

Naive Water:

Fri 22 Jul 2005
Lenbachhaus, Munich
This gallery features interesting bright and lively pictures from Franz von Stuck.
Salome dancing
caught my eye. There are also several rooms of Kandinsky and contempories.
Die nacht
, and
the bride
I found particularly interesting. Also from 1914,
apocalypse reiter ii
. Plenty of work by Paul klee too. Downstairs there is a selection of comtemporary art, including a mirror ball installation in which one circles another in a satellite relationship, whilst the whole thing rotates on a large arm. The result is a dizzying display of spots of light which make the room spin. There are some other mirror pictures in the gallery, consisting of subtly angles strips which produce wierd effects as you walk past. The cafe features nice cakes, letters overlayed in neon which read "TRA" (or it is "RAT"), plus a picture and vents by Julian Opie.
Lenbachhaus, Munich:

Weinkehr Restaurant
Walking between the Lenbachhaus and the Siemens museum, I came across this restaurant. For some reason, I found it amusing...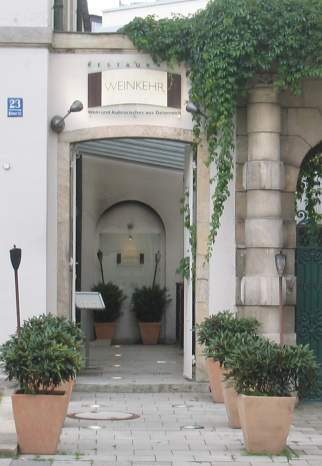 Siemens Museum, Munich
The Siemens museum is a free technology museum with lots of buttons to press and levers to move. It also has a computer / camera combo which will take 3D pictures of your face and (allegedly) email them to you, though I didn't receive mine. The top exibition floor had a display of "mobile phones through the ages" including "the worlds smallest" handy, and some of the biggest early mobile's I've seen. The basement has a "multimedia show" which is pretty, but basically a collection of slide projections with a heavy Siemens bias. Well worth a visit if you're into technology. I also spotted this
Microsoft Crash
on one of the display screens...
MS Crash in Siemens Museum:

MS Crash in Siemens Museum (closeup):

Wed 20 Jul 2005
Bergman Horror Show
The Springhill Institute
is currently hosting two Swedish artists who perform a puppet theatre based on the films of Ingmar Bergman. The performance for 25 people took place at UCE's beautiful Margaret St building. Accompanied by dialog and sounds taken from the films, a wonderful array of cut out characters paraded in front of us. Best bit: the rain special effects.
Tue 19 Jul 2005
Seven Inch Cinema 2nd Birthday
It's
Seven Inch Cinema
's 2nd Birthday, and to celebrate they had a bumper crop of films at
The Rainbow
. It was good to see "I am a Boyband" again, a great film I saw at
Vivid
in mid June
, plus a great candadian musical with people playing dogs, and a feel good animation about crabs which cannot turn round! Video Bingo had everyone riveted to the screen, as 10 second films whizzed past, each containing a number. The audience were issued with bingo cards, with prizes ranging from whistling straws to plastic jewerly. The hit of the evening had to be
the Destroyers
, a 14(ish) piece gypsy/klezma band from Moseley who were full of energy and inspired some wild dancing. I also bumped into Rob Sharl who promised to put some of his pictures of the night up on Flickr. I guess they'll be appearing here -
http://www.flickr.com/photos/sharl/archives/date-posted/2005/07/calendar/
(p.s. date/time below will be wrong due to website probs).
Posted on the move at 16:28:39
Fri 15 Jul 2005
strangeTime
1st gig for this Birmingham based band, and it won't be the last. They've got a great look in a gothish style, and exceptionally strong lyrics ranging from a dark "you dumped me" song (lyrics-"Dead flowers on a buriel plot.") to a great one about an ex- "I hate your pub, i hate your mates. I hate your music, I hate our dates"! Find
Strange Time
gigs and listen to tracks at:
http://www.purevolume.com/strangetime
Posted on the move at 21:16:22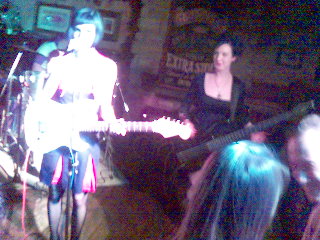 Fri 15 Jul 2005
Good Music
Pete Radio 07 (
http://peteashton.com/radio/pete_radio/
) turned me on to a good band this this week. Freezepop (
Freezepop website
) have a great poppy/electro sound with vocodered voices try "Here Comes a Special Boy" (
mp3
), and "Duct Tape my Heart" (
mp3
) for starters.
Who's behind it?
Well, the topic de jour is the London bombings, which I've avoided for more that a week, but I've just heard on the news that Charles Clark (home office minister) is sure that a link to "Al Qaeda" (or is it "al Qaida" - see
http://www.satirewire.com/briefs/qaida_qaeda.shtml
) will be found. I got this last Friday, and it seems a strange co-incidence, however it's nowhere to be found in google... Take a look at the places which were bombed: Aldgate, Kings Cross, Edgware Rd and Tavistock Square.
Now look at the first 2 letters of each
Al
dgate,
Ki
ngs Cross,
Ed
gware Rd and
Ta
vistock Square.
Put them together and what do you get? Al Ki Ed Ta, Alkiedta - sounds familiar? This leaves us with only one possible conclusion: the mastermind was Dan Brown of Da Vinci Code fame. The British: Tea and humour. That's the answer.
Sat 9 Jul 2005
Khonner kicked off Supersonic '05, and after a few technical problems, they got down to a quite mixed set. Some guitar solo, some computer solo, even some smoke from their equipment.
Khonner:

Next for me was Sol_Dat in the theatre space.
Sol_Dat:

Then David Cunningham took the stage, with his incredible looped guitar. Playing simply, generally one note at a time, but catching and looping them on his laptop to build up a beautiful sound. At the end of his set, he put down the guitar, and left the stage, while the loops continued into the setup of Martin Creed and band. Martin Creed's simple rock music with minimalist lyrics was wonderful. Catchy but arty. First up was "1,2,3. 1,2,3. 1,2" etc. other numbers included "aaaaa,bbbbb,ccccc....zzzzz" and a count from 1 to 100, except he messed up and went from 89 to 100 which got a good laugh from the audience.
Martin Creed + Band:

Supersonic kept getting better, with Barbara Morgenstern and Robert Lippok performing a stunning set. Really together, with an interlude of repartee on the subject of east and west germany, I've rarely seen any musician enjoying themselves so much as Barbara Morgenstern.
Barbara Morgenstern + Robert Lippok:

I'd heard "Noise Noise Allore!" last month as part of the
Fierce Festival
, but here they benefited from a better sound desk. Noise Noise Allore! is a good description of their sound and they've got about the weirdest sounding lead singer I've encountered, singing in a falsetto style, and looking a bit like an Oswald Mosley impersonator!
Noise Noise Allore!:

And finally, my expected highlight of the evening.
Brian Duffy + The Modified Toy Orchestra
. I've seen Brian performing with the toy orchestra several times before, the first time at
the MAC
remains "probably the loudest thing I have ever encountered.". However, I've never seen the orchestra with so many human participants, five in all. It was a storming set, with Brian doing some solo stuff first including telling us his joke about statisticians whilst the sound people sorted out their wiring! The theatre space was packed. I managed to sit on the stairs near the front, but many people were turned away. The band worked really well together, and as you can see from the photo below, they seemed to be having a good time.
Modified Toy Orchestra:

Now, all the sets had started very much on time, and so, when during their final number (a version of Kraftwerk's Pocket Calculator), a member of the Supersonic crew got up on stage an whispered to the band member on the far right, I (and many others in the audience) thought that they were being asked to leave the stage because they'd over run. But, it wasn't that simple. The whispered message passed along the line to Brian, who hit the master switch and cut all the sound. A mixture of clapping, cheering, boos and cries for more ensued, when the crew member announced that we were being asked to evacuate the building. Everyone was calm, and many sat down and waited for the queue for the exits to die down. Interestingly, we didn't use the emergency exits, despite the emergency situation. Listening to the radio on my phone, I quickly found out that the whole of
Birmingham
city centre had been evacuated, that cars weren't being allowed inside the inner ring road, and that, for us, the evening was over. See also: Dead Kenny's much more musically informed commentary:
http://www.parallaxview.nu/index.asp?2005_07_10_archive.txt
Fri 8 Jul 2005
Edinburgh Comedy Previews at the MAC
Two Edinburgh shows for 5 pounds is a bargain, and we certainly got our money's worth. 1st on was an Irish comedian, Caimh
Mc Donnell
, (who lives with fellow comic Gary Delaney in London), doing what's becoming known as "Powerpoint Comedy" (at least in my house) - using a series of computer driven slides as a background to the set. This is great in some ways, as it gives you the chance to suprise your audience visually, and show some funny pictures, but it does tie you to a particular sequence and makes it harder to ad-lib. These are previews, so what goes into the final show may vary - I'd add more slides to this one, and ensure the rhythm of them stays the same throughout the piece. Mark Watson has a great Welsh accent, and was very different to Caimh - much more of an off the cuff feel, with plenty of audience interaction, including handing out props. The show runs through his remaining life, from 25 to his life expectancy of 80ish. Every 10 minutes, an audience member had to ring a bell to signify the milestones. Great set, bizare supprise ending which left the audience reeling a bit!
Quiet times, Busy Brummies
Not blogged a lot recently, mainly because I stick to public events, and I haven't been to many since Glastonbury! Still, sure I'll go back to my busy life soon... Talking of busy lives, I've added busy brummie's blog to my list of
Birmingham Bloggers
. Here's to more posts about the busy world of
Birmingham
!
Sun 03 Jul 2005
Saw "The Chorus" (or is it "The Choir"), a French film at [[the MAC]. It's a feel-good movie about a music teacher in a residential school for "difficult" boys in the 1950's, and I could hear that it really grabbed many of the audience, but somehow it didn't affect me as much. Perhaps I was waiting for disaster to strike, not quite believing it could be so feel-good. Still, worth seeing.
Sat 02 Jul 2005
Misty's Big Adventure at Cotteridge Festival
Misty's
have played a regular spot at the Cotteridge Festival for the last few years, but this was the first time I've managed to catch them there. The festival was very well attended, with lots of "punters" as well as lots of stalls. The star of the show was Erotic Volvo, who only just survived being mobbed by small (and not so small) kids, as you can see below. At one point, one boy managed to briefly climb on his back and shouted "I've the king of hands!". Misty's are next scheduled to gig in Birmingham during September, so it'll be a Misty free summer for me, unless I make it to some out of town gig.
On Stage at Cotteridge Festival:

Erotic Volve Mobbed!:

"I'm the King of Hands":

Read about
previous Misty's Big Adventure Gigs
Vivid Sound Installation
Vivid
are presenting a very rapidly changing program at the moment. With a sound installation by Bill Fontana being the latest fare. Last Saturday, the 26th of June, the 16 bells of St Martin's played a specially composed piece, designed to be heard from points across Digbeth. The installation at Vivid consists of around a dozen speakers arranged around the room, each playing the sound at a slight delay, and so causing the source of the bells to appear to rotate. Apparently, new developments such as Selfridges and the Bullring are changing the soundscape of the city, blocking out, for example, the sound of the bells from large areas. Walking through
Digbeth
at the moment it slightly depressing, knowing that many of the building in one of the most characterful areas of the city are likely to be destroyed and replaced with bland office blocks in a 1990's style.
Posted on the move at 15:36:33
Previous:
Blog June 2005
Next: Blog August 2005
One Year Back: Blog July 2004
---
Contact me: Website (at)
Andy Pryke
.com, try use a subject which will get through my Spam Filter! See Also:
Web Changes
for other recent updates,
All Blog Pages
for previous blogs. You might also want to read other
Birmingham Bloggers
This is my blogchalk: United Kingdom, West Midlands, Birmingham, Moseley