Misty's Big Adventure - Past Gigs & Write ups
Misty's
are one of my favourite bands. Here's a list of previous gigs, intersperced with the occasional write up (I wouldn't call them reviews). You can find out more about Misty's in general on my
Misty's Big Adventure
page
September 2006
Sep 10 2006 - 9pm - Bestival, Isle Of Wight
August 2006
Aug 27 2006 - 8pm - Get Loaded @ Clapham Common, London Aug 26 2006 - 10pm - Huntspilton Festival, Nr Bath Aug 26 2006 - 6pm - Get Loaded, Cardiff Aug 19 2006 - 4pm - The Green Man Festival, Brecon Becons
July 2006
Jul 22 2006 - 6pm - Lovebox Weekender, London Jul 16 2006 - 6pm - Godiva Festival,, Coventry Jul 15 2006 - 8am??? - Larmer Tree Festival, Wiltshire Jul 2 2006 - 8pm - Cargo - All Dayer, London Jul 1 2006 - 4pm - Cotteridge Festival,
Birmingham
Jun 30 2006 - 8pm - Tapestry Festival, Wales
June 2006
June 30st - Tapestry Festival, Wales June 24nd - Oeorl Festival, Holland June 22nd - Holland, Tbc June 21st - Paradiso, Amsterdam June 8st - Spitz, London June 3rd - Open Ohr Festival, Germnay
March / April / May 2006 (Incomplete)
May 31th - Cologne, Germany (Tbc) May 20th - Pop Up Festival, Leipzig, Germnay May 19th - Komedia (Great Escape Festival), Brighton April 28 - Green Park Tavern, Bath April 27 - Jabez Cleg, Manchester April 23 - Dickens Inn, Middlesborough April 21 -
Dn R
Live (under the Boardwalk), Sheffield (was originally scheduled for the Grapes) Apr 11 2006 - Zodiac (With The Guillemots) , Oxford Apr 10 2006 - Audio (With The Guillemots) , Brighton Apr 8 2006 - Roadmenders (With The Guillemots) , Northampton Apr 4 2006 - Kings Tuts (With The Guillemots) , Glasgow Apr 3 2006 - Night And Day (With The Guillemots) , Manchester Apr 2 2006 - Red Rooms , Newcastle Apr 1 2006 - Cockpit (With The Guillemots) , Leeds Mar 29 2006 - Kings College (With The Guillemots) , London
Tue 28 Mar 2006 - The Courtesy Group, Misty's Big Adventure and The Guilemots - Glee Club, Birmingham
OK. 1st off, guess which band drew me to this gig at
The Glee Club
? Yep, of course, it was
Misty's
. The Glee "Main" room was packed. It's a seated venue, and it has (or claims to have) quite a strict door policy. Doors opened (to a queue) at 7.30, and if you hadn't picked up tickets for this sell out gig by 8.15, you're told that they will be released! Whether this happens or not I don't know. Anyway, everyone turned up pretty early, and the room was almost completely full by 8. The Courtesy Group came on in darkness, with strange single note sounding which I wasn't sure whether they were art-rock music or just a final few bits of tuning up. After a minute or two, the lead singer arrived and we were treated to a (very loud) sequence of poems and punky/rocky/art-rock songs. I liked the poetry and the performance. The lead singer and (new, 2nd gig) guitarist were both dressed in bright, highly patterned shirts and had the same hair cut, leading me to wonder if there was some sort of 2 for one mania going on. I was glad to see the group, and would definately see them again, if only to help me make more sense of the lyrics and poems.
Misty's
were next on, after a short interval, but for a while, it looked as if the sound desk wasn't going to switch off the reggee tracks they were playing, and the band had to stand around on stage waiting. After this, and the ear-blistering volume of the 1st band, I started to wonder about the sound desk, but no, overall we got an excellent sound. Gareth's vocals were good and clear, all the instruments seemed well balanced, and the additional vocals came through very well - except in one or two places (
Bland Age
never seems to get enough volume for these). My friend suggested seperate mikes for vocals and brass, maybe that's an idea, although I imagine it's pretty complicated to manage already! I've never seem Misty's play a gig where the audience has to remain seated, and rarely seen them play to audiences where the majority of people are seeing them for the first time. I had spotted a couple of people wearing Misty's badges on my way in, so I know they'd attracted some keen fans, but the Glee attracts a strange audience. A lot of people that I've never seen before (
Birmingham
is a city of one million people, in a conurbation of 2M, but you know what I mean. I get the impression that a lot of people who rarely go to live events come to the Glee, and a lot of people who live outside the city. Maybe it's just my prejudices! Sitting there (the 1st Misty's gig at which I've not danced), I got quite a different perspective. For a start, I was thinking... "What if I was seeing them for the first time, what would I think", and watching the audience reaction quite closely. What I saw for the first couple of songs was a kind of open-mouthed awe from some people, as if they couldn't quite believe what they were seeing and hearing. A typical Misty's gig these days starts with a spoken word prayer/dream from Gareth, followed by car crash with sound effects, some humourous stuff I won't spoil, and then into
Misty's Big Adventure
(the song). This could leave the audience slightly stunned, so there's absolutely no gap before we're into an
All Things Bright and Beautiful
parody, which is the intro to
Evil
. Good audience response, though the diversity of what they've heard is pretty high, they've had chance to note how tight the band are. (That's musically tight. I'm not suggesting that they're all drunk!) Next
The Story of Love
, quickly into
Smart Guys Wear Ties
, the psychadelic intro to
Two Brains
. Now a shadow falls (though
Erotic Volvo
didn't turn into his black suited "shadow self"), and we're into a
Serious Thing
which I really think is one of my current faves, despite it being so emotionally desolate. This is the beautifully instrumented sound of a tortured heart. And, if you're not feeling particularly tortured, it's fun to have the big change of mood (and dance style) from Misty's mostly up-beat sound. It was getting a bit hard to sit still when we were served up
It never stop, it never rests, it never sleeps
, the one which goes "diddly diddly, diddly diddly, diddly diddly dee". Very good And another nicely titled track, a newish one at that
We do, we do, we do
(did I get that name right)? It's got a great rhythmic "bippy boppy" keyboard part, the whole sound being well paced, with little "suprises" which just seem to fit. You can really see how together and practiced the band is in tracks like this, where the greater regions of quiet make the split second timing stand out. Next:
The Wising up Song
, with it's wild "free-form jazz" like sections, ending in a parable. Finally, we're into the
Bland Age
, another new-ish song, humourous with some spoken word bits. OK, what I just wrote there is what's know in the trade as a "set list", that's it, a "set list", but it is a pretty typical one for Misty's currently. The other thing which I noticed even more than normal was
Erotic Volvo
's dancing. It's a real work out, and carefully choreographed for each song. EV came down into the audience a few times, climbing over seats and tables, and dancing at (more than
with
, as were all sat down) members of the audience. I think my favourite from the dancing point of view is
Serious Thing
. I don't know, they're all my favourite when they're on! So, Misty's left the stage to great applause, and shouts for more. I'm not sure it's good etiquette for the support band to do "more", especially at a regimented place like the
the Glee
. Now, the headlining act of the evening,
The Guilemots
. Once again, there was a strange entrance for the band, with sax and claranet players starting at the back of the room, tooting here and there then processing down the aisle. I felt a bit sorry for The Guilemots at first - they had some definite sound desk problems, I don't know if they hadn't managed to sound check, or if the desk had made some mistakes or what, but the first few songs were intersperced with band members waving at the desk and pointing at various bits of kit. Eeeh! Must rush off to a gig... but quickly, I liked the Guilemots, you can download some MP3s from their website, and at one point I was thinking "This is a good song, but I'm sure they're ripped off that bit from somewhere" - turns out that it was one of the songs I'd downloaded - duh! The lead singer also did a solo bit with a blippy keyboard which was fab. Oh yes, and his brother (from The Courtesy Group) shouted out "your're shit" or something similar at one point and we all laughed. Erm, that's about it. Phew!
Mar 23 2006 - Little Civic , Wolverhampton
Never been to the
Little Civic
for a gig before - I know it as the place you have to pick up tickets to get into the
Wulfrun Hall
. I arrived just in time to catch the end of the "3rd Support" band, but didn't really hear enough of them to comment. Then, after swiftly purchasing an
Erotic Volvo
finger puppet, the
Retro Spankees
took the stage. The sound quality at the back of the room was pretty poor - the
Little Civic
has 2 speakers up in the air which are aimed at the sound desk. The advantage is that the volume at the front is lower (you're not in the path of the speaker), and the sound quality is better there too. The Retro's were good as always, and having seen them several times (and having the CDs), I knew some of the songs. They seemed to go down well with the rest of the audience too. There were some definite Misty's fans in - lots of newly bought t-shirts in evidence (yellow being the most popular), and some wild dancing.
Erotic Volvo
was very popular as always, coming down into the audience, cavorting, rolling around on the floor and disappearing amongst the crowd. Erotic Volvo's Shadow also made an appearance for
Serious Thing
.
Erotic Volvo about to dance:

March 2006
Mar 24 2006 - Escobar , Wakefield Mar 23 2006 - Little Civic ,
Wolverhampton
Mar 22 2006 - Barfly , Cardiff Mar 19 2006 - Joiners , Southampton Mar 18 2006 - Forum , Tunbridge Wells Mar 17th 2006 - Lancaster (Cancelled) Mar 16 2006 - Old Ale House , Salisbury Mar 8 2006 - Legion, London
Bit late notice for this one, big
Misty's
fan that I am, I hadn't read my email and almost missed this gig but luckily a friend rang me up earlier in the week to let me know. The advantage of slightly less publicity than normal was that there was space to dance! The last few gigs have been so packed that it's been too tight to do much more than jig around a bit, this time, there was space for plenty of old-school Misty's fun

I think this is the 3rd time I've seen the
Retro Spankees
, each time supporting Misty's and this time I managed to grab a couple of CDs. They were very tight and an excellent match for Misty's. The crowd really liked them. I was a particular fan of their ironing board keyboard stand bedecked with ducks and a fluffy carrot! Other well known ironing board using bands include
Pram
and
Dogfood
. The
Retro Spankees
have got some excellent catchy and fun songs and seeing them reminded me of
when I first discovered Misty's
, long long ago

Retro Spankees - They have an Ironing Board:

Retro Spankees - They also have ducks:

Like I said, there was space to dance at the front this time, and I had a prime spot. It was really nice to see all the regulars having space to dance properly, and Erotic Volvo came down to dance several times. Song which have stuck in my mind are:
Serious Thing
, which is quite traumatic in it's way;
She fills the spaces
, a nice love song; Smothered in Love (the Monkeys and Donkeys song);
Mulling it Over
, one of my all time faves;
Remind me a Song
, with it's 70's style sax/trumpet opening;
Wising Up Song
, fantastic contrasts. They finished on
The Tapeworm of Love
so that's probably what I'll be singing until I next see them! Doh! I could list the lot. They also did a few new/newer songs: Bland Age, and another one which slips my mind for the moment.
My advice:
don't go see Misty's, they're too good, you'll enjoy yourself too much and I won't have space to dance

Mistys on stage, 5th March 2006:

My god! I've just had a quick look at the list below, and I reckon I've seen Misty's around 27 times! But it's always fun. If something's that good, you should do it lots... right? I also noticed that
last.fm
have
my picture of Misty's from Cotteridge Park
as their pic for Misty's! You can't stream Misty's through last.fm yet though.
Feb / March 2006
Mar 1 2006 - Manchester, Academy February 11 2006 - Oldham, CLUB NME @ The Castle February 9 2006 - Nottingham, CLUB NME @ Stealth February 7 2006 - Huddersfield, CLUB NME @ Tokyo February 4 2006 - Bolton, Number 15 February 1 2006 - Hoxton Sq, London (Charity fudraiser for
The Stroke Project
)
January 2006
January 28 \x96 Club NME, Glasgow School of Art January 30 \x96 CLUB NME, Sheffield Plug
The
Jug of Ale
was packed for this gig on
Misty's
home turf, and they were turning people away before the 1st support had finished. That's one reason to turn up early. The other was the quality of this first gig performance from "Kate's as-yet-un-named-band", I'm afraid I don't know the names of the rest of the band! The lyrics were good, a nice bright sound, wonderful vocal harmonies and topics ranged from waking up on Christmas morning to not losing your friends. Once they get a name, they'll be one to watch out for, for now, you'll just have to hope you see them...

You could be helped along by the fact that although they are un-named, they do have a brand: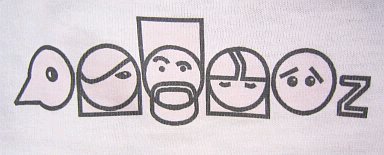 It's a long time since I saw
Dogfood
, it always seems to be that I've something else arranged for the same night as they're playing. Tonight they were on top form, with Mr Simon wearing a bright yellow safety helmet and one guitarist sporting a very fetching mop-top-like wig. The sound quality was good, and they played a lot of happy, bouncy, dancey songs. Having secured a place fairly near the front (and under the watchful eye of
Pete Ashton
who was perched on a table snapping away) I got down to dance to Misty's. The problem with Misty's is, to be honest, that their hard work is paying off, and they're becoming far too popular, attracting bigger crowds, making dance space severely limited! Gone are the days when you could sit down at the front of the gig, and then conga through the crowd. Even Erotic Volvo had to be "stretchered off" to recover from the heat... well, not exactly "stretchered" but you get my drift. As it's Christmas time, Misty's played their two new Christmas songs, which I haven't heard live before (though I had
downloaded them from TuneTribe
). Lets hope they become big Christmas hits next year! Afterwards I managed to secure a t-shirt from the as-yet-un-named band, and a couple of copies of the Christmas single.
December 2005
December 31 2005 -
Birmingham
New Year's gig at Bar Fly December 23 2005 -
Birmingham
Jug of Ale December 22 2005 - Ipswich Uprock December 20 2005 - London Rhythm Factory (cancelled - venue problems

) December 19 2005 - Glasgow King Tuts (cancelled - van broke down

) December 18 2005 - Carlisle Brickyard TBC December 16 2005 - Manchester Academy 4 December 15 2005 - London Barfly December 14 2005 - Liverpool Barfly December 13 2005 - Leeds Josephs Well December 9 2005 - Lancaster feedback @ Korners December 6 2005 - Nottingham Social
November 2005
November 30 2005 - London Scala November 27 2005 - Bochum, Germany, Bastion November 26 2005 - M\xFCnchen, Germany, Prager Fr\xFChling November 25 2005 - Halle, Germany, Tanzklub Volkspark November 23 2005 - Berlin, Germany, Roter Salon November 22 2005 - Hamburg, Germany, Schilleroper (
Review in German
, and
Translated
) November 19 2005 - Mainz, Germany, Schick & Sch\xF6n November 18 2005 - Dresden, Germany, Scheune November 17 2005 - Kassel, Germany, K19 November 16 2005 - K\xF6ln, Germany, Blue Shell November 10th 2005 - Islington Academy
October 2005
October 9 2005 - University with THEMAGIC NUMBERS - Cardiff October 8 2005 - Wulfren Hall with THE MAGIC NUMBERS - Wolverhampton October 7 2005 - University with THE MAGIC NUMBERS - Sheffield October 5 2005 - Barrowlands with THE MAGIC NUMBERS - Glasgow October 4 2005 - Metropolitan University with THE MAGIC NUMBERS - Leeds October 2 2005 - Cluny - Newcastle October 1 2005 - Dry Bar - Manchester
Sunday 25th September - Jug of Ale
Another storming gig at the
Jug Of Ale
, this time with material from "The Black Hole",
Misty's
new albumn. A couple more new songs and heart rending versions of "the story of love" and "Bigger than me" stood out. . We also had an audience sing along while "Bom" leant his guitar to the band, who at one stage were down two guitar strings and a keyboard! The set went something like: Black Hole; It never stops, it never rests, it never sleeps; Story of Love; All Things Bright and Beautiful (George Bush version); Evil; She fills the places; Everything's Odd; Elevator. Escalator, Stairs; (audience sing song of) The Bear Went Over the Mountain; Microwave ("Please microwave my head and count to 10. Take it out and we can start again."); Waiting for You; Smart Guys Wear Ties; "How did you manage to get inside my head" (new track?); "Serious thing" (great ska-like brass on this one, and one hell of a song!); Two Brains; "The gritter man's come to grit my teeth" (or at least I think that's the lyric); Remind me a Song("You know it's bigger than me..."); Wising up; Hey Man; (Then a 30 second encore due to licensing laws) - Confidence.
Mistys In Motion:

Erotic Volvo at the Jug of Ale:

Saturday 24th September - Jug of Ale
Misty's Big Adventure
Misty's
are playing two sets at the
Jug Of Ale
this weekend, this is their first and is (loosely) based on their first studio albumn "(Misty's Big Adventure and their place in) The Solar Hifi System". The Jug is their home turf, so they had an audience who knew what they were in for. This showed itself to great effect with a wonderful version of
They're Controlling our Minds
with the audience swaying in synchrony and singing the "de-do, de-do" backing vocals.
Smothered in Love
( the "Monkeys and Donkeys" song) in which the audience join in with the backing vocals in two parts also went well. Other notable events included a keyboard cable failure which seemed to be facilitated by
Erotic Volvo
rolling around on the floor. EV also spent a lot of time in the audience, his blue face paint sweating off in short order. There were a couple of new songs, whose name's I'll fill in when I remember them!
September 2005
September 30 2005 - Barfly - Liverpool September 28 2005 - Buzzard (Purple Turtle) - London September 27 2005 - Clwb Ifor Bach - Cardiff September 25 2005 - Jug Of Ale -
Birmingham
September 24 2005 - Jug Of Ale -
Birmingham
September 23 2005 -
Dn R
Live - Sheffield September 22 2005 - Shed - Leicester September 21 2005 - King Tutts - Glasgow September 20 2005 - Cafe Drummond - Aberdeen September 18 2005 - Adelphi - Hull September 17 2005 - New Meadows festival - Lincolnshire September 16 2005 - Forum - Tunbridge Wells September 15 2005 - Frog on the Front - Portsmouth September 9 2005 - Bestival - Isle of Wight September 8 2005 - Moles - Bath September 6 2005 - Thekla - Bristol September 2 2005 - Windmill - London
August 2005
August 28 2005 - Satan's Hollow - Manchester August 24 2005 - Lumminaire - London August 21 2005 - secret garden festival - cambridge
July 2005
30th July - Tapestry Festival, Newquay 21st July - Borderline, London 9th July - Somerset, Newt Beer Festival 8th July - Swindon, Riffs bar 5th July - Nottingham, Social 2nd July - Birmingham, Cotteridge Festival
Sat 02 Jul 2005 - Cotteridge Festival
Misty's
have played a regular spot at the Cotteridge Festival for the last few years, but this was the first time I've managed to catch them there. The festival was very well attended, with lots of "punters" as well as lots of stalls. The star of the show was Erotic Volvo, who only just survived being mobbed by small (and not so small) kids, as you can see below. At one point, one boy managed to briefly climb on his back and shouted "I've the king of hands!". Misty's are next scheduled to gig in Birmingham during September, so it'll be a Misty free summer for me, unless I make it to some out of town gig.
On Stage at Cotteridge Festival:

Erotic Volve Mobbed!:

"I'm the King of Hands":

June 2005 Gigs
20th June - Norwich, Arts Centre 19th June - Leeds, Joseph's Well 17th June - Portsmouth, Frog on the Front 16th June - London, Hoxton Square Club 15th June - Brighton, The Ocean Rooms 14th June - Cardiff, Clwb lfor Bach 12th June - Lynton & Lynmouth music festival, Devon 10th June - Manchester, Dry Bar 9th June - Liverpool, Magnet
4th June 2005 - Jug of Ale - Misty's, The Retro Spankees and The Teats
Misty's Big Adventure played the
Jug of Ale
, with support from The Retro Spankees (
http://www.theretrospankees.iwarp.com/
). Misty's had asked TRS to play as they'd heard their CDs, and they were great. 3 guitars, plus drummer, lots of rhythm, and tons of "Wooo"s, infact, I think there was a "Wooo" in almost every song. Fun, funny, happy sound. Definately one to watch (or listen to - you get my point). The first support,
The Teats
, weren't really to my taste. A kind of generic 6th form guitar sound which just lacks that spark. Still, they all had matching outfits! Misty's were excellent as always, still seeming fresh despite being recently returned from a mamoth tour!. They played a couple of new songs, "A Serious Thing" and one I can't remember! The set also included: Remind Me a Thing, Mulling It Over, Singsong, She Fills the Spaces, I Don't Need Anybody (Especially a Dog Like You), Hey Man, Misty's Big Adventure... One of the best bits for me was when Gareth invited people from the audience to join them for "Smothered in Love" - the "Monkeys and Donkeys" song in which the band and audience are divided in two and sing with a slight delay. I was up there like a shot, to be a Donkey (at least I think I was a Donkey, the 2nd singers anyway). I've been on stage with Misty's There were two encores - thanks Misty's!
On Tour...
June 2005
6th June - Leicester, the Shed 4th June -
Jug of Ale
,
Birmingham
3rd June - Preston, Bad Apple Club
May 2005
31st May - La maroquinerie, Paris with Syd Matters (tbc) 23rd May - Newcastle, evolution fest 14th May - Aflenz@Sublime, Austria 12th May - Graz@Arcadium, Austria
April 2005
22nd April 2005 - Jug of Ale, Moseley, Birmingham 21st April 2005 - Lincoln University 20th April 2005 - Misty's get a day off!

19th April 2005 - Leicester Charlotte with 50 Foot Wave 18th April 2005 - Shefield Boardwalk with 50 Foot Wave 17th April 2005 - Birmingham Academy with 50 Foot Wave 16th April 2005 - Liverpool Academy 15th April 2005 - Islington Academy, with 50 Foot Wave 11th April 2005 - Southampton joiners 9th April 2005 - London, spitz, marie currie cancer benefit show. 7th April 2005 - Dundee, rep theatre 6th April 2005 - Edinburgh, the left bank 4th April 2005 - Glasgow, stereo 3rd April 2005 - Arran, brodick hall 2nd April 2005 - Perth, twa tams - Cancelled due to illness 1st April 2005 - Dunfirmline - Cancelled due to illness
March 2005
Thursday 31st March 2005 - Bar Academy, Islington. Wednesday 30th March 2005 - Academy 2, Liverpool
Monday 28th March 2005 - Bar Academy, Birmingham
Misty's Big Adventure played the
Bar Academy
. Got there late, and was only let in due to the grace of god, the bouncer and manager! Missed the beginning of the set, when I entered I could hear the band but not see anything due to a kind of tiered wall of audience - lots of people standing on chairs and stools to see over the crowd. Still, managed to work my way to the dance-area near the front, for some rather cramped dancing! Misty's just seem to get tighter and more together, they've been touring a lot recently, so I guess they're well practiced. They played with this a bit with some free-form jam sections added to a couple of the songs. They also played a couple of newer numbers such as Hey Man, Not Enough Brains, Wiseing up Song and Waiting for You. Not Enough Brains tells us about the parallel universe in which there's a parallel you and a parallel (with a parallel brain), which remembers everything you forget and forgets everything you remember (because there's too many numbers and too many names, too many faces, so you need two brains to take it all in). Apparently the new album will be out in May, and the next single will feature Hey Man and the Wiseing Up Song.
On Tour...
Febuary and March 2005
Friday 18th February 2005 - Bar Academy,
Birmingham
Saturday 26th Febuary 2005 - Windmill, Brixton Friday 11th March 2005 - Freebut, Brighton Wednesday 16th March 2005 - Cavern, Exeter Thursay 17th March 2005 - Old Ale House, Salisbury Friday 18th March 2005 - (somewhere...) in Sheffield Sunday 20th March 2005 - Academy, Glasgow Monday 21th March 2005 - Academy,
Birmingham
( With The Zutons) Tuesday 22nd March 2005 - Brixton Academy, London ( With The Zutons) Wednesday 23rd March 2005 - Brixton Academy, London ( With The Zutons) Thursday 24th 2005 - March Misty'S Big Adventure At Carling Apollo 3500, Manchester ( With The Zutons)
Friday 18th February 2005
Misty's Big Adventure
played the
Bar Academy
, with
Envy & Other Sins
and [[The Ripps]. Entrance was only \xA33, which is a bit of a bargain for music and a late bar. See
Blog Entry
for details on
Envy AOS
and The Ripps. Misty's came on after 11, starting with Confidence "with a C and an O and an F and an I and a D and an Ence". One of the great things about Misty's is that all the instruments count. Today the groovy keyboards struck me, as did an overall slightly noisier/punkier feel to the sound. Blinding gig (again, what can I say except that my friend who saw them for the 1st time wanted to buy a CD), with lots of dancing going on - in fact in addition to the bands, the flyer lists "The Gaiety Dancers, otherwise known as the 'Audience'".
Flyer for Misty's, Envy and Other Sins and The Ripps at the Bar Academy:

Sunday 19th December 2004
Saw
Misty's Big Adventure
at the
Jug of Ale
- bit more of a "punk-y" sound to my mind, and the Jug didn't seem quite so hot and sweaty. Simon ("Mr Simon") from
Dogfood
played base. Unfortunately I was late and missed
Dogfood
playing

- but Misty's were great! Played a song or two which I didn't know. Other stuff:
The gig was also videoed.
Spotted a "Misty's Big Adventure are my 7th Favourite Band" t-shirt!
Apparently they played to ~2000 people at the Zutons gig yesterday and went down a storm. If everything goes to plan, Misty's will support the Zutons at
the Academy
in March(?)
On Tour October and December 2005
Sunday 19th December - Birmingham,
Jug Of Ale
Saturday 18th December - Liverpool Royal Court (supporting the Zutons) Friday 17th December - Arts Centre, Norwich Wednesday 15th December - The Grapes, Sheffield Thurs 28th October - Old Ale House, Salisbury Sat 30th October - Cumberland Arms, Newcastle Sun 31st October - Rescue Rooms, Nottingham Sat 18th October (?) - Supporting the Zutons, Earls Court, London
Tues 19th Oct 2004 - Academy 2, Birmingham
Part of a celebration of 15 years of the Catapult Club, with various bands including
King Adora
, Distopia(?) and
My Dad Hitla
. After the gig, an electronic version of "Cool with a capital C" was played, sounding like an old school computer game sound track.
Very packed gig - initially I (and lots of others) couldn't get in, but luckily fans of
Friends Of The Stars
left after they played giving enough space for Misty's fans! Opened (and closed) with "Confidence" rather than "Hello". Played quite a few of the new songs. At one point Gareth seemed to lose his way, and asked the audience if anyone knew any of the songs we play - there was a set list on stage though! Noticibly good sound, with everyone audible, and voice clear and easy to hear - when the sound's good I always notice some more of the great lyrics.
On Tour, July 2005
23rd July 2004 - London, with
Brute Force
(venue unknown!)
25th July 2004 - Truck Festival, Oxford, with
Brute Force
.
18th July 2004
Moseley Festival again, with
Misty's
playing in the park. They went down very well, with lots of cheering from the crowd. Erotic Volvo was a massive hit with the children, and a whole gang of them took "dancing lessons" from him. Some great dancing went on - with a lot more space than is normally available at a Misty's gig.
17th July 2004
In the evening I saw
Misty's Big Adventure
at the
Jug Of Ale
, very good set with 3 new songs, and good sound quality - Gareth's vocals were particularly clear and I hear quite a lot more of the lyrics of Escalator, Elevator, Stairs - which is quite a political song. As always at the Jug, the upstairs room was like a sauna, but lots of dancing went on anyway. The new songs were something like "Evil is a four letter word which doesn't mean a lot", "The Story of Love has a Beginning, a Middle and an End", I forget the title of the 3rd one.
Spring 2004 - Brute Force / Misty's Big Adventure
New King For England UK Tour Sunday 25 April - Arts Cafe, Shoreditch / Aldgate, London
Monday 26 April - Magnet, Liverpool
Tuesday 27 April - Bar Academy, Birmingham
Thursday 29 April - Rescue Rooms, Nottingham
Friday 30 April - Rouge, Leicester Square, London
Tuesday 4 May - The Cellar, Oxford - Reviewed at
http://www.bbc.co.uk/oxford/music/2004/05/brute_force_review.shtml
Winter 2003 / Spring 2004 - Some Other Misty's Gigs
Friday 14 May - The Old Ale House, Salisbury
Friday 28 May - Arts Cafe, Shoreditch / Aldgate, London
Saturday 29 May - The Windmill, Brixton, London
15th February 2004 -
Jug Of Ale
,
Moseley
,
Birmingham
Saturday 17th January, The Temple Bar, Sanctuary, Birmingham - Cancelled (reason unknown) Friday 19 December, The Windmill, Brixton, London. Wednesday 3rd December -
Jug Of Ale
, Birmingham Monday 8th December - 12 Bar Club, Denmark Street, London
WC 2 H
Wednesday 19th November - The Planet, Wolverhampton Saturday 29th November - The Custard Factory, Birmingham with
Club Katusi
Misty's with Jeff Lewis and Diane Cluck:
Saturday 4th October 2003 - Soundclash at the Magnet, Liverpool

Sunday 5th October 2003 - The Dog and Parrot, Newcastle

Monday 6th October 2003 - Royal Park, Leeds

Tuesday 7th October 2003 - The Star and Garter, Manchester

Wednesday 8th October 2003 - Sumo, Leicester

Thursday 9th October 2003 - The Rainbow, *Birmingham*

Misty's:
Friday 10th October 2003 - The Custard Factory, *Birmingham*

Saturday 11th October 2003 - The Windmill, Brixton, London

Friday 24th October 2003 - Klub Catusi, Medicine Bar, *Birmingham*

Monday 27th October 2003 - The Rainbow, *Birmingham*

Thursday 30th October 2003 - The Art's Cafe, Shoreditch, London

Friday 31st October 2003 - Spice of Life, Soho, London

Misty's were very together as always, with ADog Like You?, the one which goes "I don't know why we fight, when everything's going right" plus Day Time Better Than The Nighttime? standing out particularly. No scratching, as no DJ. Also, Erotic Volvo? is losing some of his gloves

- but he seemed to dance very happily

Also playing were
Dog Food
and
The Dangerfields
- see
Blog September 2003
for more.
A very hot gig! As always, at the Jug, the windows were firmly shut and ventilation was at a minimum. After the support the place cleared out as people went to breath and friends of the band went to say hello. I therefore plonked myself quite near the front, where I could join the other dancers. Bits which stood out:
Mr Simon
(who also plays with
Dog Food
) played Bass,
Grandmaster Gareth
forgot his
Speak N Spell
, so had to do the "C.I.R.C.L.E.(wait a beat)S." for Circle-Square/I Blame The Parents himself - which was entertaining and slightly less disorienting than the SNS! The version of "I don't need nobody. Especially not a dog like you" was excellent, as was "Night Time Better than the Daytime". Oh, and two audience members managed to throw their shirts over Lucy (Sax) as they stripped off. One stripy shirt somehow lodged in the Jug's wierd ceiling. An excellent gig with a great reaction from the audience. I suspect the shear heat lead to the band limiting their set and encores slightly - it was roasting!
3 Piece Gigs
There were a number of Misty's "Little" Adventure gigs as part of a UK Anti-Folk tour. I missed them.
Free gig at
The Rainbow
, Digbeth (near the
Medicine Bar
). Went to this. Danced lots, so did everyone else! Didn't write it up.
Saw Misty's again at the
Market Tavern
at the launch night for Grandmaster Gareth's "One Minute Melodys" CD - around 30 one minute tunes. The CD was played in full at the Launch, which is unusual, but as it's only 30 Min, I guess it made sense. Unfortunately the sound quality wasn't up to much, so it was a bit noisy. When I listened to it at home it sounded much better, with some wierd quirky tracks and quite a lot of sampling and messing about. The band played quite a few new tracks, whereas in previous gigs their set list has been pretty fixed. I'm writing this about a week later, so it's not fresh in my mind, but I remember a kind of anti-war love song with sentiments along the lines of "I don't want to go to war, the only thing I'll fight for is you". Sounded pretty good anyway. [16/7/03 that track was "Night time better than the Daytime"] Songs included "I don't need nobody" but they skipped one of my favourites "Mulling it over". Crowd enjoyed it, and
Erotic Volvo
got down and grooved on the dance floor with two guys who wanted him to go to the next Villa game (he's kind of red with blue rubber gloves attached, so close to the team colours).
16 Nov 2002
"We've got a gig coming up on the 16th Nov [2002] at the Jug in Moseley. Might be abit of a crazy one, short set with lots of New York bands coming over." - I guess this is with Dufus again, who are pretty cool.
Gig at the Jug Of Ale, 25th September 2002
Excellent gig, very good sound quality - you could hear all the toys! Played 2 new songs, audience loved it. Supported by
The Bee Men
.
Gig at the Old Railway, 19th September 2002
Misty's were supported by
Dog Food
(and
Bubba
- who I didn't really see), and played a couple of new songs. Apparently there's a 2nd single coming out soon, but it's on vinyl, so no good for the phonographically-deprived like me.
Misty's Big Adventure were headlining on the Sunday, but unfortunately the organisers pulled them at the last minute due to lack of time (and moaning people who live nearby and complain about anyone having fun after about 7pm...)
Gig and Single Launch, 16th June 2002, Jug Of Ale, Birmingham]
Saw Misty's Big Adventure at the
Jug Of Ale
, launching their new single - "I'm cool with a capital C" (B.side is the excellent "Mulling it Over". Everyone got issued with a cardboard moustache on the door, and the band themselves appeared on stage with a wide variety of top-lip hairpieces. These survived the first 3 or so songs, the first to go being the Sax player's (Lucy), closely followed by the trumpeter (Hannah) and then Grandmaster Gareth. The room was like a sauna (the Jug is never well ventilated) and there was some pretty wild dancing going on. The gig ended with a bizare kind of stage diving in which one of the audience fell drunkenly onto the stage at the end of the 1st encore, knocking over the microphone stand and lying in the fetal position! I got a single! Now all I have to do is get a turntable.
First point - they definately know how to play their instruments. Bad point - at some points in the early set, the sound balance was bad - the brass/wind/supporting vocal section was too low and bass guitar, keyboards and lead guitar(?) + perhaps vocals was too high. But, at least you could hear the main vocals. The first role of the sound engineer should surely be to ensure that everyone performing can be heard. OK, now back to the gig... The evening started with DJing/mixing/scratching - I'm not qualified to judge it, but it seemed good to me. The tracks were well defined, and the source's well chosen. After 1/2 an hour or so, Misty arrived, cowled and cloaked and surrounded by very real mist. About 7 people joined the stage, including a "Jester"[*] in a very striking outfit, who danced in the back corner of the stage throughout. Misty seem to me to come out of the Birmingham Low-Fi tradition, the number of people on stage and the large sound reminicent of some
Pram
, but not immitative, with shades of 40's swing at points from the Sax and Trumpet as well as Ska and bright-fun-punk sounds. The brass section really brought the sound alive and added a sense of fun and enjoyment. Scratched beats added too the sound too. The first four or so tracks were excellent (although I couldn't name any), and were followed by songs such as "I don't need nobody, 'specially a dog like you" (sounds like a dirge, but was fun/happy). Misty played a reasonably, but not over-long set, but bizarely, their "final song" had all the band leave the stage, excepting the lead singer, the Jester (who beatboxed) and the DJ, for an acoustic final about a cow in a field - not the best end to ensure an encore, but it was demanded anyway. The band came back, played another track and were then joined by
Brute Force
, "direct from New York". I'd say that most of the band were under 25, Brute was probably a lot closer to 45. He wore a suit, had slick back hair, and bush eyebrows, which he brushed on and off throughout the set. My guess is that Brute has done a lot of caberet, and a lot of gigs. He writes his own material, and is like a younger and surrealer
Tom Lehrer
. Misty and Brute had obviously rehersed, and they played a blinding set - his caberet style, their lively happy sound. They started with a song about sitting on a sandwich, and how it was such a good thing to do in our modern technological world. The only other track I can name is the
Extremist Polka
, but he also did one about "Jim's(?) Garage" - pronounced "gaar-adje" in the america way, but changed in the last verse to "garidje" - the more local pronunciation.
Brute Force
carried on to do a set on his own - obviously a seasoned performer and good keyboards player, with a string of quirky and original songs including a squirel song and a hare-based sing along. Misty rejoined Brute for another 4 or so songs, and again, made fantastic noise. Definitely a band to see again. [*]
Erotic Volvo