Prev:
Blog August 2006
1 Year Ago:
Blog September 2005
Next:
Blog October 2006
Sat 30th September
Kate Finch at The Black Horse
Saw
Kate Finch %EXT%
at
The Black Horse
near Aston University. I've never been to the Black Horse before, but it seemed a pleasent enough place, no real beer and a bit of an odd shape for a gig, but still! You can
hear some of the tracks she played here %EXT%
as well as see where else she's playing.
Thu 28th Sep 2006
Complaints Choir Again
A couple of people have mentioned to me that they've seen me on the
YouTube video of the Complaints Choir %EXT%
There's also an
mp3 of the ComplaintsChoir %EXT%
. The
Helsinki ComplaintsChoir video %EXT%
is also available, and apparently there's been another one in Wilhelsmburg. I've just watched the Helsinki one, and it's great - very different to the Birmingham one, as it should be, but I was struck by the environmental and ethical nature of some the complaints - things which had also come up in Brum. Roll on the
Complaints Choir
Convention!
Cymbeline
Visited
The Swan
at Stratford to see a production of Cymbeline by Knee High Theatre. Overall, a fantastic production, one of the best I've seen, with the actors well balanced, some great live music and a blending of styles which brought out the mixture of tragedy and comedy in the original. It received a rapturous response from the audience, though a few people did leave early on in the piece - perhaps they had been expecting a purely traditional performance. It's coming to
The Rep
in February, I'm booking now...
Wed 27th Sep 2006
Added
RideFlame in Halesowen
to my list of
Birmingham Bloggers
. I guess it should be "bloggers within the West Midlands conurbation", but it doesn't have the same ring to it. If you'd like to be added, or know of other blogs around the area, let me know.
Tue 26th Sep 2006
Private View at the Ikon
A double event tonight, with the opening of Marijke van Warmerdam's exhibition in the main gallery, and films/installations and a live band at their Eastside space! I'd seen Marijke's work
back in August
in the Fruitmarket Gallery, Edinburgh, and really liked the film showing milk being dropped into a glass. Doesn't sound interesting but it is, and you can
see a slightly blurry picture here
). Down in Eastside, in the chapel-converted-into-a-garage-reused-as-an-arts-space just round the corner from
Vivid
we had an installation of "skinned" massage chairs, a pair of synchronised films in which a chinese woman blows us around Shanghi, and a nice cut up film in which chinese workers speak a word each to form a political speech. This reminded me of one of my favourites, "Qaeda Quality Question Quickly Quickly Quiet", in which one of George Bush's speeches is cut up and put into alphabetical order.
Sun 24th Sep 2006
Cabinet Magazine
Cabinet Magazine %EXT%
provides an eclectic and interesting collection of articles on everything from evil to lock picking at the
great exhibition
, or the history of electrical devices. You can read some articles online, or apparently the Ikon bookshop stocks it.
Christina Kubisch\x92s Electrical Walks
I saw (heard?) this
Ikon
project today. Christina Kubisch had specially designed headphones which pick up the invisible electrical signals all around us. She's designed a walk in Birmingham which takes you to hear some of the most interesting. You can
hear samples of previous electric walks %EXT%
. A lot of the time we were surrounded by a dull hum, a little like artificial tinitus, but cashpoints, electronic sign boards and adverts provided sonic interludes varying from the musical to the painful! The looks we attracted from passers by were also entertaining. The headphones provide one with a new sense, additional to the standard senses such as sight and hearing, and exploring the new world this revealed was really fun! This project runs till October 1st, so get your skates on if you want to experience it. Remember to bring ID (e.g. a bank card) as security for the headphones.
Sat 23rd Sep 2006
Enigma Machine in Flash
Enigma was the encryption machine used by german forces in the second world war.
Alan Turing
was one of the key people involved in developing Collosus, the machine which allowed the UK to break the codes. This was also a major step towards the modern computer. I found this great
flash version of the Enigma machine
, which is the clearest demo I've seen of how it works. As you type, the letter makes an electrical circuit through a series of rotors, giving back a new letter.
Information Machines
Nice
article on "Things That Think"
including a great bit about an analog read only memory which is just a bend cylinder of aluminium.
Wed 20th Sep 2006
My MySpace
- drop me a message if you friend me so I know you're not just some random American! (Plus I can't always recognise people from their photos)
Misty's Tour + Videos on You Tube
Misty's Big Adventure
are touring the UK, including a gig at the Birmingham Barfly on the 21st October - Hurray!

There's quite a few
Misty's Big Adventure
videos on
You Tube
, including the official videos and
Misty's Big Adventure playing Fashion Parade at Bestival %EXT%
(about 2 mins). You can find more by
seaching on YouTube %EXT%
.
Tue 19th Sep 2006
Back in Brum
Where did the summer go? It was here last time I looked. Oh well, I've missed a million wonderful arts events and bands here while I've been on my travels, but this is the season of arty fruitfulness, so there should be plenty more.
Hot Chip
Wandering through
My Space
in search of bands I'd seen in Reykjavik (links added below), I came across
Hot Chip %EXT%
, a London based band who are playing in Birmingham on the 10th of October.
Sat 16th Sep 2006
Glacier Trip
Took a trip up to see a glacier, via the most voluminous hot spring in Europe, Deildartunguhver. It pumps out around 200 litres per second and supplies heating to three towns, up to 74km away! One of the strangest things about Iceland is it's geothermal energy. Hot water can be a little sulphurous but it's plentiful and carbon neutral. Electricity comes from geo-thermal and hydro power, making Iceland the site for two, soon to be three, aluminium smelting plants. The bauxite is shipped all the way from Australia but it's still cheaper to process it here. Anyway, back to the plot. The spring also heats greenhouses used to grow tomatoes, cucumbers and the occasional flower. I bought some geothermal tomatoes. After visiting the hot spring, we stopped off at barnefoss, so named because of two children (think "bairnes") who were lost at the foss("waterfall"). The family had gone to Christmas mass leaving the two at home. When they returned the children were nowhere to be found but their tracks led to the foss. Since then it has been known as the "Children's Falls". Geologically, they occur at the edge of a lava flow where an underground river also percolates through one of the layers and emerges from the side of the cliffs. The lava landscape here is covered in low lying scrub including bilberries and crow berries. Strangely, there were also mushrooms which I tentatively identified as boletus - though I didn't pick them to examine the gills. Later we followed the old road through a very rough patch and a deep ford. It really was like being in a moon buggy! (ok, I've never actually been in one but you get the point) We also stopped at another foss where there were loads of berries!

The glacier itself was pretty big. I kind of expected something filling a valley, but it more covered the mountain, sitting atop it like an oversized hat. The glacier itself, of course, is shrinking due to global warming. The irony of flying to Iceland and helping in this destruction wasn't lost on me. It has shrunk a couple of hundred meters in the last 12 years (since the hut we used was built). Realistically, this melt rate is only likely to increase. George Monbiot estimates the UK needs to cut its emissions by about 80 to 90% by 2030, but politicians show little interest in actually
doing
something.

You can
"The Big Ask" website %EXT%
to change their minds. Takes 90 seconds.
A little bit of politics
as someone used to say.... Looks wise, it is, as you'd expect, a gigantic piece of ice with a relatively thin layer of snow on top, only 2 to 10 centimetres where I was. Small fissures run across it roughly parallel to the edge. Mud appears to have been squeezed up between parts of them, so they appear as dark lines. Others look as though they go down for ever. The ice is, I suppose, slightly blue in the distance, but I wouldn't have described it as such if the guide hadn't pointed it out. Today was the best weather I've seen in Iceland, fine, sunny, clear. Even on the glacier it wasn't too chilly. A good day for photos. Why is this a particularly long entry? I wrote it on the train on the way back to Brum.
More Nightlife
My last night in Reykjavik, so I had to go out. Didn't see much listed in the way of live music, so I joined the promenade of people and cars on Laugervegur. Eventually I headed down to
The Dubliner
again, not because it is my fave venue, but because it has live music of a description, yet more Pink Floyd and Beatles covers.
Wish you were here
is a particular favourite. Rumour has it that a case load of Pink Floyd albums was washed ashore in the 1970's transforming the local music scene and leading to Icelandic versions of many of the songs by local hippies. One local bard penned a "munchie melody" in which he fantasises that his companion is made of the traditional Icelandic dairy desert. The title?
Wish you were skyr
of course.
Fri 15 Sep 2006
Real live blogging
Currently in
Caf\xE9 Hljomalind %EXT%
to see various bands. I wandered in to grab a coffee after taking more pictures of stickers, and suddenly the place started to fill up. I also met a guy with a tattoo the same as one of the stickers! The square red guy you can see in
Reykjavik Stickers
is apparently called na\xEFve.
1st Band - Carpet Show
First band up were
Carpet Show
. They had a good brass player, keyboards and a warm happy sound. Reminded me a bit of some of the trumpet on
Pram
and somehow they reminded me of
Mum
who I saw back in 2002 (I'll put in a link later). Unfortunately, they only played a few songs. "More" that's what I say!
MySpace for Carpet Show %EXT%
2nd band - Rokkurro
Sorry, I can't workout how to do that symbol over the o in Rokkurro's name using my phone. Anyway. They sounded ace. Multi instrumentalists with cello, accordion and xylophone. Destined for fame. Hope they have a
My Space
I can find!
Posted on the move at 1:30
(later...) Found
the Myspace for Rokkurro %EXT%
3rd band - Night and the City
From Wales. Very loud. I went outside.
4th band - Defiance Ohio
American. Played here before. A mix of doubled up vocals (one person starts a sentence, another finishes), violin, cello, fast guitars and drums. Got the crowd doing everything from polkas to stage diving, with a lot of the singing along too!
Quiche, Art
Blogging my lunch again. The lowest of the low in the blogging hierarchy are those people who blog their lunch. We're even below the "slag off your workmates and hope they don't find out" bloggers.Still, I'm not proud. Eating at the National Museum caf\xE9. My lunch is a quiche costing around 9 pounds but it does contain that rarest of ingredients here: vegetables! At the till, I found these coffee filters by Ragnar Olafsson, apparently student at the adjacent university. They read "Amazon is not a rainforest. My barcode says how are you. Fine is a registered trademark". Pretty cool eh?
Posted on the move at 16:40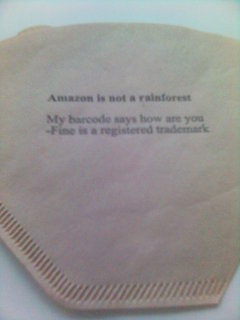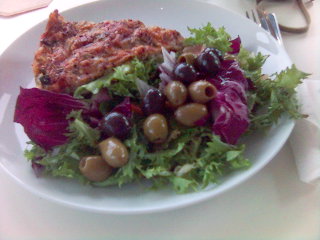 Added a page with some more
pictures of iceland
as there's too many to put here. You'll find some duplicated but also some new ones.
There's a lot of stickers about here Lots of
stickers in Reykjavik
. Arty ones, poetic ones, vegan ones, band ads etc...
Reykjavik Stickers
Thu 14th September
Voyage to the Interior
Off in a 4x4 super-jeep to climb up volcanoes and across desert landscapes.
This test bore for a geothermal power plant goes down 2000 meters, and will be left uncapped for several months in order to check it's output!

Even on top of a volcano, life struggles to exist


We saw some wonderful fosses:


And travelled in a monster truck!

Wed 13th September
Barrin
Saw some live laptop sets at Barrin. The first had live guitar too. The second reminded me of Royksopp sometimes, in terms of the rough sounds which they use in the intro to one of their songs on Eple. The general sound was pretty danceable, with a few people really getting into the beeps and loops!
Two Fish
This restaurant features one of the forbidden Icelandic traditional dishes on it's menu - whale. It also boasted dolphin (!!) as a starter. I went for the unusual (but less likely to get me lynched on return to the uk) guilemot. Followed up by catfish and a fantastic "5 wonders" desert - five tiny portions of different sorbets and ice creams served on a platter of five silver towers.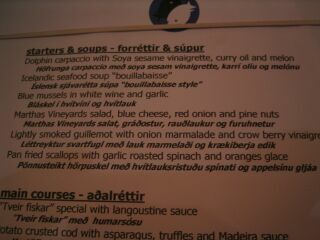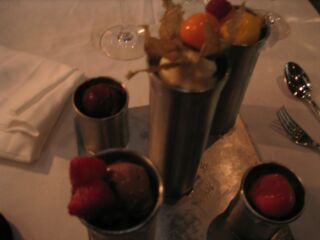 Blue Lagoon
One of the key attractions of Reykjavik, the Blue Lagoon is the outflow from a power plant. Unattractive as this sounds, it's OK in Iceland as it's a geothermal powerplant. This is water from deep in the earth, laden with minerals which apparently make your skin years younger!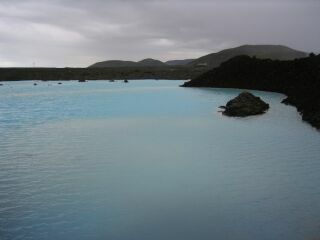 Tue 12th September
Reykjavik by Night
I took these pictures of Reykjavik by night from a small island off the coast where we'd gone to eat. As you can see, it's a lively place.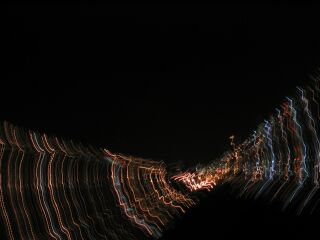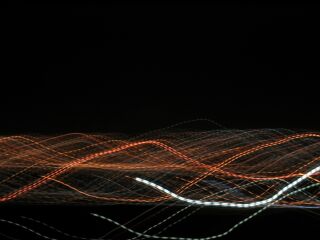 Mon 11th September
Vegemot
Ate lobster pizza at Vegemot. I've never seen lobster pizza on the menu before, and as it was actually relatively cheap, I thought it was a "must try". Other Icelandic delicacies include rotted shark and whale meat, both of which I plan to avoid. The one I might try is smoked puffin!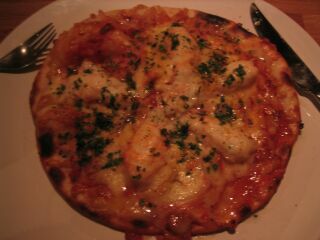 Presidents
Met both the President of Iceland and the President of Reykjavik City Council
President of Reykjavik Council:

Sun 10th September
Wonders of Nature
Today I did the "Golden Circle" recommended to all visitors to Iceland. This consists of Thingvalir - the site of the oldest parliament in the world and a rift where the north American and European continents meet, Gullfoss - a very large waterfall and Geysir where hot water shoots out of the ground at fairly regular intervals.
Gullfoss:

Thingvalli:

A "hot pot" geyser, Smirnir:

Natural Blue Pool:

Water flowing out from geysers:

Sat 9th Sept
Pomodoro Rosso
This "Italian" restaurant is relatively well priced by Reykjavik standards. The food was nice, but a bit weird. A pizza including potatoes and rosemary came with what looked like frozen chips as a topping, and my linguini (described correctly on the menu) came as spaghetti. Not quite "the closest thing to Naples" as they claim, but tasty none the less.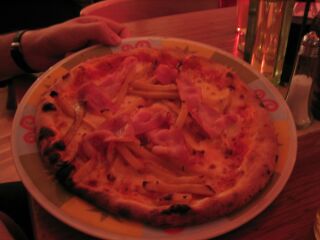 Around Reykjavik
*
Boat Skeleton
.jpg: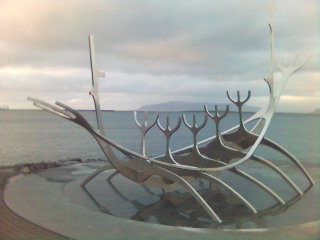 Castle "House":

Prikith Cafe Bar:

Hallgrimeskirkja:

Fck Authority:

Rainbow:

Yellow Shoes. Reykjavik's next fashion craze!:

Fri 8 Sep 2006
ARI Gallery
Located just next to the central church, this small gallery in a house had a selection of contemorary work from local artists. First, about 20 torches hanging from the ceiling of a small dark space, as you switched them on, each projected a line drawing onto the floor. Next a video of a woman throwing records into a yard accompanied by dubbed on sound effects. Upstairs a series of videos showing whirling landscapes, one of a toy barking and walking dog and a pair of digital photo frames displaying a series of photos of president bush and of a random man.
Kjarvalsstadir Art Gallery
Three pieces here really stood out to me. Gudrun Einarsdottir's black canvas with splashes of small raised and wrinkled islands. Created using natural processes, I assume by splashing turps on the canvas and maybe heating. This creates a maze of tiny lines, never crossing, always equidistant. This really is a painting you could look at for years and still see something new. Hreinn Friofinnsson
The light from shadow and dust
1994. Two arrangements of 4 glass shelves lit from above and holding only a leaf-like cut out of silver reflect light and shadow on to the wall. Svava Bjornsdottir,
Arcus I
2004 - a white structure. The inside of a pyramid, but created from castlated bricks sticks out from the wall. Lit from above at a 45 degree angle, triangles and squares of shadow form. Hard to describe but very effective. I wish galleries allowed pictures. Photographing a work of art doesn't steal it, any more than photographing a person steals their soul.
Posted on the move at 13:43
The Settlement
Two meters beneath Reykjavik they discovered the earliest known evidence of human settlement in Iceland. In about 870, a volcano erupted, leaving a very distinctive layer of ash across the island. In 870+/-2 years the first settlers arrived in Iceland. Whilst digging the foundations for a new building, the remains of a hall were found, alongside a short section of wall dating from before the eruption. Nothing else predating the ash layer has been found anywhere is the country. At "The Settlement" you can see these remains, plus some descriptions of life in these times. There are also two multimedia exhibits but one was playing up on my visit.
Reykjavik Art Museum - Hafnurhus
The largest exhibition here was of pop art by Erro. Maybe the complex scenes of superheros would have grabbed me normally, but after a slight art overdose, they said nothing. Upstairs there were a number of very interesting installations. My favourite was a collection of very kitsch objects: organs covered in shells, clocks and barometers embedded in lighthouses, flashing disco lights and glitter balls, glowing trays carrying groovy glasses. It reminded me of an explosion in the house of (a friend of mine). The other works were a collection of TVs and projections showing I'm not sure what, a semi transparent yurt-like tent with rotating projections of old film clips, and finally, large and complex designs of braided hair mounted on the wall.
Kitch Art:

Arty TV:

The Dubliner
My first insight into the real Reykjavik night life. The Dubliner was fairly quiet until around 11.30 when the crowds started pouring in. A mike was set up in one corner, and a guy with a guitar hung about but didn't play. At one point, a women went up to the mike and started singing unaccompanied, only to be removed by a bouncer who ran in from the street outside. She later sang several songs with the guitarist, without further incidents. The music seemed to consist mainly of cover version of Beatles, Simon and Garfunkle etc. with
The Irish Rover
thrown in at one stage for good measure. This pattern was repeated once we moved upstairs, though the guitars were replaced by keyboards, and there was a lot more dancing going on. The crowd was a mix of icelanders and visitors, with the icelanders narrowly leading in the drinking and wild behaviour stakes.
Thu 7 Sep 2006
Amsterdam
No, not that Amsterdam. Amsterdam the bar in Reykjavik. Here to see the band
Benni Hemm Hemm
The support, a guitar based 5 piece went down very well amongst the 40 or 50 strong crowd. Whether this was because they invited all their friends, because of sheer musical brilliance or because everybody here gets drunk before going out I'm not sure

Their guitar playing was strong, the vocal mix a bit duff, and a couple of the five or so songs seemed pretty good to me.
Posted on the move
Benni Hemm Hemm
When Benni Hemm Hemm came on, they started so softly I didn't realise they'd finished their soundcheck. Their song went through waves of sound, from quiet solo guitar up to full cacophony. With a brass section of six (3 trombones, 2 trumpets and a circular horn thingie), 3 guitars, drums plus one guy playing electronics / xylophone / keyboards, they took up the small stage plus some of the dancefloor. The sound they made was amazing, very tight musically, my lasting impression is of their great dynamic range. I did buy a cd, so hopefully they're as good recorded as live.
Benni Hemm Hemm:

The Culture House
A pretty building with various exhibitions. First I visited the historic manuscripts, ok, they're old, some have illuminations (but they are hard to see as they're small and in glass cases), but generally I wasn't impressed. I wish they had told us more about the contents of each book. Even a small quote would have added greatly to the interest. The best bit of this section was the room containing equipment and ingredients to make pigments and parchment. Upstairs was contemporary
Icelandic Fashion
some interesting work here, though I didn't get the name of any of the designers. Drawn to the basement by the sound of music, I found a stunning video installation by Olaf (someone). The projection showed the artist in 9 frames, synchronously creating the music being played on various instruments plus voice. The music was great, but the effect of watching her face and attitude change from song to song was wonderful. Each of the songs was based on conversations with a person from a different country, on the topic of music.
National Museum of Iceland
My "tourist card" provides entry to many of the museums and galleries in Reykjavik, including this one. The national museum contains one of the best presented historical exhibitions I've seen. If only the Culture House would take some tips! I only managed to get through 90% of the first floor in the hour or so before closing. The museum deals with iceland history. I concentrated on the earliest section, between settlement (870) and early Christian (1000ish). The exhibits of artefacts are complemented by computer based information displays which tell you more detail, for example on the history of buildings, whilst showing photographs of relevant sites, plans and objects. Yet more info is available in text form. One of the key tricks they have used to maintain visitor interest is to vary the physical presentation, through the use of enclosed and open spaces, a variety of display cabinets etc. This prevents one suffering from display fatigue, the "not another cabinet of old objects" phenomenon.
Reykjavik Stickers
Plenty of stickers about. Here's a selection
Posted on the move at 16:21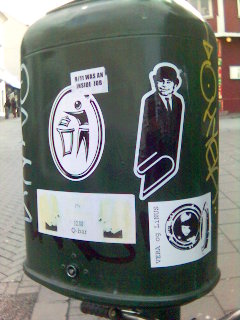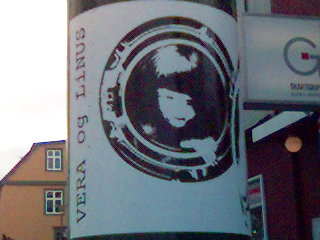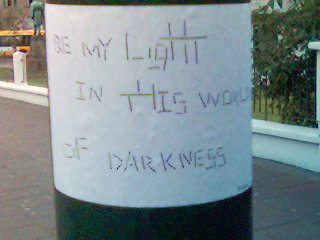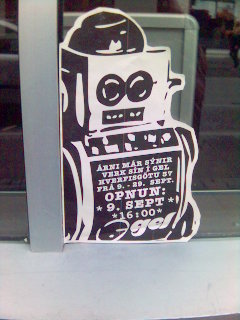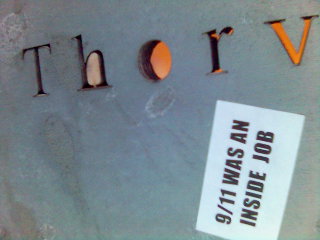 Thu 7 Sep 2006
Iceland First Impressions
The land between the airport and the city is very barren, like a scene from another planet, one which humans are just managing to bring to life. Rocks split with jagged lines as if pulled apart in am earthquake, occasionally a thin scraping of moss and lichen. I wondered: What encouraged people to stay here when they discovered it? Entering the city outskirts, much of the architecture seems to echo the landscape. Plenty of grey concrete. There are a lot of sculptures though. My favourite so far (no picture i'm afraid) is a 6 foot tall version of the mannequin pis erected (if that's the correct term) behind a burger king restaurant! Art flourishes in other ways too - there appears to be a lively stickering scene. One other first impression, the prices really are high. My (delicious) fish soup, admittedly a speciality here at Geysir Bistro, set me back around 9 quid. Add in a beer (4 quid) and the main course and you're looking at 35 quid for a relatively standard meal!
Posted on the move at 13:08
Prev:
Blog August 2006
1 Year Ago:
Blog September 2005
Next:
Blog October 2006
---
Contact me: Website (at)
Andy Pryke
.com, try use a subject which will get through my Spam Filter! I've been having spam filter problems, so if you haven't had a response, I'm really sorry, please try again! See Also:
Web Changes
for other recent updates,
All Blog Pages
for previous blogs. You might also want to read other
Birmingham Bloggers
This is my blogchalk: United Kingdom, West Midlands, Birmingham, Moseley