Prev:
Blog May 2006
1 Year Ago:
Blog June 2005
Next:
Blog July 2006
Sunday 25th June 2006
Saturday July 1st, both
Misty's Big Adventure
and
Kate Goes...
play the
Cotteridge Festival %EXT%
.
Environment in Advertising
I saw this advert in the backstreets of Digbeth and liked it.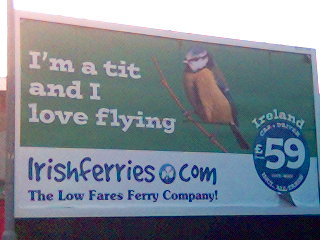 Day of the Triffids
I've recently been listening to the unabridged reading of
[John Wyndham's Day of the Triffids %EXT%
] on [[http://www.bbc.co.uk/bbc7/ ][BBC Radio 7 %EXT%]]. It's an excellent piece of post-apocalyptic fiction. So what will happen when the next
Influenza Pandemic
strikes?

How to Download and Convert Real Audio Streams
Swen's Weblog has a nice article on
Download and Convert Real Audio Streams
. In a nutshell, you need to take these two steps:
Download "Streambox VCR" which lets you download real audio to your PC, so you can listen to it at any time.
Download "Super" file conversion program which will allow you to convert them to MP3 format. This means you can play them on a portable player.
If you like spoken word (drama, comedy etc.) you will find some
good programmes on BBC Radio
. Remember you should always be wary of Viruses and Spyware when downloading software (there isn't normally any risk when downloading th sound files themselves). If you haven't got virus protection, try
AVG Free anti-virus
. For Adware / Spyware, use
Ad-Aware
.
Saturday 24th June 2006
Keep Away from Lonely Places - Nicole Blackman
There were two parts to this: Firstly a virtual tour of New York, from a very personal perspective. Nicole showed us which shops had the best public toilet (Barnes and Noble are a good bet), how to sneak into top night clubs (wear dark clothes and a leatherman, carry a box and find the side door), best places to dump someone or be dumped, and the tree which holds a special memory for her... Secondly, I went on the recorded tour of Digbeth that Nicole had produced in conjunction with a number of locally based people. We handed over a tenner deposit for portable CD players, and trundled off round the backstreets with our map. Where we heard stories about the buildings, streets and canals around us. Where did the Hells Angels have their weddings? What happened to the mysterious cheese selling blonde? Which nightclub allegedly hosted an orgy for 300 people? Where did MI5 spy on black women's committee meetings? The answers to these and more were revealed in a humourous and sometimes spooky tour. You can
download the audio tour
, put it on your mp3 player and do at your leisure. By the way, this was all part of Fierce's Architecture Week programme.
Fierce TV
has some highlights from their recent festival.
Robyn Hitchcock Live
Down to
the MAC
to see
Robyn Hitchcock
play with Minus 3. He kicked off with the first track of his I ever heard
Uncorrected Personality Traits
, and also did a number of his older tracks. This was the first time I'd been to a gig in "the round" - the MAC's outdoor venue, and the bright mackerel sky was a great accompaniment to the beautiful music.
Robyn Hitchcock and Minus 3 (Three front figures are Robyn, Peter Buck and Morris Windsor

Thursday 22nd June 2006
Paradise Dreaming
Great performance piece in Chamberlin Square and "Paradise Gardens" (down below the library). No time to write much now, but it's also on Friday and Saturday and it's free! It has a great fun, festival atmosphere - but remember you are outside in the shade so do dress for the occasion.
Big Screen:

Fire Horns:

Reunited!:

More pictures of Paradise Dreaming
Weds 21st June 2006
BA Show, Margaret St
Down to Margaret St for the BA Show - I think I managed to miss last years one. Margaret St is a beautiful building, but a bit tricky to navigate if you're not familiar with it, so I'm not sure I saw everything. Two things which stood out:
Gyles Brandreth's Sweater
A film by Helen Brown giving a
pseud-y
interpretation of her childhood photos as part of her "artistic practice"; and an installation in the basement by Jennifer Fleming which reminded me of those glass cases for reptiles which you get in zoos, where you look and look and you're not sure if there is one in there which is really well hidden or if it's empty.
This is a terrible picture of a beautiful installation by Jennifer Flemming

Tues 20th June 2006
New Generation Art
I've never been inside the Rotunda before, so it was interesting to get a chance while it is under re-development. Having been signed in, we were led in groups up flights and flights of dusty stairs past doors labelled "New Generations Art - No entry". We emerged into a bunker like space, curved of course, with bare walls and temporary lighting. Flat pictures hung just off the curved walls. The pieces which stuck in my mind were photos on
The Wild West Midlands
, portraits of people from the local "cowboys and indians" impersonation sub-culture; Long exposure photos taken by roads, showing "green men", car lights, reflections off moving vehicles; A musical sofa, which you can phone up and leave messages on; and a video piece
The Dogs of War
showing a dog's sleep being disturbed by a movie soundtrack.
My prediction:
Once the expensive appartments in The Rotunda are finished, there will be a large market in Birmingham for slightly curved pictures.
Sunday 18th June 2006
Upcoming - Robyn Hitchcock
One of my favourite artists, Robyn Hitchcock, is playing on the eve of Sat 24th at the MAC in Birmingham, with Peter Buck + other REM people. RH is a witty but deep english singer/songwriter/guitarist, a kind of cross between Sid Barrett, Oscar Wilde, Jimmy Hendrix and god! Details here:
http://www.macarts.co.uk/?page=event.html&id=1650
If you've never heard Robyn, you can
hear/download his excellent track "Television" here %EXT%
- beautiful guitar, wonderful harmonies!

Television, say you love me
Television, say you care
Loneliness is my profession
Show me those who are not there

Television, murmur to me
Deep inside my room tonight
You're the devil's fishbowl, honey
I undress before your lies
Your lies...
Your lies...

Television, open to me
My remote is in my hand
I can dim you to a red light
Honey, try to understand
I'm there...
So there...

Television, I'm so sorry
If I turned you off back there
I'm so small in your dimension
My kid will look like you, I swear
I swear...
Oh, I swear...

See through me
See through me
See through me
....

You can also
see a lot of (old) live performances here
. Try Birds in Perspex, or Madonna of the Wasps to get an idea of how it might sounds on Sat.
Added Northfied based
Tab, the Ash Blog %EXT%
to my list of
Birmingham Bloggers
.
Friday 16th June 2006
Is Incineration a "Green" Solution?
Interesting article on The World Tonight on proposals for a new incinerator in London. Digging up oil in Iraq, refining it, shipping it to the UK, converting it to plastic, using it once and burning it in an incinerator is plainly crazy. What we need is more recycling, not more incineration. Recycling materials saves loads more energy than you get from burning them, plus you don't need to use up the raw materials and save on climate change emissions.
Tues 13th Jun 2006
Robots vs Dinosaurs
The Sunflower Lounge
for
Robot vs Dinosaur %EXT%
, dressed as an "android", here I met a variety of robots, and a couple of dinosaurs, plus chatted to lots of nice people, danced(ish) to great music and saw the strange but good DJ Homer jamming on his gameboy.
Ana Milgram's got
some much better photos of robots and dinosaurs
!
Sun 11th Jun 2006
Kate Finch and Sam Isaac at The Varsity
My first visit to
The Varsity
in
Wolverhampton
, to see
Kate Finch
of
StrangeTime %EXT%
play at an acoustic night. It was also Kate's first solo performance and
Sam Isaac's %EXT%
first night of a 2 week tour. Kate did some great songs including one about changing the world which made me think I should go and sort out climate change! Sam reminded me of Dom Jolly (of Trigger Happy TV) for some reason, but he did sing some great songs. I also got a new CD from StrangeTime and one from Sam - I'm afraid I've been so busy I haven't had chance to listen to them yet.
Brummification
I'm gradually becoming Brummified, not that it's a bad thing, it's just that I keep typing "thing" instead of "think". I'm working on my "Buz" (bus) and the common cry of "thank y' driver!" as I leave the "buz".
Sat 10th Jun 2006
Upcoming events...
Project X - Like Fxck - 8th July
It's here... after many months of planning,
Project X %EXT%
is here! Like Fxck will feature music (inc. locals
The Destroyers
and
Koala Grip
), comedy (Reginal D Hunter), performance(Unterwelt - specially formed ensemble with performers from UK, Germany, Poland and Slovakia), visuals (VJ Leon Trimble/Chromatouch, painter Mandy Kasafir). Check out the
list of Project X participants
for many more... There's only 300 tickets, and with the number of performers they're reckoned to go pretty quickly, so book now (click on "membership" on
http://www.projectxpresents.com/
Organic Wine Tasting - Thurs 14th June
Organic Wine Tasting at the
Warehouse Cafe
, \xA315 inc. food. Book on 0121 633 0261
Architecture Week - 16th to 25th June
Lots of events coming up for
Architecture Week 2006
. Notable mentions include:
Paradise Dreaming %EXT% - 22nd to 24th June, Chamberlian Square. Inspired by Midsummer Night's Dream, "you are invited to a wedding...". - Free, but book on 0121 622 1424 or paradise(at)hamfisted.org.uk
The Creative Prison - Will Alsop's designs for a prison of the future focused on rehabilitation, developed in consulatation with prisoners, plus video installations and work by prisoners. The exhibition takes place in (or at least in the shadow of) Winson Green Prison - event listing %EXT% and PDF flyer with picture %EXT%.
You can
see a Full Programme here %EXT%
.
Tue 6 Jun 2006
I've eaten at the new
Cafe Soya
premises about 5 or 6 times now, and this time I visited with Ben of
Silent Words Speak Loudest
. The food as always was excellent, I did succumb and go for my favorite -
Deep Fried Fish and Tofu in Sweet Chilli Sauce with Fresh Pinapple and Holy Basil
- wonderful!
Sat 3 Jun 2006
Nymphaeum - Whoopee Club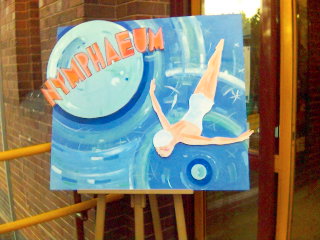 Across to Oldbury in a packed charabang from
The Rep
. The Nymphaeum took place in Langley Swimming Centre, a very pretty traditional baths, with two long, stout pools and murals of Neptunian scenes on the walls. In the first pool, we found nymphs playing with large, white, almost "Prisoner-esque" balls.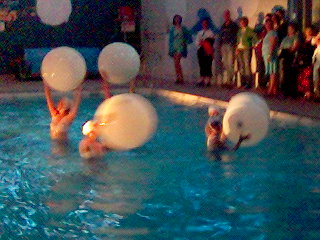 The second pool found up seated on one side to watch the main performance. A stray
fire-nymph
visited for a while, arriving on the back of a black swan and dancing with flaming metal fans. Next we were treated to 18 nymphs performing 1920's style routines to very groovy music. Later they were joined by another 8 to perform a series of spectacular synchronised swimming stunts and displays.
Posted on the move at 22:22
Sat 3 Jun 2006
Civic Life - Desperate Optimists
Desperate Optimists presented a series of seven short films, each made with members of a local community, each filmed in a single shot. Despite these similarities in production, we ended up with quite a varied programme. We opened with what I think was my favourite,
Who Killed Brown Owl
with a local cast of over 100, our single shot moves slowly through an English park on a beautiful summers day. Revealing picnicers, brownies, children sneaking cans and spliffs, and finally, the prostrate body of Brown Owl. The colours are amazing, as is the smooth flowing movement through the park, seamlessly following our different protagonists. A must see for anyone with an interest in film.
Posted on the move at 19:07
Fri 2nd June 2006
Fierce: A Descent into Glamour - Giovanna Maria Casetta
I do like the Fierce events which occur where the unsuspecting general public can be "confronted" by them. Today, Giovanna Maria Casetta descended the beautiful Victorian marble steps in the Birmingham Council House, wearing a shocking pink dress with the world's longest train. She continued out of the council house, "trapping" inside those who had crammed into the entranceway to see her, and out to the central fountain (commonly known as "the floozie in the jacuzzi" - though not by me!). Her train effectively blocked pedestrian traffic across the square, and a bemused crowd gathered around the fountain. The weather was wonderfully sunny, and the pink ribbon of the train formed a kind of psychedelic river flowing across the square
Add a comment or write about your own Fierce experience
Fierce: Undo - Mem Morrison
There's so much good stuff on during Fierce, it's hard to have favourites, but this one man play was fantastic! The question is how to describe it without giving too much away... Mem Morrison was bullied at school. He was called names, spat on, hit and more. This could be a dreary and depressing piece. Instead we see him as he is now, grown up, escaped from that time, and looking back poignantly and wryly at what happened, and who he was. There are basically two halves to the performance, the first, in which Mem slowly reveals his history at school, why and how he was bullied; and the second, in which his former bullies are interviewed about their own school experiences. They are eventually shown pictures of Mem as a child, and asked what they remember about him, what they think he's doing now. The contrast between their memories, or at least what they admit to a (sympathetic) camera, and those of Mem himself are riveting, and remind us to question the validity of our own memories. The best moment for me, was when someone tells of finding out that one of their former bullies, who had made their life a living hell, was shot in a pub a couple of years ago. How happy they felt about it, and their regret that he was only shot in the hand, and not killed! Quite a funny moment, though maybe you needed the context of the play for the set up.
Add a comment or write about your own Fierce experience
Kate Goes... (Red)
Saw Kate Goes...
%EXT%
at the
Bar Academy
. They did seem to attract the biggest crowd of the night, and played a couple of my favourite songs: Heartbeat (which you still can't download from their myspace, but you can listen online or use something like Audacity to rip it) and Animal Song. They also did 2(?) new songs - one about Kung Foo, and another which I'm sure I'll remember later...

Go Kate Goes...., Go!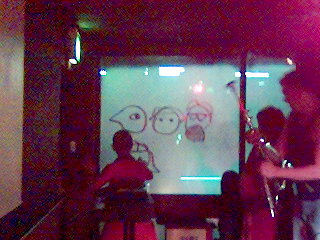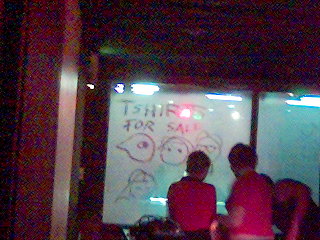 Thu 1st June 2006
Bogus Woman
Prev:
Blog May 2006
1 Year Ago:
Blog June 2005
Next:
Blog July 2006
---
Contact me: Website (at)
Andy Pryke
.com, try use a subject which will get through my Spam Filter! I've been having spam filter problems, so if you haven't had a response, I'm really sorry, please try again! See Also:
Web Changes
for other recent updates,
All Blog Pages
for previous blogs. You might also want to read other
Birmingham Bloggers
This is my blogchalk: United Kingdom, West Midlands, Birmingham, Moseley