Prev:
Blog January 2007
1 Year Ago:
Blog February 2006
Next:
Blog March 2007
Sunday 24th February 2007
Elephants at the City Museum
On Sunday I visited the City Museum and Art Gallery, something which I don't do often enough given that it's free and packed full of all sorts of objects and paintings. This picture of an elephant from a 17th century map caught my eye. I like these old drawings done by someone who never actually saw the animal in question.
See also: my page on
representations of elephants
!
Nature Centre
The Nature Centre at Canon Hill Park is pitched squarely at the family market. Good value at less than 2 quid for an adult, there's a cafe, quite a lot of indoor displays to shelter from the rain in, and of course the animals. The highlight (of bizarity) is the landscape of little houses built for guinea pigs

Tortoise:

Liliput for Guinea Pigs:

A fish!:

Weds 21st February 2007
Kihlberg and Henry at Vivid
Vivid %EXT%
's new season kicked off with work by Reuben Henry and Karin Kihlberg of the
Springhill Institute
. Lately they've been travelling and making film pieces, including the
The Waiting Room
, a series of pieces featuring members of the (art-gallery-going) public which they made at
Walsall New Art Gallery
and which I wrote about
last May
. Also on show is
The Poets
in which Chinese actors act out various scenes, with subtitles in English. Apparently, the Chinese language sound track is actually them reciting the stage directions, though my Chinese language skills weren't quite up to deciphering it. Elizabeth Telfer (ex-Glasgow Uni) addressed the linguistic philosophy and moral associations of food - identifying temperance and hospitableness as key "food virtues". The final speaker, Richard Gough (University of Wales) showed slides and film of his many, many performances involving food, feeding, eating and the "sociality of food" - they all looked like events I'd have loved to have seen! Later we adjourned to
Rooty Fruity
at
The Custard Factory
for food, fine wine and films. In
Mutton
, a lonely woman finds satisfaction in the meat from her evening course in cookery.
Ice Cream Dream
, featuring Kulvinder Ghir, tells the story of a little girl, Luna, whose dad runs an ice cream van. She dreams of being famous and popular for "Luna's Ice Cream" and prefers to help her dad rather than play with the other children. It's a very upbeat film, with a happy ending. Loved it!
Eccentric City
Eccentric City claims to be "The World's First Dedicated Eccentric Newspaper", and sales staff can often be spotted at arts events in
Birmingham
. Articles include: an interview with
Birmingham Legend Big Bren %EXT%
, a biography of "Flint Jack" the forger who amazed the Victorian members of the Geological Society, Lunar Walks, and my personal favourite
Electroplating the Dead
. Pickup a copy at
The Anchor
pub next to Digbeth coach station, or see
The Eccentric City Website %EXT%
- you won't regret it!
Eccentric City Seller:

Eccentric City:

The Eccentric City newspaper gave me the address for
Big Bren's Myspace %EXT%
, which features his great "rant" -
Shopping
. I've seen Big Bren on a number of occasions, sometime sole and sometimes with his Combo, and he's got wonderful stage presence.
Tues 20th February 2007
Consuming Passions
Consuming Passions
was an afternoon of talks on the theme of food in art practice, complete with actual food in the form of home made pate,
baba ghanoush %EXT%
and onion marmalade. Martin Caraher (City University) spoke first on the social and environmental aspects, giving some fascinating examples of just how messed up the food trade is at both an international and local level.
Sun 18th February 2007
Victoria and Albert Museum
Some animal themed exhibits. Note the
P.G.Wodehouse
reference of the final one!
Noble Lion:

Silver Leopard:

Tippoo's Tiger:

Silver Cow Creamer:

I also spotted this lovely Church very close to the V&A.
Church of Latter Day Saints:

Sat 17th February 2007
Blue Deepio
For some reason, I really like this sign in my local laundrette:
Blue Deepio:

Absent Without Leave
I visited the
Victoria Miro Gallery
in London for the opening of
Absent Without Leave
which brought together 13 artists, mainly German I think, in a classic white gallery space. Pieces which stood out to me were
Zeit is Keine Autobahn
by Michael Sailstorfer in which a car type rubbing against the wall filled the whole space with the smell of burning rubber and Andreas Zybach's
Self-reproducing pedestal
where visitors clambered across a thing floor suspended on balloons (and thereby blew up another balloon).
Self-reproducing pedestal:

Zeit ist Keine Autobahn:

Wenlock Arms
After the show we ran across the
Wenlock Arms
, a traditional pub packed with beer tickers and with a live jazz band. The beer festival has a Scottish theme, and the clientele were friendly.
Jazz at The Wenlock Arms:

Friday 16th February 2007
Food at Penny Black and Comedy at The Glee
I think I got this the right way round - food at the glee was very heavy on the fried goods, while the arabiata pasta I had at Penny Black in the Mailbox was excellent. Spicy with fresh chilli, lots of vegetables which weren't over cooked, and the tomato sauce was flavoured with fresh coriander - Lovely! The comedy at
The Glee
was OK. I always find it a bit of an odd layout. You have to sit in very tight rows, and there's not a lot in the way of breaks (well, there were only 2 acts + the compere), so there's quite a restriction on interaction with the people you're with. Because of the seating (I guess?) the bar closes during the acts, so if you're unlucky you can spend the whole interval queueing! I make it sound worse than it was, it wasn't bad at all, but I prefer the "nightclub" style of layout you get at clubs like the
Comedy Kav
.
Thursday 15th February 2007
The God Who Wasn't There
I ran across the film
The God Who Wasn't There
via a Google Ad, and was intrigued by the title. The website has a number of
clips %EXT%
which give a flavour of the film. The clips on
The Christs Before Christ %EXT%
and
Did Jesus Begin as a Myth? %EXT%
suggest that the film explores the
Jesus as Myth %EXT%
thesis as discussed in the book
The Jesus Mysteries
. If you have a look though the Wikipedia entry for
Jesus as Myth %EXT%
, it seems quite a convincing argument, particularly the lack of historical references in what was (to me) a surprisingly well documented period.
A Finnish View of Birmingham Snows
La Dulce Vida has a
nice piece on a Finn's view of the snows in Brum last week %EXT%

Saturday 10th February 2007
Cymbeline
I almost missed Cymbeline's stint at the Rep. I'd seen it
back in Sept 2006
at
The Swan
in Stratford, and vowed to see it when it came to Brum, but I hadn't been keeping an eye on the programme at
the Rep
. Luckily I realised on Friday, and decided to book in for today's matinee performance, and was so glad I had.
Kneehigh Theatre %EXT%
are really a superb company. Their
Tristan and Isolte in 2005
was great, and Cymbeline even better. I think the band made it for me, plus the mixed treatment as tragedy and comedy, which gave it a great depth through contrast.
Natalie Haynes
Strangely enough, I've also seen Natalie Haynes before, most recently in
October 2005
, though I hadn't seen her "Watching the Detectives" show before. The premise is that if we had the right TV detective, we could get them to solve all the world's problems, and this leads us on an exploration of the habits and characters of misc TV 'tecs. I must admit to being a little left behind by some of the references, as I'm not a regular TV viewer, and certainly can't put in the daytime dedication required by Natalie's extensive research. I did really like the bits about Columbo, he's always learning something new in order to solve the crime. I remember one episode where the crucial clue was to do with the time it would take cake icing to dry. Erm, somehow that story always seemed better before I tried writing it down! Anyway Natalie was great, well worth seeing

Thursday 8th February 2007
Snow
It snowed today. Someone at Birmingham University build this Snow-Clocktower! Pretty cool

Snow-Clocktower:

Sunday 4th February 2007
Harbourne Blogger
Another
Birmingham Blogger
La Dulce Vida, based in Harbourne -
http://lavidaadulcita.livejournal.com/
giving a personal Finish-Cuban perspective on life in Brum!
Flatpack Festival: The Science of Sleep
A beautifully shot magical realist film which mixes dreams and reality, I really liked this one. There are also some great craft creations, such as a whole world made from cardboard tubes, and a cloth landscape complete with knitted skiers. I believe it's coming out for a more general release, so well worth catching it if you can. Destined to be a re-watchable classic.
Flatpack Festival: Blood Tea and Red String
Sinister mice in frock-coats, stop-frame animated over thirteen years, that certainly drew me to this, the last film of
the Flatpack Festival
. Although I found it perfectly clear on a surface level, I was left a bit floundering by the symbolism. Did the blue bird or the human headed spider represent something, or was it all a dada-ist koan? Very pretty, very strange, but what did it all mean!
Saturday 3rd February 2007
Birmingham Sights
"Mick the Meat" is a long time fixture of Birmingham markets. His van always makes me grin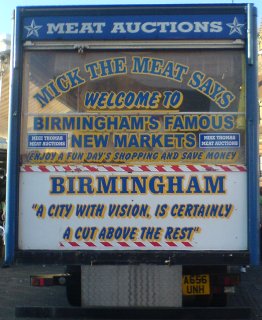 In the window of Richer Sounds, I spotted the following, very exciting TV: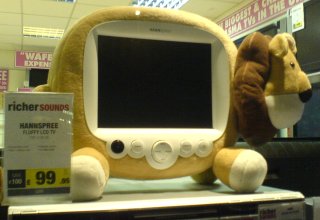 What I liked best was that in the little list of features, number one was "looks like a lion"

- like you couldn't guess that bit!
Flatpack Festival: Parkour and Machinima
Parkour is that kind of street furniture / urban environment jumping and running, which I'm sure results in many a broken head. In fact, one of the films featured someone who'd split their stomach open - you didn't see the incident, just the bandaged part. In some of the French films, people jumped from roof to roof across fantastics drops. It's a bit like the chase scenes from crime films, but with real people in real streets. Coventry city centre featured heavily. The films were curated by
Zen Parkour TV %EXT%
.
Parkour Films:

The second set of films, only three I'm afraid, were Machinima, that is, films made inside computer games. One was the funny story of an artist getting his fantasy revenge on his critics, another a vampire featuring video for a gothy band. The third was an audio documentary of interviews with D-Day survivors accompanied with violent footage from a computer game.
Goth Machinima:

We also had a lot of other shorts, including a film entitled something like "The art of DE" about moving smoothly and accurately in everyday life - I thought it was by William Burroughs, but maybe I got that wrong.
Some Random Dogs!:

Friday 2nd February 2007
Flatpack Festival
My first
Flatpack Festival %EXT%
event of the year, as
Island Bar
. I've never visited
Island Bar
before, and none of the other people I've asked had either, but it seems nice venue. The Flatpack stuff all happens upstairs, where there are some comfy seats and sofas plus a little corner bar. I reckon that
Island Bar
will gain a lot of custom from hosting Flatpack films.
Flatpack Festival:

Today I saw the Films of Jean Painleve, underwater films of shrimps and octopi (or octopuses if you prefer - I use both), cilli and cells. Very pretty! There was also a "Balloon Fish" competition where the audience was invited to create their own fish by drawing on balloons. A very high standard of entries was received!
Films of Jean Painleve:

A Microscopic View:

The "Balloon Fish" Competition:

The Winning Balloon Fish:

Harry the Happy Octopus:

Prev:
Blog January 2007
1 Year Ago:
Blog February 2006
Next:
Blog March 2007
---
Contact me: Website (at)
Andy Pryke
.com, try use a subject which will get through my Spam Filter! I've been having spam filter problems, so if you haven't had a response, I'm really sorry, please try again! See Also:
Web Changes
for other recent updates,
All Blog Pages
for previous blogs. You might also want to read other
Birmingham Bloggers
This is my blogchalk: United Kingdom, West Midlands, Birmingham, Moseley