Purple Potato Pakora
Ingredients
Some purple potatoes (purchased at the Birmingham indoor market)
Courgettes (not included in the title as they aren't alliterative)
Gram Flour (it's made from chickpeas - bought from the same place. Also known as Besan flour)
Turmeric (makes it nice and yellow)
Chilli (makes it nice and hot)
Ground Coriander and Cumin (adds flavour)
Fresh Coriander (I didn't have some to hand this time but it tastes great)
Method
Scrub the potatoes to remove any earth caught in the eyes - don't peel or break the skin, and boil them till they start to soften (not fully cooked). Once they're done, set aside (make sure they don't over cook) or put in cold water to cool. Then slice into thick slices - 0.73mm is ideal. Mix "quite a lot" of gram flour (about one or two times as much as the veg) with Chilli, Coriander, Cumin and turmeric. I used about 3 tsp of chilli, about the same of coriander, 1 of cumin and maybe 3 of turmeric. Coriander and turmeric you can add as much as you like without problems, too much chilli and it will be too hot, too much cumin and it will be too "curry". You can always add more once you've tasted the first batch, or taste the raw mix for a rough idea. Add water (stirring) until the batter is thick enough to stick to things but not solid - you should be able to pour it off a spoon (though slowly). If you have small lumps, there's no problem, Besan flour seems to wet quite easily, just leave it for a bit, stirring occasionally, maybe adding a little more water. You should now have a bright yellow, thick and spicy batter.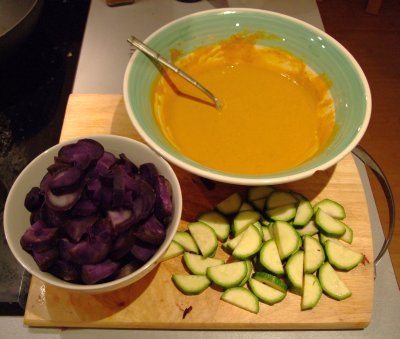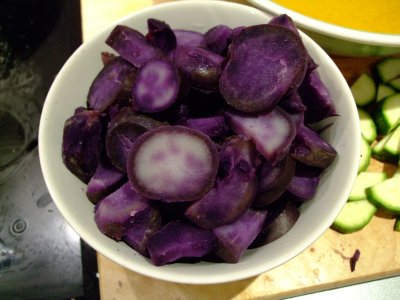 Add the veg - purple potatoes, courgettes, mushrooms (particularly good), onions, whatever, to the batter and coat well - you can do this in batches or all together. Batches is better if you're not sure the spice mix is right.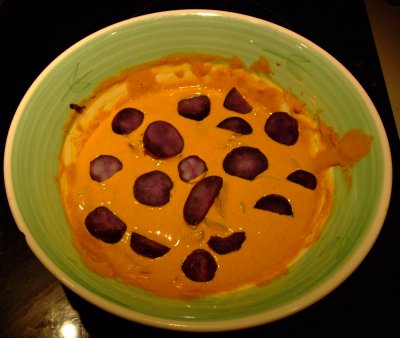 Heat some oil (e.g. sunflower) till pretty hot in a deep frying pan, or deep fryer. I used a wok which worked well. Drop a dollop of veg an batter in, pause for a few seconds to let it solidify, then another and another. Turn them once firm - you can do this a couple of times.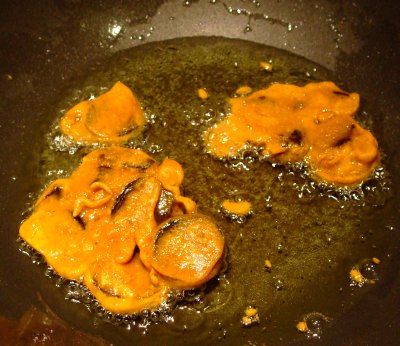 Get them out, draining on the edge of the pan while still hot. Put them onto a warm plate, with some kitchen roll to absorb any excess oil. Eat (careful- they're hot) You can serve with a raita - mix cucumber (chopped small) with plain yoghourt, add mint and/or fresh coriander. Here's how they look if you present them badly: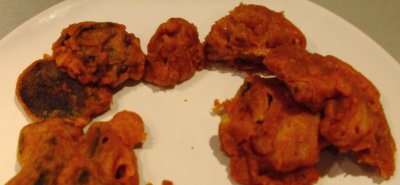 and here's how they are when cut neatly in half to expose the colours - much nicer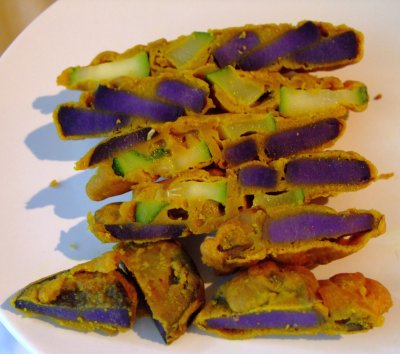 Enjoy!