Prev:
Blog January 2009
1 Year Ago:
Blog February 2008
Next:
Blog March 2009
Sat 28th February 2009
Sushi Kaji
Sushi Kaji is listed as one of Toronto's top Asian restaurants, and probably one of the two best Japanese restaurants in the city (the other being the Kaiseki restaurant,
Hashimoto
%EXT% You can
read this post about Sushi Kaji with more pictures
if you'd like! The location is not what you'd expect, opposite a
Baskin Robbins
and a
Tim Horton's
(Canada's ubiquitous coffee house), and in the same block as a nail parlour. Step inside, however, and you are transported back to Japan. The chef and staff are all Japanese, and the food and service are good and very authentic.
Sushi Kaji Chef Sushi Kaji offers three fixed price menus, and no a-la carte, however they were happy to cater for my no-meat request, and remembered the other instructions I'd given when booking. Each menu includes
Sushi
and Sashimi, desert plus a couple of other dishes. I went for the mid-sized
Waka
menu with about 6 courses. Service started with hot towels, something which every decent food place should offer, but often don't. Dishes I recall include:
Sushi with Sea-Urchin
- never tried this before and it was lovely. I've heard of people eating them straight from rock-pools, with a little lemon, which is a bit too fresh for me! This was delicious, superbly tender.
Sea Urchin Sushi Beautifully presented
Sashimi
- the
Sea Bream
sprinkled with Yuzu rind was heavenly. The
Crab on a Potato Mountain
was actually topped with gold! The presentation was superb.
Sashimi
Sashimi
Sashimi
Sashimi - Octopus and Sea Bream
Snow crab in Broth
- this was memorable for my error. I'd previously read somewhere that the shell was balanced on a pile of salt, however this didn't prevent me from taking a spoonful to work out what it was!
Snow Crab and Taro Potato in Ginger Sauce Finishing with a light version of the classic
Green Tea Tiramisu
, or a
Cute Grape Mousse
.
Green Tea Tiramisu
Grape Mouse Throughout the meal, we drank very fine green tea, though this was the one point where the service could have been better, there were no automatic refills, we had to ask each time. (Though I'm not complaining - it's just that there weren't hovering, watching, waiters) A great place to eat, and I'm already looking forward to my next visit. One note, the table next to us had a woman who didn't eat raw fish or several other things on the menu, though her companions assured her that "Sushi is rice and vegetables", was slightly hysterical and rude to the staff - saying in front of one waitress "she doesn't speak English". I thought they dealt with it flawlessly, and managed to provide her with a personalized menu.
Delhi 6
This Indian film featured some low-key Bollywood song and dance scenes, and followed the story of an American born man who's Grandmother wanted to return to the community she had left behind in Delhi. as a device, it works well, as it allows the director to explain various aspects of life there to an unfamiliar audience (i.e. me). Delhi 6 is an area where muslims and hindus mix, as do their religions - one shopkeeper has a picture of Mecca next to one of the "monkey god" Hanuman. Our protagonist too, is mixed - his father's and grandmother's family is Hindu, whilst his mother is a muslim. For a while, all is good, but family tensions over marriage and modernity surface, the "Black Monkey" is on the loose, attacking people, and cast and religious tensions begin to rise. Almost a film in two parts, it's a romantic look into street-life in one of the world's liveliest cities and both enjoyable and thought provoking.
Thursday 5th February 2009
The Girl Who Could Leap Through Time
The
Birmingham International Film Society %EXT%
runs at the
Library Theatre
, filling some of the gap which the closure of
The MAC
left in Brum. Tonight they showed a Japanese "Magic Girl" film, but one set in modern, real-world, Japan. The street scenes reminded me so much of my
visit to Japan
back in 2007. Our heroine finds, as you might guess from the title, that she can travel through time - she literally has to leap in order to do so, and typically ends in a heap. Initially, she uses her gift for small things, like getting home before her sister eats her pudding, but as time goes on, she needs to spend more of her leaps trying to sort out the repercussions of her interference. One of the things I liked about this film was that there were several points at which I thought "This must be the end, what a great end to the film", only to be proved wrong. You can
see (at least some of it) on YouTube %EXT%
.
Monday 2nd February 2009
Purple Potato Pakora
Today I made
Purple Potato Pakora
, something I'd been thinking about for a couple of weeks since I discovered a stall in the indoor market which sold purple potatoes. Here's a picture of the finished product: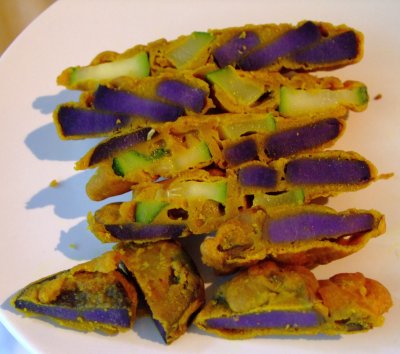 Purple Potato (and Courgette) Pakora There's
more pictures and a rough recipe here
.
Prev:
Blog January 2009
1 Year Ago:
Blog February 2008
Next:
Blog March 2009
---
Contact me: Website (at)
Andy Pryke
.com, try use a subject which will get through my Spam Filter! I've been having spam filter problems, so if you haven't had a response, I'm really sorry, please try again! See Also:
Web Changes
for other recent updates,
All Blog Pages
for previous blogs. You might also want to read other
Birmingham Bloggers
This is my blogchalk: United Kingdom, West Midlands, Birmingham, Moseley