Religious Texts
In hotel rooms you often get a
Gideon Bible
. Here in the Marriott, you get four different books: A
New Testament
, a
Book of Mormon
,
The Teaching of Buddha
and of course
The Spirit To Serve
all about how J.W. Marriott Jnr runs his hotel chain!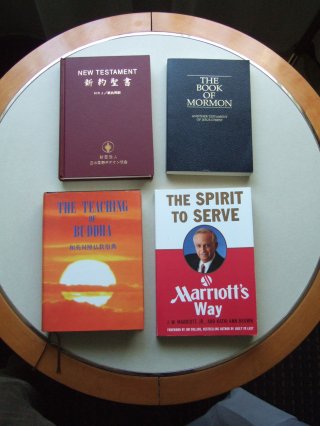 Religious Books
From Tokyo to Kyoto
Left Tokyo today on my way to Kyoto. At the station, I picked up these very tasty cakes made out of sweet potato. In Japan they have purple sweet potatoes, hence the colour.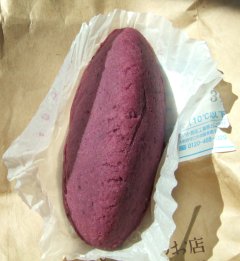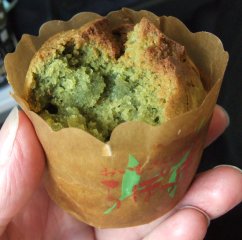 Sweet Potato Cake -) Mount Fugi soon loomed, and I took plenty of pictures from the train, mostly over rather grotty looking industrial buildings and car parks. Here's just one, without so much industry!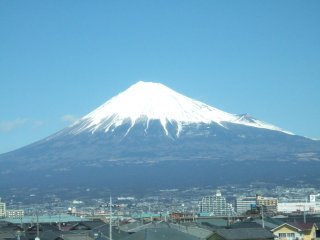 Mount Fugi from Train I liked this sign, for "Madras" Italian shoes, in Japan. Kind of cross cultural don't you think?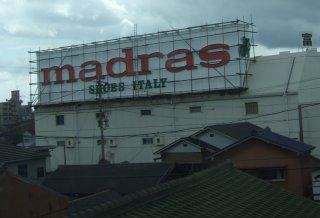 Indian, Italian, Japanese crossover Emerging from a tunnel, we found ourselves in a snow covered landscape. The weather is very different here from Tokyo!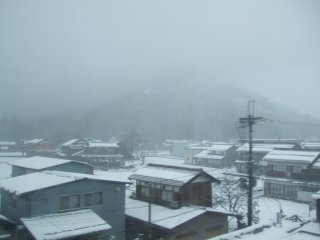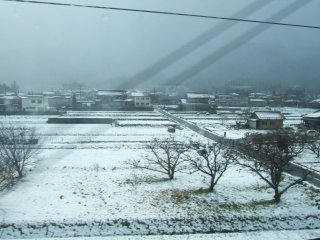 Snowy Landscape
Kyoto
Kyoto is the old capital of Japan (and incidentally an anagram of Tokyo). Famed for its style, its old town, and it's traditional cuisine, we stopped to eat at a small Italian Cafe,
Amici
, in the station. The
Insalata di Funghi
and
Frutti di mare marinnati
were pretty close to the Italian. On the other hand, the
Rice Pizza
wasn't something I'd encountered before.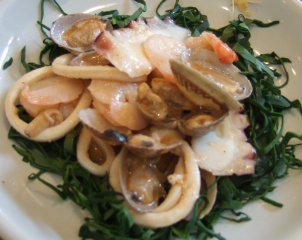 Frutti di mare marinati - Japanese Style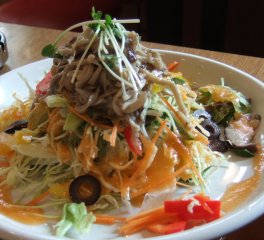 Insalata di funghi - Japanese Style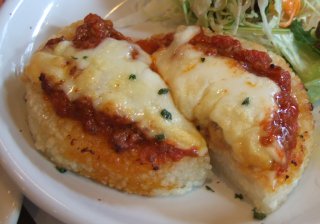 Pizza - Japanese Style Our next stop was the cashpoint, fronted here by a cute cartoon squirrel. Note the unusual keyboard layout too.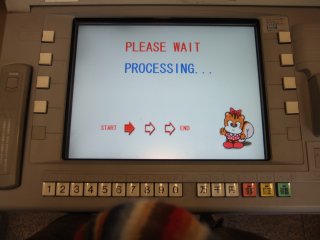 Cashpoint - Japanese Style Another elephant, spotted on our long bus ride to an out of town Ryokan.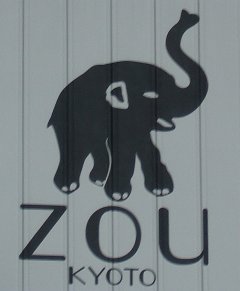 An elephant The buses here have a handy "fare board" which shows you how much you have to pay. When you get on, you take a ticket, showing the current stop. When you get off, you check what you owe on the board and pay the driver, hopefully with change, though there is a self-service note changing machine at the front.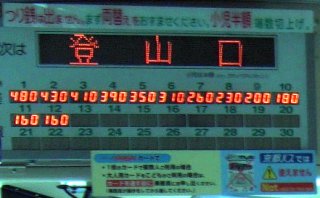 Kyoto Bus Fare Board Arriving at the Ryokan, it was time for the evening meal. Here we had some tempura (on left), rice, pickles and a cook-it-yourself vegetarian stew.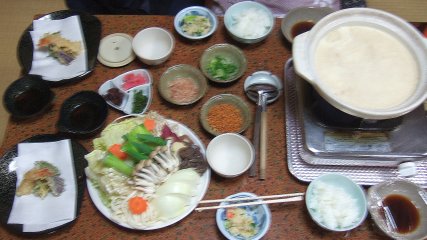 Self Cook Meal in Ryokan