Previous:
Blog November 2003
Next: Blog January 2004
31st December 2003
Dan O'Sullivan has done some interesting hi-tech arts projects, such as
Slow Glass
and Ambigraph -
http://stage.itp.tsoa.nyu.edu/~dano/proj/
Remo Campopiano has done some very interesting work using video and red fire ants! -
http://remo.net/bannister/development/documentation.htm
28th December 2003
Read about "Mystery Hill" in New England, a site which appears to bear resemblances to european megalithic sites -
http://www.crystalinks.com/mysteryhill.html
I had no idea that such things existed in North America, though it's not clear to me that there's been a thorough investigation of origins of the site.
21st December 2003
Saw work by
Rirkrit Tiravanija
at
The Ikon Gallery
. It consisted of groups with particular hobbies or interests, including a chess club, model railway society and The Birmingham Pen Trade Heritage Association (
http://www.penroom.co.uk/
). Upstairs is a recreation of Bar El Batey, the artists favourite bar. All interesting and quite restful! The exhibition is covered live and with recorded highlights on
Super Channel
(
http://www.superchannel.org/Home/Profile/Channels/BKK/BIRMINGHAM/
).
19th December 2003
Made great use of BBC Radio 4's "Listen Again" service -
http://www.bbc.co.uk/radio4/progs/listenagain.shtml
I heard a couple of shows examining UK UFO stories, well put together as they moved from "it must be a UFO" to more down to earth explaination -
http://www.bbc.co.uk/radio4/hitchhikers/convergence.shtml
One show I'd heard before, quite a while ago, was a program about the future of computing/technology/everything by
Douglas Adams
-
http://www.bbc.co.uk/radio4/hitchhikers/convergence.shtml
Very nice to find it online. The origins of life on earth form the subject of "An Earth Made For Life" -
http://www.bbc.co.uk/radio4/science/madeforlife.shtml
- I haven't heard this one yet though! Also found some nice applets illustrating learning, evolutionary art etc -
http://www.arch.usyd.edu.au/~rob/
18th December 2003
Saw work by
Gail Troth
at
St Paul's Gallery
. Saw
Modified Toy Orchestra
at
The Rainbow
. I'm currently reading
The Moonstone
by
Wilkie Collins
.
13th December 2003
Saw an exhibition at
Cell Space
. Very nice piece by Bob and Roberta Smith based on the contents of the Guardian on the day of the "Stop Bush" march in London.
Piece by Bob and Roberta Smith: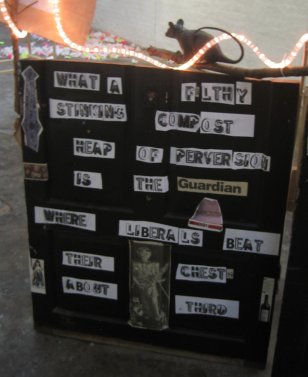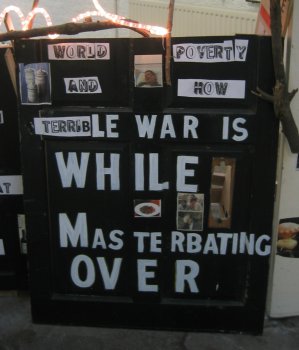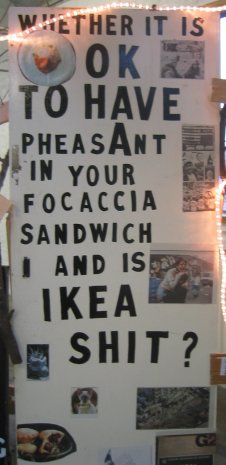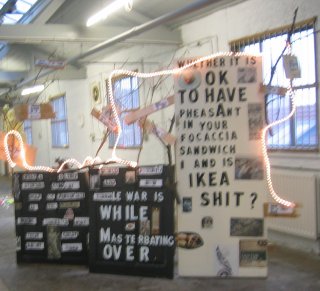 Also visited the
Design Museum
, which was OK but much smaller than I expected. Ate at
Satsuma
.
9th December 2003
Ate once again at
Cafe Soya
, food was excellent. I had Tofu and Fried fish in a chilli sauce. All I seem to do at the moment is eat out!
7th December 2003
Went to a
Modulate
event at the old X-ray factory in Smethwick (previous scene of the
Radioactive
exhibition. Nice lighting installations, some good music from
Bobby Bird
and others, with live visuals. Also
Seven Inch Cinema
(becoming all pervasive now) including a short film by Moseley local Sema, painted onto film.
6th December 2003
Went on a nice guided walk around the
Jewelry Quarter
. Very cold and windy, but interesting to get a bit of the history of the place and see some wonderful buildings. Saw
Spirited Away
at
The Mac
, a Japanesse Animation about a little girl who gets lost and ends up in a bathhouse for the spirits. The quality of the animation was fantastic, beautiful hand drawn characters and backgrounds mixed with what I assume were computer generated effects. Very good, worth seeing again. Ate at (shock horror),
Little Italy
.
5th December 2003
Ate at
Bistro Lyonnais
in Moseley. I'm currently using some great spam filtering software called
POPFile
.
Previous:
Blog November 2003
Next: Blog January 2004
---
See Also:
Web Changes
for other recent updates,
All Blog Pages
for previous blogs This is my blogchalk: United Kingdom, West Midlands, Birmingham, Moseley