Previous:
Blog October 2004
Next: Blog December 2004
Saturday 28th November 2004
Took part in the annual Birmingham "Santa Parade" to celebrate International Buy Nothing Day (
http://www.buynothingday.co.uk/home.html
). It's great fun being Santa, we got lots of positive comments from people in the city centre, and I didn't speak to one person who didn't understand why we were there. I also did a TV interview with Central, plus recorded ones for Radio WM and BRMB.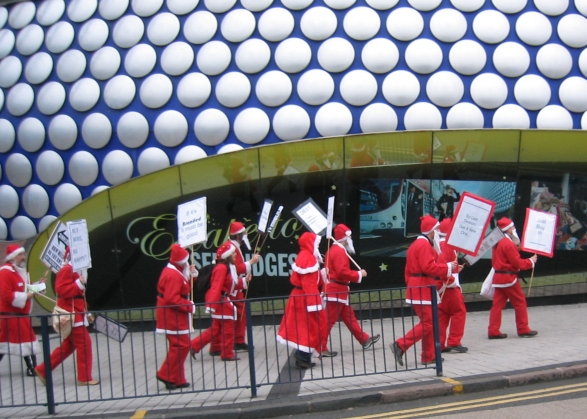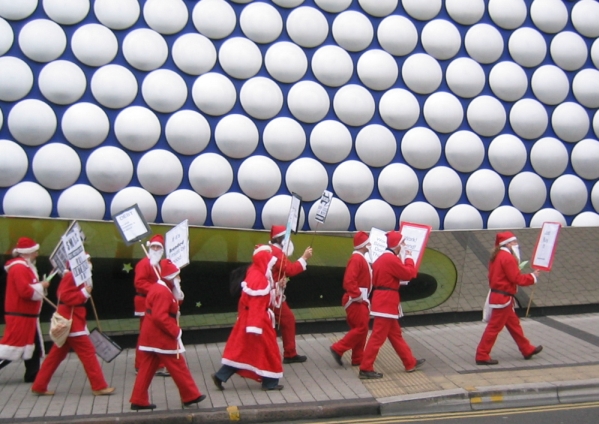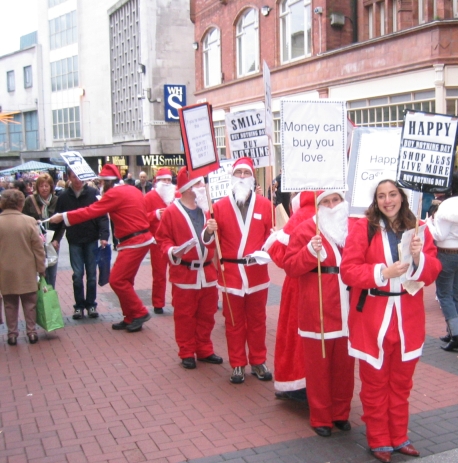 Tuesday 23rd Novenber 2004
Ate at
Sabai Sabai
in Moseley for the 2nd time - much better food than last time (more details at:
Sabai Sabai
).
Wednesday 17th November 2004
The new exhibition at the
Ikon Gallery
opened today, featuring an installation of Optophonic Lunaphone by
Brian Duffy
of
Modified Toy Orchestra
and
ZX-Spectrum Orchestra
fame. I missed the original performance of the piece, which pointed telescopes at the night sky and converted the light into sound, but had heard lots of good reports of it. Even though the gallery was busy, the space was quite meditative and, coming in at the middle, I sat for 10 minutes or so until the piece ended. The sound is rhythmic, constructed, with pace and destination. The intervention of the artist in the process is clearly there. I'll certainly go back and listen again. The other installation I spent time looking at was by Georges Adeagbo. He has taken newspaper cuttings in English, French, German, hand-written notes, books, objects and paintings and arranged them in pieces on the floor and walls of the gallery. Although the first impression might be the scene in a film where the psychopath's bedroom is discovered, a moments more study reveals structure and pattern. An installation which will take many hours to study properly. I hope to revisit it soon and give it the justice it deserves!
Sunday 14th November 2004
I love
Tom Lehrer
- his songs are fun, witty and subversive (in a 1950's kind of way). I came across this nice flash video for his best known song "The Elements" - it should appeal to anyone with any recollection of chemistry lessons at school, or anyone with ears for that matter -
http://www.privatehand.com/flash/elements.html
(See also:
Weird Internet Animations
Also read this nice photo blog, from Tokyo. The author finds lots of interesting things happening in "everyday" Tokyo. He writes well. Here is a link to a "non-event" which he has made interesting... two people reading in a cafe -
http://masamania.com/archives/2004/10/action_reading.html
Thursday 11th November 2004
Saw Arcadia by Tom Stoppard at
the Rep
. Fantastic play, never realised that TS was so clever. Of course the audience didn't really laugh at the maths/science jokes, but there were so many good lines it was hard to react to all of them.
Tuesday 2nd November 2004
Julian Cope
spoke at Waterstones bookshop in Birmingham about his new book "The Megalithic European". He's a warm speaker and told many nice stories about his adventures.
Julian Cope with a copy of his book "The Megalithic European":

Previous:
Blog October 2004
Next: Blog December 2004
---
See Also:
Web Changes
for other recent updates,
All Blog Pages
for previous blogs. You might also want to read other
Birmingham Bloggers
This is my blogchalk: United Kingdom, West Midlands, Birmingham, Moseley