Previous:
Blog November 2004
Next: Blog January 2005
Thursday 30th December 2004
Visited
Avebury Stone Circle
, Marlborough and the
Uffington White Horse
. I spotted this modern "tree-dressing" in Marlborough centre:
Uffington White Horse, Dec 2004:

Lansdowne Memorial, nr Uffington White Horse, Dec 2004:

Barrow Construction (from sign on the Ridgeway):

Ditch and ring of stones at Avebury, Dec 2004:

Stone at Avebury, Dec 2004:

Stone at Avebury, Dec 2004:

Stone at Avebury, Dec 2004:

Stone at Avebury, Dec 2004:

Stone at Avebury, Dec 2004:

Stone at Avebury, Dec 2004:

Stone at Avebury, Dec 2004:

Lichen on stone at Avebury, Dec 2004:

Tuesday 28th December 2004
Saw this wierd modification to the road sign for Church Rd, Moseley. It's well made, but what does it mean?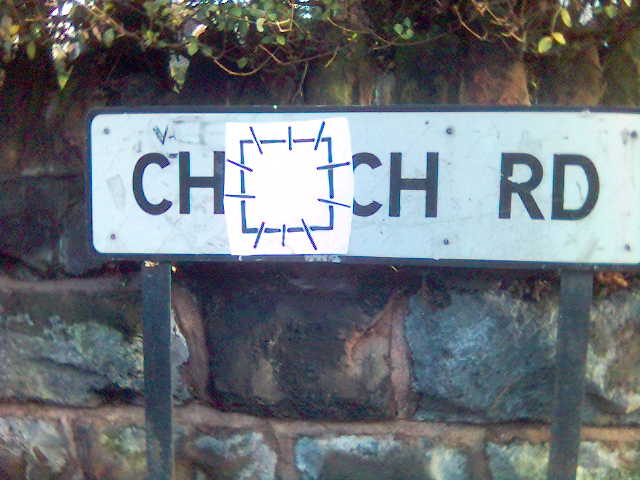 Sunday 19th December 2004
Saw
Misty's Big Adventure
at the
Jug of Ale
- bit more of a "punk-y" sound to my mind, and the Jug didn't seem quite so hot and sweaty. Simon ("Mr Simon") from
Dogfood
played base. Unfortunately I was late and missed
Dogfood
playing

- but Misty's were great!
Saturday 18th December 2004
Saw the A.A.S. ice cream van at the
Ikon
and bought a few bits of 99p art.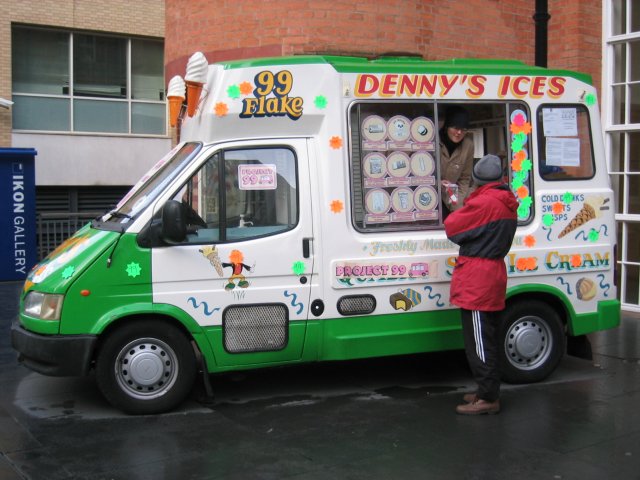 Saturday 11th December 2004
Signed up for
Birmingham Friends of the Earth
's "Climate Challenge" - they're trying to persude people in Birmingham to change to renewable electricity suppliers. Bought art pieces from
Dreams of Tall Buildings
as part of Project 99 - where two "rival" art groups sell their wares from ice cream vans, for 99p each! The van I bought from was parked outside the
Ikon Gallery
, and next sat will be at the MAC, while the group "a.a.s." take the Ikon pitch. Art works available included:
A musical, plastic, blade of grass (shades of Walt Whitman)
Bubble Sculpt - Bubble gum with instructions for sculpting the gum after use
A 99 second musical piece by Dreams of Tall Buildings
A test tube full of sky by Ruth Spencer
A sealed packet containing photographic paper exposed to hold a picture of a tape measure, but not fixed
A section of superman's cape formed into a small bag containing a three frame photo story about a baker with no hands in search of his hands, aided by superman by Darren Joyce
A list of last requests by people on death row by Victoria Bean
A stick of Rock with the text "Art Rocks" running through it by Yoke and zoom.com
Lucky dice, with each side bearing a 6, by Spaceanus (http://www.spaceanus.com/ )
Some other ones!
Each piece is in a series of 99. Also ate fantastic anchovies and tortilla espanola at the
Ikon Gallery
Cafe.
Thursday 9th December 2004
Attended the last
Comedy Kav
run by James Cook, featuring
Ronnie Rigsby
(great old-time entertainer) and
Josie Long
(surreal comedy from the west country).
Wednesday 8th December 2004
Heard Micronormous and (most of)
Misty's Big Adventure
do a soundtrack to the early, silent and spooky film "The cabinet of Doctor Caligari". Great sounds, very filmic, lots of themes. Don't think it was recorded though, which is a great pity. The film itself is well worth seeing, it deals with a doctor who brings a prophesying somnambulist to the local fair. My favourite scenes included: the silent film equivalent of a crowd saying "rhubarb" when the local neighbourhood watch makes an arrest; and the decor in the hospital rooms - which would drive anyone insane!
Previous:
Blog November 2004
Next: Blog January 2005
---
See Also:
Web Changes
for other recent updates,
All Blog Pages
for previous blogs. You might also want to read other
Birmingham Bloggers
This is my blogchalk: United Kingdom, West Midlands, Birmingham, Moseley