Prev:
Blog November 2006
1 Year Ago:
Blog December 2005
Next:
Blog January 2007
Saturday 30th December 2006
Overnight from Berlin to Birmingham
I caught the half nine sleeper train from the Berlin Zoologische Garten station to Brussels, and, although the train track seemed noisier than the Paris to Munich one, I slept through till 6pm or so when we arrived. In Brussels I changed onto the Eurostar to Waterloo, then another train back to Brum, and arrived home before noon. Not bad!
H-Bomb, Kate Goes... and Edmund
I arrived at the
Jug of Ale
in time to catch 4 or 5 songs in
H-Bomb %EXT%
's set and I found them warm, naive, honest and fun! He played mainly keyboards with the occasional computer based stuff, I remember particularly samples of the narator from the Rocky Horror Picture Show. I managed to pick up one of the six free CDs he brought along, so I'll be giving that a listen too.
Kate Goes... %EXT%
played a lovely set, despite some problems with Violin sound (or was it just the monitors?) They played their Christmas song, which I heard at
their first gig
, almost exactly one year ago

Since then they've played a lot of gigs, and done a major national tour supporting
Misty's Big Adventure
! I didn't see so much of
Edmund %EXT%
. H-Bomb is one of the members, but it was quite a different sound to his solo stuff - more guitars. Cliff Richard made a guest appearance in the form of his beautifully illustrated calendar, which the lead singer showed to us between songs.
Friday 29th December 2006
A Few Pictures from Berlin
Berlin Lights:

Fernsehturm in Light Fog:

Groovy Bed Clothes:

Thurs 28th December 2006
Hamburg Bahnhof
This former station has been converted into a gallery of contemporary art, and on Thursday afternoon, entrance is free. It's been snowing, and by the time I arrive, it's starting to get dark. The building is lit by coloured lights, deep blue, lime green, dots of red. Snow lies in the spaces between the cobbles.
Hamburger Bahnhof:

Cobbles with Snow:

Inside, a beautifully vaulted hall. At the entrance, a five meter square of gold wrapped sweets sits on the ground. Some children help themselves.
Main Hall of Hamburger Bahnhof:

A cube in the space is lined with black mirrored walls and from its ceiling, twenty rotating mirrors reflect over bright spotlights. Next, a fighter plane, looking as if it is made of slate. Dead, dried poppies adorn its wings. Poppy seeds fill the cabin, and other spaces. It contains the seeds of destruction. The piece is called
Mohn und Gedachtnis
and is by
Anselm Kiefer
.
The Seeds of Destruction:

The same dark grey paper/stone like material forms a library further down the hall. Giagantic books, worn and rumpled, embedded with seeds, sit on metal shelves creating a square space into which you can walk. Inside, a perspex box contains broken film. From the wall, a movie camera sticks out, its innards exposed. This is our memories. Their fragility. Our doomed efforts to preserve. In 100 years, who will view our flickr photos?
Library of Memory:

Leaving the main hall, I enter a maze of halls containing a retrospective of projected works. On a landing, we are greeted by an eyeball. Alive, moving, spherical. It is projected onto a ball.
Eyeball:

Next,
Rodney Graham's
Edge of a Wood
. Dark, a beam of light occasionally illuminates the trees. The sound of a helicopter above us. For some reason, this seemed very English to me.
Eraser
, by
Doug Aitken
takes a 7 mile journey across Monserat, where massive lava flows forced the population to flee, leaving behind their abandoned buildings, a seemingly untouched jungle, and mountains of bare volcanic ash.
Eraser:

I only caught the end of Finnish artist
Eija-Liisa Ahtila's
Consolation Service
, but it seemed an intriguing, semi-narative film. Unfortunately the film didn't restart, perhaps because closing time was nearing, so I moved on.
24 Hour Psycho
was a familiar friend and is a well known piece.
Douglas Gordan
slowed down Hitchcock's film so that it lasts exactly one day. I didn't watch the whole thing but round the corner I found
Destroy She Said
in which
Monica Bonvicini
has taken short sections of female protagonists from black and white films and woven them into a fascinating hour of crying, shouting, shooting and loving. I think this was my favourite piece in the exhibition. I did see part of a very similar film in Edinburgh this summer, but I don't think I wrote about it.
24 Hour Psycho:

Destroy She Said:

The final piece I saw was
Nam June Paik's
One Candle (Candle Projection)
which painted colour separated images of a candle very prettily across the dark corner of a basement room.
One Candle:

Video Artists:

Maothai
Ate at
Maothai %EXT%
in Prenzlauer Berg. This Thai restaurant is popular with visitors, as it's featured in guidebooks, and has a good reputation for the quality of its food. I had some nice "Thai Style Fishcakes" followed by deep fried tofu (1 inch cubes, crisp on the outside, creamy on the inside) with lots of fresh veg in a dark soy-based sauce. Very tasty! I also tried out a very nice creamy curry. Price wise it was good, by UK standards, at around 20 Euro per head.
Weds 27th December 2006
Munich to Berlin
Currently travelling from Munich to Berlin by train. The trains here are great compared to the UK ones. Wider I think, and better designed. They also have restaurant cars, which is where I am now, looking out on a clear, sunny, but cold landscape end enjoying a weissbier with my food. The houses and forests I see are picture postcard germany, large yellow plastered buildings with typical roofs, basking in the summer sun. Little churches with eastern style, "onion shaped" towers gradually give way to octagonal spires, and then to square towers. In some parts where the landscape is open fields, everything is frozen. Each tree outlined in white frost. The journey from to Berlin is about 5 1/2 hours, from one city centre to the other. I'm sure this compares favourably with flying - no journey to and from the airport, no checking in an hour or so before, no waiting for luggage, and scenery you can actually see! Train arrives at the Hauptbahnhof dead on time of course. I rather stupidly left my camera on board!
Berlin Hauptbahnhof Christmas Tree:

Berlin Hauptbahnhof Santa:

Tues 26th December
Walk into Parsing to see if anything is open. The station shops are, but nothing else. Spend half an hour in a cybercafe checking and sending emails. Go for a long walk, through the nearby woods. The weather is still freezing, just on zero degrees I'd say. There are deer in the woods, but they are hiding today.
Sun 24th December 2006 - Weihnachtsabend
Christmas eve is the big day here. Trees are decorated, presents exchanged and meals eaten.
Traditional Weihnachtsbaum:

Sat 23rd December 2006
Christmas Market
The ground used for the October Fest has been put to good use for a gigantic Christmas Market. As well as outdoor stalls, a number of "big top" sized marquees provide a cosier space to wander. There's all sorts of food, gluhwein, beer and gifts both local and global.
Christmas Market Light Stall:

Friday 22nd December 2006
London to Brussels
The Eurostar is quick and comfortable. Quicker on the continent than the UK of course, but quick none the less. Arrived in Brussels in good time, and got the train to Paris.
Brussels to Paris
The announcements on this train were in four languages: French, Dutch (or Flemish?), German and of course English. Imagine that happening on a British train! It's generally hard enough for a natuve speaker to understand the English announcements.
Paris to Munich Overnight
The route from the Gare du Nord where I arrived to the Gare de l'Est is short but grotty. Leading to Gare de l'Est is the little street where
Amelie
chases after the photographer to return his lost albumn. At 9:30 on a dark winters night, it has a gritty realism quite unlike the magical realism of the film

People spill out of bars, shout, fight and urinate on the street. The Gard d'Est is more like
The City of Lost Children
, dark, draughty, with groups of people huddling around those strange radient heater which you only see at French railway stations. The train leaves on time of course. I share a couchette with five others, and after watching the lights of Paris disappear rather beautifully, it's straight to bed. No-one snores (unless I do!) and after an hour or so, the train stops in the silence of the countryside. At about 7.30 we stop at Frankfurt, where three of my companions disembark, and an hour or so later I get up to see the countryside around Munchen.
Trink Coca Cola - Munchen Hauptbahnhof:

Sunday 17th December 2006
Upcoming: Kate Goes... - 30th December
The excellent
Kate Goes... %EXT%
play the
Jug of Ale
on the 30th of December with
Edmund
. The 30th is the new 31st. Be there or be somewhere else but not as well entertained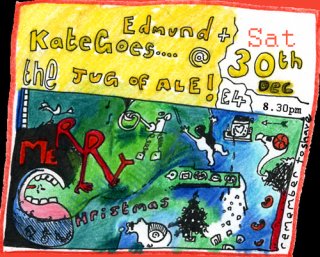 Polar Bear Relocation
As scientists predict that soon there might be no ice left at the north pole, here's an interesting article on plans by
Conservation Beyond Borders
to
relocate polar bears due to climate change %EXT%
.
Sunday 10th December 2006
Finally, I'm on the Map
A friend sent me this map, check out the streets at the far left and bottom of the image!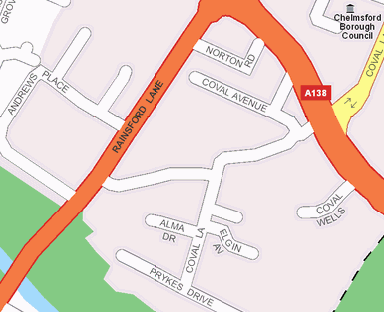 Upcoming: Rooty Frooty Christmas Hooty
The Destroyers are among the line up for this
weird sounding party
at
The Custard Factory
on the 16th December, along with a showing of It's a Wonderful Life. Should be fun...
Weds 6th December 2006
Misty's, ZX-Spectrum Orchestra and Stuart Maconie's Freak Zone
Free tickets to
The Glee Club
tonight to see my favourites
Misty's Big Adventure
, plus
ZX-Spectrum Orchestra
featuring the renowned Brian Duffy and local hero Mike Johnston (aka)
Mike in Mono
.
Stuart Maconie's Freak Zone %EXT%
was being recorded "live" from
Brum
.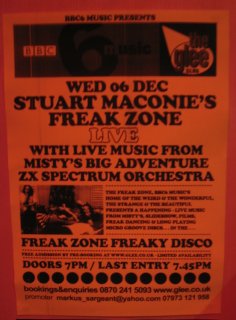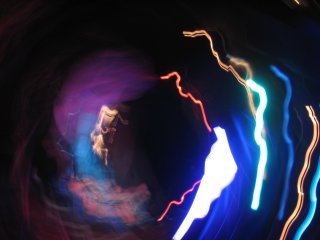 The place was pretty full, infact, most of the seats were taken and there were a quite a lot of people standing. The middle section of seats had been removed to provide a dance floor (and a much nicer atmosphere than previous gigs at the Glee). After an hour or so of fun eclectic music, the
ZX-Spectrum Orchestra
took to the stage, with 3 (I think) machines hooked up to rather snazzy looking flat TVs. They did 4 or five numbers, including
X+X=0
and their cover of
TV OD
, and they were all accompanied by ZX-Spectrum graphics on a big projection screen. Their
D.I.S.C.O.
track with Currah uSpeech vocals had an excellent visual in the style of a 1970's "Saturday Night Fever" flashing dancefloor - all spectrum generated. I think the last of the tracks (
Cantata
?) was pre-programmed but the rest seemed to be "played". You can get lots of their stuff from
Warm Circuit Records %EXT%
. The tracks were quite long, and probably the weirdest thing on the show, so I hope they keep them all on - I imagine them blasting out through the countries Sunday kitchens next weekend at 5pm.
ZX-Spectrum Orchestra in motion, X + X = 0:

Next, we had a visit from Serge Gainsbourg, subject of this week's "University of the Strange". One of Serge's early videos featured some very groovy dancing!
Our host, Stuart Maconie:

Serge Gainsbourg Sings

Misty's fooled us all, they took to the stage to a full dancefloor + cacophonous applause and whooping, started with their normal "dream" into, but then played
How did you manage to get inside my head?
rather than the
Misty's Big Adventure
which they've been starting their set with for ages! (Which reminds me, it's a long time since I heard them do
Confidence
, which they used to start with). Next
I can't Bring the Time Back
which is an excellent song I wish I had a copy of, it's another "sad love song" of which there's quite a few in the Misty's repertoire, though like many Misty's songs it sounds fun, happy and bouncy. Two in a quieter/simpler style next next:
The Kids are Radioactive
(which you can
download %EXT%
as the B-side of "Fashion Parade"), an everyday story of phone masts, mutant children and society destroying canibalism.
Crumpled up Guy
(also on
download %EXT%
) is Gareth singing solo, and got respectful silence from the whole clubs (excluding the laughs - not at the singing of course :-), but at the funny lines).
The Wising Up Song
got us all dancing again, in crazy "nightclub" and "disco" styles, and segways into a parable about moving mountains. Misty's finished on
Fashion Parade
which is another great song to dance to and very funny too. One of the things I like about Misty's is that there's a dance for every song.
I
might
look
as if I'm just jumping up and down wildly, but I'm dancing, honest

Again,
Fashion Parade is available for download %EXT%
and you can also
see a very nice video %EXT%
. There was an amazing chorus for "more" and Stuart Maconie almost looked like he was going to allow them one more, but didn't in the end.
Two Brains Gareth:

Misty's Swirl:

Better Quality Photos
You can see larger versions of some of the photos above on my flickrstream:
http://www.flickr.com/photos/andypryke/
Commodore 64 Orchestra
While hunting for a ZX-Spectrum Orchestra
My Space
(are they the last band in the world to not have one?) I notice there's also a Chicago based
Commodore 64 Orchestra %EXT%
on there! However, due to
My Space
's vagueries, I couldn't get them to play for me. Maybe it was a tape loading error or something.
Sunday 3rd December 2006
Another Birmingham Blogger
Daron from sunny Bearwood has a music review blog called
The Hearing Aid %EXT%
. He's got good taste in music,
Kate Goes
,
Dufus
and
Envy and Other Sins
feature in the list, so worth a read! I've added him to my list of
Birmingham Bloggers
. If you want to be added (or heaven forbid, removed), let me know. It says Birmingham Bloggers, but it's really West Midlands Bloggers, and I want to list as many people as possible. If I haven't responded to you, I've probably lost your email, so do send again!
Prykestar
There was a
Pryke and Palmer
Foundry in 1860's London, you can
see their very pretty coalplate %EXT%
, and even buy a copy! Jason of Streetware.org has also
written a little about the "Prykestar" %EXT%
.
Saturday 2nd December 2006
New Art Gallery, Walsall
The New Art Gallery has some very interesting work on at the moment, an exhibition on automatic art, generated by mechanical processes. My favourite paintings were done by a larch tree and a toy tank, both let loose on paper with pens attached to them. The tank had roamed backwards and forwards across the paper in hundreds and hundreds of random straight lines, bouncing off the walls enclosing it. It really did make a fascinating picture, more dense in the centre and less so at the edges, but very beautiful.
Chameleon Gallery, Walsall
I've never visited the
Chameleon Gallery %EXT%
before. It's on Sandwell St, close to the big church on the hill, St Mathews, and today they hosted a designer maker fair, with most of the work from local/regional artists. These included metal works Alan Cheeseman (curator of the gallery),
flowers created from old CDs by Urban Petals %EXT%
, and printed textiles from Laura Bourne and Lucie Basinger. Drawings and paintings by Jain (someone) on a sex/feminism them also caught my eye. The gallery is a loveley space, warm and friendly and well worth a visit. The next exhibition is from the 5th to 10th December and is entitled
Questions of Identity, Ordeal by Liberty - 25 Years Later
and shows work from a variety of Russian artists.
Complaints Choir on BBC
The
Complaints Choir
is now featured on the front page of
BBC Birmingham
, and
You Tube
hits are up to 307,532. There is now a
Complaints Choir Website %EXT%
with information on all the choirs across the world. Hopefully we might get that complaints choir congress in Finland next year!

Friday 1st December 2006
Fort Dunlop Opening
Went to the opening of the new Fort Dunlop development. It was slightly bizarre, but did have free drinks! We started outside where snaking lines of a few hundred small fires had been created in a roped off carpark. I wasn't quite sure what they were for, but after a couple of short speeches by men in suits, stock cars appeared and raced round. Very funny, as it was so quintessentially Brum, the motor city

The cars were named after
Advantage West Midlands
(the regional development agency) ,
Urban Splash
(the developers) and
Fort Dunlop
. To our great surprise, the race was won by...you guessed it...
Fort Dunlop
! After that, people moved into the building itself. I held back, and there was a massive queue to get in, which we handily bypassed by using my superpowers (or something

Inside there was the same problem, only 2 lifts were running, no stairs, and the lifts could only carry 6 people. Still, didn't take us too long, next queue was for drinks, and there were even queues for toilets, and (if you were a real queue fan), food. It wasn't all about queuing though, it was also about free drinks. Anyway, here's a couple of pictures:
As my friend said: they're going to be pretty pissed off when they realised they've put the sign up back to front!:

Little Fires:

Rotating Firelight:

Fireworks:



Prev:
Blog November 2006
1 Year Ago:
Blog December 2005
Next:
Blog January 2007
---
Contact me: Website (at)
Andy Pryke
.com, try use a subject which will get through my Spam Filter! I've been having spam filter problems, so if you haven't had a response, I'm really sorry, please try again! See Also:
Web Changes
for other recent updates,
All Blog Pages
for previous blogs. You might also want to read other
Birmingham Bloggers
This is my blogchalk: United Kingdom, West Midlands, Birmingham, Moseley