Prev:
Blog October 2006
1 Year Ago:
Blog November 2005
Next:
Blog December 2006
Thurs 30st Nov 2006
Stephen Hawkins
Nice interview with Stephen Hawkins on Radio 4 this morning. It reminded me of this
excellent cut-up animation featuring Prof Hawkins
. I've also got a list of other
Weird Internet Animations
.
Tues 28th Nov 2006
Phone on Strike
Hmmmm... Something is up with my phone. I cleared loads of photos off it because it was full, and now it's not displaying/receiving incoming messages. I know it's kind of getting them, because I can hear the
bip be dip de bip
interference on my computer speakers, and people have told me they've sent them, but the phone doesn't register them... So if you've sent me a message recently, try again. It also means I'm slow to get voice mail, as I don't get the "you've got a voice mail" txts. Not sure if it's connected with these
old reports of k700i problems
? My k700i is a great phone, a couple of years old, but with
Opera Mini %EXT%
I can surf the web well (read gmail, google, news etc.) and setting the camera to 320x240 resolution gives idea pictures for the web, which I can email via a script to appear here on my blog. It works really well for me, with only one caveat (previous to the text message problem), which is that the joystick sometimes stops working, presumably due to dust.
Mon 27th Nov 2006
Maximun Drying Efficiency
I'd always wondered how to achieve "Maximum Drying Efficiency", now, thanks to this sign at the BMI, I've a very exact set of instructions: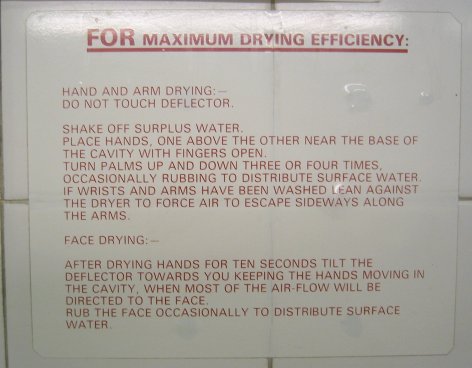 Sun 26th Nov 2006
Sound and Vision
A new night of music, comedy and poetry at the
Flapper and Firkin
, with three very good acoustic sets (including
Kate Finch %EXT%
, who I've seen a few times before and who did a couple of blinding new songs:
Taken
and
Between the Lines
. Actually, I think I might have heard
Between the Lines
before - all about media, manipulation and mass-hysteria.
Taken
is about that "do I drop my boyfriend/girlfriend into the conversation" thing, when someone is chating to you. Two of the
Motorcycle Stunts %EXT%
, and Leese and Chimes from
LCFSE %EXT%
. We also had comedy from Ian
Mc D
and Brian
Mc Inally
, and poetry from fellow
Birmingham Blogger
Donna Scott%EXT%
, and
Louis Campbell %EXT%
.
Backdated Blogging
I wrote up some things from the last week or so, and added some pictures. I'll hopefully have time to add more soon.
Sat 25th Nov 2006
Annual Birmingham Buy Nothing Day Santa Parade
A smaller parade this year, as we didn't plan it until last Monday(!) but very well received none the less. A troupe of us, dressed in Santa outfits, "demonstrated" around the city centre with placards encouraging people to "Buy More, Be Happy" and saying "Money
can
buy you love". It's a great, tongue-in-cheek, fun action, to celebrate international
Buy Nothing Day
, which is really about thinking before you spend, to ensure that what you do buy is good for you, good for the planet and good for the other people you share it with. There were three events in Birmingham that I know of: The santa parade, a free shop giving away all sorts of stuff, and a free food and drink stall.
Buy Nothing Day santas queing for the bus..:

Buy Nothing Day Santas:

Complaints Choir Featured on You Tube!
The
Birmingham Complaints Choir
is currently a front page featured video on
You Tube
. Here it is:
Birmingham Complaints Choir Video %EXT%
! Apparently it was number 1 for a while, it's currently number 2, with 83,466 views at noon. Now on 94,972 views at 18:00. Should top 100,000 pretty soon.
Kate Goes... and Jeff Lewis at Bar Academy
The
Bar Academy
played host to antifolk hero and cartoonist
Jeff Lewis
tonight with his brother Jack and "full band". This meant a mix of his acoustic stuff, with a giant cartoon book for the song about a red hand and a great song i haven't heard before (
don't be upset
), and the heavier electric stuff. This time I got there in time to see all of the Kate Goes.. set, but unfortunately missed the support. Tonight's theme was along the lines of
Kate Goes... Tinfoil
! with the various members sporting a wide variety of silvery costumes. The set was short, and they didn't do one of my favourites-
Don't you thow your friends away
but did do a spellbinding version of
Heartbeat
. If I could fix a moment in glass, like a paperweight, it would be a moment from the time they describe in that song. I only got one decent cameraphone picture, and it doesn't show Susie or Beth's costumes. I didn't get any good ones of Jeff at all. Anyway, great gig!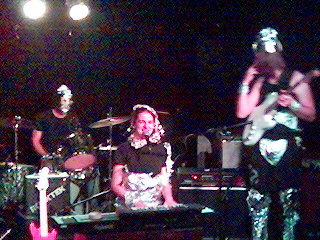 Thurs 23rd November 2006
Sabi Sabi
Haven't visited Moseley's Thai restaurant
Sabi Sabi
for a while, but I found it much as I remembered. The service was good, wine not too expensive, and the food quite tasty but not amazing (at least for vegi food).
Weds 22nd November 2006
Misty's Big Adventure at The Jug
Misty's Big Adventure
played a packed gig at
The Jug of Ale
. When I say packed, I mean really packed. It was a bit tight for dancing, so I'm looking forward to seeing them somewhere with a bit more space again. As always, they were very tight, and did quite a few of the newer songs such as:
The Kids Are Radioactive
,
Crumpled Up Guy
and
I Can't Put the Time Back
, as well as old favourites such as
Dog Like You
. Unfortunately, I was a bit late arriving, and only heard half of
Kate Goes...
last song. However, they are back with
Jeff Lewis
at the
Bar Academy
on Saturday.
Mon 20th Nov 2006
Lego Robotic Competition
I had the honour of being an judge for a Lego robotics competition for school kids. It was great fun, and I was very impressed by the children from all sorts of schools - the degree of teamwork, interaction and strategic planning was great. They understood exactly what they had to do to win the competition, in some ways, they understood it better than the people who had designed the rules! Although not everyone could go away with a (Lego) cup, I can't say there was one team who I didn't admire, and wonder what they might acheive in the future.
Sun 19th Nov 2006
Nice
new sketch show %EXT%
from Birmingham based
Missing Hen
, which includes Phil Hayes who wrote the
Six months off / Six months on blog
. It reminded me a bit of
Not the Nine O'Clock News
or
Who Dares Wins
. They've actually hosted it on three different video sites
YouTube
,
Veoh
and
Blip TV
- I hadn't come across the later two before. The quality on Veoh seems better than
You Tube
, whether this is something to do with the encoding of the uploaded version, or their conversion to a flash based format, I'm not sure.
Sat 18th Nov 2006
Official Government Petition for Blair to Resign
The Govt are trying out a system to allow people to submit and sign petitions online. The Prime Minister's website has a petition for
Tony Blair to resign
! Why not sign it

Friday 17th November 2006
eScience and the Visual Arts Workshop
Today I spoke at a workshop on
eScience and the Visual Arts
, held at the Ikon gallery, and organised by the
Visualisation Research Unit %EXT%
of BIAD, with support from
Cercia %EXT%
. The afternoon session was particularly fun: the VRU provided a number of notepad computers where you could draw on the screen, and what you drew appeared on everyone elses screen, plus on a big projection screen. It was a collaborative drawing experiment - we could all draw over or erase or add to whatever anyone else was doing. At one stage I zoomed in to where someone has written a comment, and added one of my own. I then had a go at drawing stickmen in black, which someone else scribbled out in light blue, and then deleted! I drew a sad face

and they wrote "sorry!". Strange interacting with anonymous people like this.
Gregory Sporton with tablet PCs:

Dan Hunt Lecture
Momus gave the
Dan Hunt%EXT%
Lecture tonight at the BMI, rounding off the eScience and the Visual arts series. He spoke about the "IT culture", Japan, the idea of "situatedness" and social changes occuring with technology.
Tues 15th Nov 2006
(contains spoilers) I knew nothing about this play before I arrived, except for the venue and the fact it started at 7:45. I like that, I think it's important that the work stands on its own, and too much pre-knowledge can spoil things, which is why I hate watching film trailers. Anyway, I'm about to spoil that blissful ignorance for anyone who reads further_The Night Shift_ hangs on a standard ploy - it's that "are they mad or aren't they mad?" thing, plus "what could the relationship be between these two sets of apparently unrelated characters". I wasn't impressed with the plot to be honest, it was full of psycho-babble and counselling speak, and at points the dialogue was very drawn out and repetative. In fact, near the end I was a bit bored, spending part of my time admiring the lighting rig. However, it wasn't all bad - the acting itself was good, very good, with our cast of two switching between the four characters well. The lighting was simple but good, indicating to us which of the two locations we were viewing, and whether our psycho woman was mad at that particular moment. I suspect there was a small lighting mistake early on but it didn't affect anything. Bits of the staging were good, but other bits seemed contrived, could be shortened or simply done better. I typically don't do "bad" reviews, but this piece could benefit from shortening some of the scenes, and whether the plot could be salvaged I just don't know.
Sun 13th Nov 2006
The Warehouse Cafe
is now "Open All Hours" - 7 day a week for lunch / afternoon and every evening except Sunday. It's literally 5 minutes walk from Selfridges (under the railway arches and turn right), and now it's open more days I think I'll be eating there much more often. We shared starters of whole bulb of roast garlic with cream cheese, various pates and some falafel, accompanied by bread. For main I had a hazelnut and mushroom nut roast with an apricot stuffing, accompanied by roast veg. It was all very very tasty! Plus, it's bring your own, so we had a very nice bottle of red, which would have cost a fortune anywhere else. For sweet, we shared an extremely chocolately chocolate and raspberry torte-thingie, with coffees. Total cost for 3 starters, 4 mains plus 1 desert and coffee - about 12 quid a head!
Warehouse Cafe - Now "Open all hours...":

UFO Debunking
Nice site giving
the "real" explanation behind various UK UFO stories
.
New Flag Designs
It's pretty lame to link to
B 3 TA
as everybody in the world will be doing so, but this
collection of redesigned flags
is really something special.
Sat 12th Nov 2006
Is it a liquid or not?
Nice Spanish
video of what happens when you fill a pool with water mixed with cornstarch %EXT%
. You can run across the surface, but if you move slowly it acts like a liquid and you sink. Which led me on to this
video in which vibrating the cornstarch causes interesting effects %EXT%
. You know when you have coffee in a polystyrene cup and you pull it across a table (maybe not)? Well, you get these kind of fixed waves on the surface. Apparently they're called faraday waves, and you get them here too, but up the frequency and you get something much more weird.
Fri 10th Nov 2006
eScience for the Visual Arts Workshop
Today I attended the second of the
_eScience for the Visual Arts_
workshops being held at the Ikon gallery by BIAD (with support from Cercia - where I work). This session was focused on (artistic) practice and we had talks and live demos of work from Michael Takeo and Keir Williams, Jonathon Green and Suzanne (surname unknown!). Michael's work takes live feeds from the internet, transforms them and presents them in novel ways. Keir, Jonathon, and Suzanne did a 3 way networked video/audio/dance piece which (technically) could have had the performers anywhere in the world. Various cameras captured the dance and their output was transformed to create both sound and video. Interesting technology.
Me and Momus
Momus
, a musician, artist and technically aware person for whom've got a lot of respect (i.e. I've got all his CDs), is giving the
Daniel Hunt Lecture %EXT%
next Friday.
Dan %EXT%
was a big Momus fan and was also one of the people who helped put together these workshops. I don't write about individual people on this blog, unless they've put their name into the public domain by appearing (on stage) at a public event, or they also write about themseleves being at a particular event on their websites, so I won't say any more about Dan here. You can read more about Dan in
Gregory Sporton's article %EXT%
. I'm also speaking (on
god know what
The 3 Categories of the Grid; Data, Computational & Social
) at the
eScience workshop
, and I was quite suprised to see the poster for the event featuring me + Momus!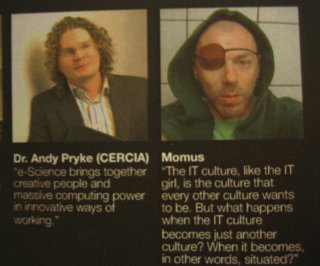 Wed 8th Nov
I discovered today that local Councillor (and comedy promoter)
Martin Mullaney %EXT%
has a blog at
http://martinmullaney.blogspot.com/
It's even go
You Tube
video - though a less controvertial one than Sian Simon's! I've added the blog to my list of
Birmingham Bloggers
An Inconvenient Truth
Showing at
the MAC
this week and next, Al Gore's lecture based film
An Inconvenient Truth
is interesting for a number of reasons. It's clearly aimed at the US public, and uses the same editing style as Michael Moore's
Farenheit 911
: Gore's well presented and accessible presentation is interspersed with segments about his life and career, presumably to break it up a bit and give some human interest. The power-point presentation which he gives features some killer graphs - the one showing the temperature/CO2 for the last 600k years, shows a rhythmical sequence covering 4 ice ages. However, the CO2 levels in the atmosphere now are off the scale when compared to any of the warm, inter-glacial, periods. Gore's a good speaker, and the film is well worth seeing.
Sat 4 Nov 2006
climate change demo 2
More banners
Posted on the move at 15:04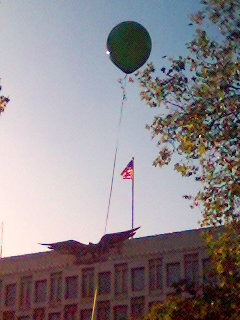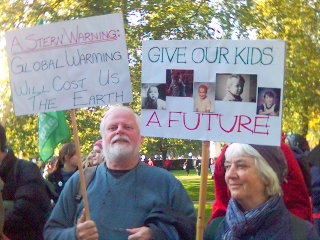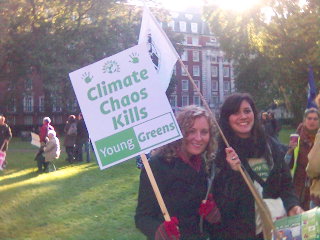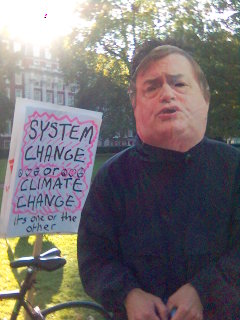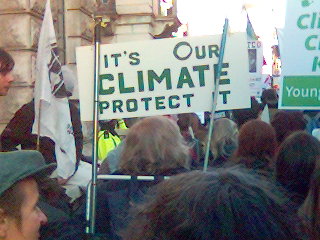 Sat 4 Nov 2006
Climate change march 1
Banners at climate change rally
Posted on the move at 12:50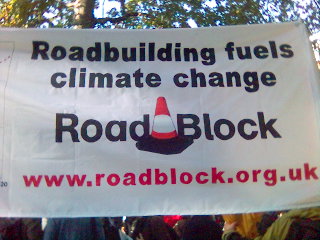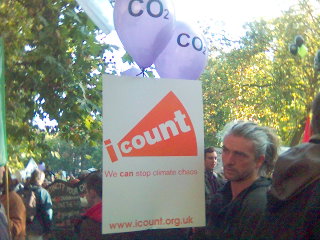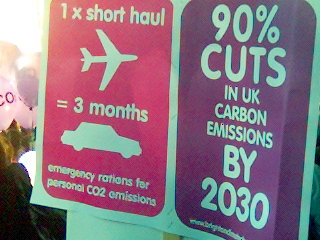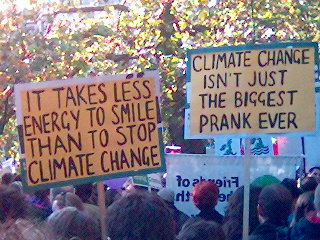 Fri 3rd November 2006
Added
Kim's Blog
based in Acocks Green to my list of
Birmingham Bloggers
.
Weds 1st November 2006
7" Cinema
time again, though due to their tour
%EXT%
the next one won't be till the new year

Still, a very nice night with music from the
ZX-Spectrum Orchestra
and
Einstellung

The Spectrum team shone as always, hopefully I'll see them again soon. I wasn't sure what to expect from
Einstellung
, I'd been told that they had a 26 minute single which they were going to play, and I was quite looking forward to 26 minutes of weird beeping and electronic noises. When a friend told me to expect 26" of minimalist krautrock instead, I wasn't sure how it would go down. It went down well with me, and with the rest of the crowd. The piece, called
Sleep Easy Mr Parker
(apparently a tribute to the recently dead father of one of the band), was accompanied by long slow peaceful pans across a (Scottish?) lake landscape. Check out
Einstellung's MySpace %EXT%
. It features long slow repeative guitar riffs, creating a form of silence through their repetition, on which are played subtle variations.
Prev:
Blog October 2006
1 Year Ago:
Blog November 2005
Next:
Blog December 2006
---
Contact me: Website (at)
Andy Pryke
.com, try use a subject which will get through my Spam Filter! I've been having spam filter problems, so if you haven't had a response, I'm really sorry, please try again! See Also:
Web Changes
for other recent updates,
All Blog Pages
for previous blogs. You might also want to read other
Birmingham Bloggers
This is my blogchalk: United Kingdom, West Midlands, Birmingham, Moseley