Prev:
Blog October 2007
1 Year Ago:
Blog November 2006
Next:
Blog December 2007
Tuesday 27th November 2007
Ikon Opening
Visited the
Ikon Gallery
for the opening of their latest exhibition.
Julian Opie
has curated woodcut pictures by 19th Century Japanese artist
Utagawa Hiroshige
. They're in that classic Japanese style, lots of beautiful landscapes, rocks and sea but incredibly diverse. I found some of the city scenes fascinating.
Alice Cattaneo
is an Italian artist based in Milano, her "stabiles" (think "mobiles" that don't move) seem simple but tense, and she's also got some interesting and amusing video work.
Saturday 24th November 2007
Buy Nothing Day
Santas gathered for the 6th Annual Birmingham Buy Nothing Day Santa Parade. Great fun!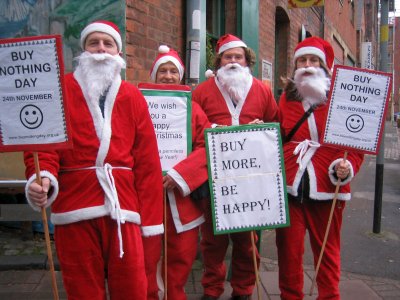 Four Santas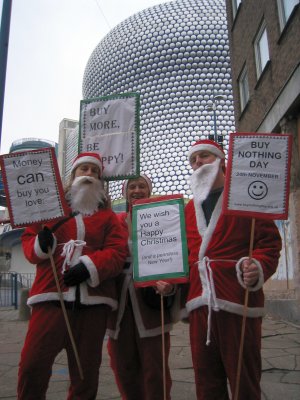 Santas at Selfridges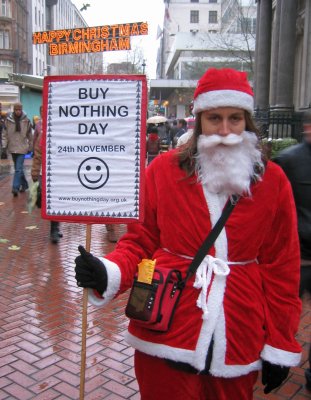 Happy Christmas Birmingham!
Friday 23rd November 2007
Asobi Seksu and Scanners
Popped into the
Bar Fly
to see
Asobi Seksu
a New York band with a Japanese name, and discovered
Scanners
who were supporting.
Scanners %EXT%
have got a great stage presence, dominated by their female lead singers/guitarist and were to my mind the better of the two bands.
Asobi Seksu %EXT%
seemed a little tired, as if they'd been touring too long and this was just another gig for them. Maybe that's a little unfair, but the spark did seem to be lacking for most of the set, and I had the impression that this wasn't their best gig. Having said that, the vocals were great (there's something about singing in Japanese) and the finale where they swapped instruments and the drummer roamed the stage carrying part of the drum kit was great. Anyway, check both bands out in recorded form, they sound great!
Wednesday 21st November 2007
Mount Fuji Bento
There's a new Japanese cafe opened in the Bull Ring, just up from the Costa(or is it Starbucks) "seashell" near St Martin's church. It appears to be an offshoot from the
Mount Fuji mailorder food company %EXT%
who I've bought pickles, odd snacks and sencha tea from in the past and highly recommend. The food wasn't quite as interesting as I'd hoped, my Agedashi Tofu bento was quite good, but lacked a little sparkle. One of the dishes contained lotus root, and various other things in a light brown sauce but I had the impression that it was pre-prepared, or at least that they had been sitting together there for long enough to lose their individuality. However, I'm certainly going back, and had to restrain myself from popping back the very next day! The plan is for the menu to expand, to include noodles and
sushi
and it's great to see more Japanese food in Brum. Let's just hope it doesn't get too busy for me to pop in regularly.

Oh! Almost forgot - they also have some take away Japanese snacks, sweets and soft drinks (including Pocari Sweat) and they sell very good Sencha tea.
Friday 9th November 2007
Fiery Furnaces
Headed down to Barfly to see the Fiery Furnaces with
Ben %EXT%
and
Kenny %EXT%
, who can doubtless fill you in on the musical complexities, though I have to correct Kenny's reporting of my conversation with Eleanor - I recall telling her she could have a copy of the photo if she'd like - it's obviously me who's famous

My verdict: "jolly good" - strong, musical and exciting. Browsing for FF videos, I ran across this
great fan video for My Dog Was Lost but Now He's Found %EXT%
, which made me smile

The Furnaces are from New York, and this set me thinking: Why is it that so many New York bands choose to visit Brum? Is it just that there's a lot of bands in New York? But surely the rest of the world has bands too. We get the odd Icelandic or Japanese band but where are the French or the Germans? What about the Polish? When do we get to hear their impact on the local music scene? Hmmm...
Thursday 8th November 2007
Photos of Birmingham Old and New
Ran across these
photos of Birmingham then and now %EXT%
by Leonard Stace. Interesting to see how the city has changed. There's a whole
load more %EXT%
by D J Norton too.
Saturday 3rd November 2007
Misty's Big Adventure and Shady Bard
Nice to see
Misty's
and Shady Bard at the Sanctuary as part of Gigbeth. They seemed to be running a little early, so I missed the very beginning of Shady Bard's set. They were excellent - they've got a great dynamic range, going from very quiet, soft guitar to wild, loud and crazy (but still tuneful) exuberance. One to watch for definite!
Misty's
started off with a very nice instrumental track, then launched into a set including:
Serious Thing
,
She Fills the Spaces
and
Fashion Parade
. Gareth (lead singer / "band leader") seemed not to like the acoustic in the room but it sounded fine from out in the audience. Erotic Volvo did his crazy dancing on stage, and launched off into the audience, going round and dancing right in front of some people and then crawling through the audience like a blue-glove covered dog! It was great to see the audience reaction from our vantage point up in the circle, though I couldn't resist going down to dance myself for the last few songs. Go Misty's!
Project X
The culmination of about a year's worth of planning,
Project X
presented their multi-faceted box of delights tonight. I caught some of the dress rehearsal yesterday, so some of the photos are from then.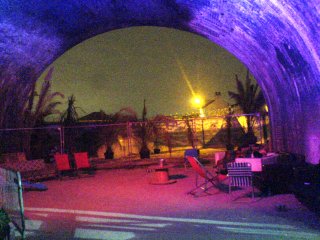 Chillout Zone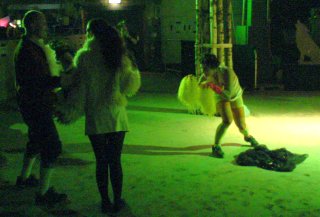 Performance and Dance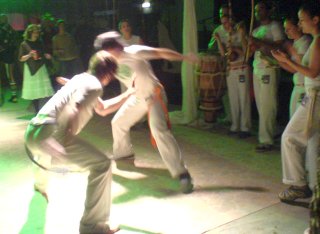 Brazilian Dance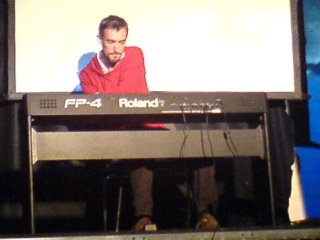 Richard Batsford Other artist and performers included:
Kindle Theatre %EXT%
, meeting, greeting and performing in the crowd; Top stand-up comedian and lovely man
Reginald D Hunter %EXT%
; a great qawwali group,
Aashiq al-Rasul %EXT%
(soon to be seen
at the Town Hall %EXT%
);
Einstellung %EXT%
doing both an acoustic and electric set; and Marc Reck DJing.
Prev:
Blog October 2007
1 Year Ago:
Blog November 2006
Next:
Blog December 2007
---
Contact me: Website (at)
Andy Pryke
.com, try use a subject which will get through my Spam Filter! I've been having spam filter problems, so if you haven't had a response, I'm really sorry, please try again! See Also:
Web Changes
for other recent updates,
All Blog Pages
for previous blogs. You might also want to read other
Birmingham Bloggers
This is my blogchalk: United Kingdom, West Midlands, Birmingham, Moseley