Prev:
Blog July 2007
1 Year Ago:
Blog August 2006
Next:
Blog September 2007
Friday 31st Aug 2007
Vandalism...
I don't really approve of this, but you can't deny it's kind of funny. Someone has "decorated" one of the heads on the outside of St Martin's in the Bullring.
Head on St Martins Church (with Lipstick)
M.A. Show at Margaret St
The M.A. show at Margaret St School of Art is well worth a visit - nearly 20 artists displaying their work in a beautiful purpose built art school in the heart of Birmingham. Pieces which stood out to me included:
Lisa Metherell's %EXT%
work using glow sticks and distorting mirrors. She also created these Polari signs dotted about the corridors: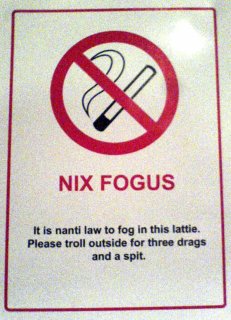 No Smoking in Polari Jennifer Hankin's distorted body images made from tights and clothing, displayed in a maze of mirrors.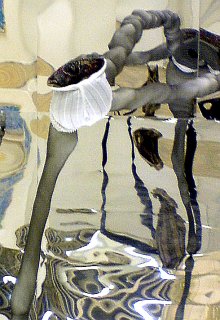 Distorted Body Image Keir William's video showing glowing dot as he follows flies in his garden with his fingers, and also his videos showing interactions between analog and digital musicians. There was also an "insectoid" performance in a insect nest made out of paper (which visitors could crawl into), although unfortunately this was interrupted half way through by a loud recording of Rod Stewart from an adjoining piece.
Friday 24th Aug 2007
The Best Festival?
I was having a look at
Jeffery Lewis's %EXT%
List of Upcoming gigs %EXT%
, and I saw he was playing the
End of the Road Festival %EXT%
. And guess who else is playing?
Misty's Big Adventure
,
Herman Dune
,
Architecture in Helsinki
and
Robyn Hitchcock
! And they have a cider bus. Pretty good line up in my book! They have a surprisingly well designed flash website, which played me music from
Port O'Brian
while I browsed.
Is it just me? Or is
My Space
virtually unusable now-a-days? Sometimes the pages take minutes to load - I'm not sure if this is due to the quantity of images (sourced from all over the web) which have to load or what. But I find it very irritating! Grrrr.
I Like Monkeys
Little Howard proudly states
I Like Monkeys
in this short video. I saw him and Big Howard at
Summer Sundae
last year. I reckon he should go it along and ditch Big Howard

(only joking Mr Read!)
Thurs 23rd Aug 2007
Women of Birmingham
Having a look for live music this weekend, I came across
Richard Burke %EXT%
and his song
Women of Birmingham
, a heartfelt plea for said ladies "to give me a chance". Somehow funny but poignant - "I'm asking you please, I've been lonely all these years". Nice bit of guitar work too. Anyway, he's playing at the
Sunflower Sessions %EXT%
Sunday afternoon /evening freebie at the Yardbird %EXT%
with a number of other local singer songwriters.
Thurs 16 Aug 2007
Jason Cook
Jason Cook's show
My Confessions
at The Stand take you through 10 of the worst things he's done in his life, often prompted by that nagging voice which encourages him to play inappropriate practical jokes. However, it's not all comedy, the self-admissions and the stunning finale left me with a tear in my eye. See him - if you can get tickets.
The Smile Off Your Face
An amazing, moving, piece of one-on-one performance which starts with you being blindfolded and being placed in a wheelchair with your hands bound. In this vulnerable position of sensory deprivation, you disappear off into a secret world hidden behind a curtain. Sounds, smells and spoken word combine to generate a series of emotions and revelations which leave you with a depth of insight into yourself and your life. Totally recommended. The theatre company is called
Ontroerend Goed %EXT%
but I'd strongly suggest you don't read any more before you've been to see the performance).
Reginald D Hunter
Reginald D Hunter's show
F*ck You in the Age of Consequence
plays the largest venue I attended at Edinburgh, and it was sold out. This says something about the practised ease with which he works. You can see some short
video clips %EXT%
of previous shows, but you really need to get immersed in his show to appreciate his warm, revelatory style.
Weds 15th August 2007
In My Father's House
Kindle Theatre %EXT%
have already collected a
Must See rating from The Stage %EXT%
for this complex, deep, humorous and moving piece. I saw one of the Birmingham performances last month and loved it. Drawing on the interactions between ritual and individuality, questioning who we can put our faith into, it delves deep into the psyche of the four characters and packs an astounding amount of content into it's short hour. Even having seen the piece before, I was left with my heart in my mouth at certain points, and I'll never hear "The Hokey Cokey" in the same way again. Don't be fooled by the poster featuring an image of Christ - this is no wishy-washy Christian theatre group. Their previous shows at Edinburgh have also attracted rave reviews. See it.
Adam Bloom
Adam Bloom is an angry man. Or so he tells us. His story revolves around his attempts to deal with his tendency to get angry: when his girlfriend is insulted; when some one slights him in a supermarket; and when his attempts to get anger management don't pan out. Hilarious and engaging, apparently it only puts him in slight danger of a lawsuit for defamation of character.
Glen Wool
Glen likes a drink. Drunk Glen has given him some of the best nights of his life, and days, and 3 day benders. Warm, funny but slightly scary, you wonder just how far he might go, and the answer is pretty far. He's got beautiful stage craft, varying the pace and style of his performance and leaving the audience with face-ache due to laughter.
Tues 14 Aug 2007
More Edinburgh Comedy
Firstly to see
Nicole Korkolis's
show
I'll show you mine if you'll show me yours
at Laughing Horse@Berlin, a new venue to me at the far end of Princess St. Bawdy, audience interactive and fun. Oh, and free. Then
Jim Jeffries
at the Cow Barn, featuring some of his hit
You Tube
video of being punched in the face %EXT%
during a previous show. Worth checking out online, but the full version with his commentary added an extra dimension. Chilled out at the Green Room for a while then on to
Spank
where we were treated to some excellent work from hairy Australian comic Steve Hughes, Carey Marx and LLoyd Langford, plus a 4 person miming drag act
Sound of Music
and
Jamie Kilstein %EXT%
again doing his humourous rant against religion with hardy a pause for breath. See also
Richard Batsford's account of the day %EXT%
Mon 13 Aug 2007
Spank at the Underbelly
At Spank ("We love it!") to see Patrick Monaghan (warm and lovable irish comic),
Jamie Kilstein %EXT%
(excellent New York comedian who reminded me quite a lot of Jeffrey Lewis) , Sista She (bizare Australian comedy rappers) . On the way down the Royal Mile we caught the start of Mark Watson's 24 long hour show, attracting quite a big crowd.
Posted on the move at 14:02
See also
Richard Batsford's more detailed account of the evening %EXT%
Sun 12 Aug 2007
Pacific Ocean Fire
Pacific Ocean Fire were (unintentionally) the best comedy band at the festival, beating The Divine Comedy due to their relentlessly depressing lyrics. I felt like shouting "play a happy one" as we digested a stream of over the top sadness featuring people trapped under trains, sufferin terminal diseases or contemplating their next move whilst staring at their own reflection with a gun in their hand. Hillarious for it's unrelenting misery.
Posted on the move at 20:36
Sun 12 Aug 2007
Other Highlights
Sophie Ellis- Bextor
clearly not singing much of her own songs, evidenced by her holding up the mike to the audience but her voice continueing just the same. When she covered
Let's Dance
she did sing, but her voice was pretty ropey.
!!!
were great, in a new rave stylee.
Maps
were fun, and
Martha Wainwright
can sing, play guitar and banter well with the audience.
Kitty, Daisy and Lewis
are about 12 but really got the main stage going. Think I missed the best bits of
The Whip
but everyone else seemed to think they were good.
Fujiya and Miyagi
hale from Brighton not Japan, but made some very musical electronic sounds.
Posted on the move at 20:33
Sun 12 Aug 2007
Milton Jones
One of the festival highlights for me, I'd tried to see Milton Jones a couple of weeks ago in Brum but I was delayed and he was sold out. He's had a couple of excellent radio series, and his persona of a man puzzled by the ordinary world appeals to me. His delivery is good, with a lot of "groan jokes" which I love. It's hard to remember his material as there are a lot of one-liners and sureal twists, but he's well work seeing.
Posted on the move at 20:07
Sun 12 Aug 2007
The Lea Shores - Summer Sundae
Best band of the festival were the Lea Shores - swirling guitars and sounds which you can easily lose yourself in. Good VJing too with lots of stop motion films of journeys. Looked like they'd been taken from a bike mounted camera.
Posted on the move at 19:52
Sat 11 Aug 2007
Acoustic Vibronics
A showcase of local artists from the scoopes record label, with live but light dub and vocals. Brother Parves was the best me the bunch for me, with more complex and interesting lyrics.
Posted on the move at 17:58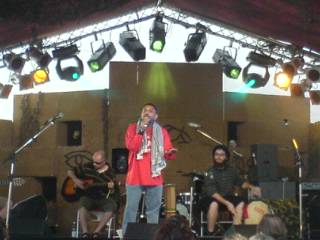 Sat 11 Aug 2007
Modified Toy Orchestra
15 minutes before they started on the
Rising Stage
at
Summer Sundae
, the place was empty. It soon filled up very rapidly. MTO are very professional and quite accessible, with plenty of great tunes and some excellent visuals. I've seen them play several times before, and they're always fun! The audience loved then and I was struck by
Dark Star
and a track about interspecies love (elephant and duck) with a great video.
Posted on the move at 16:34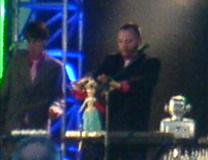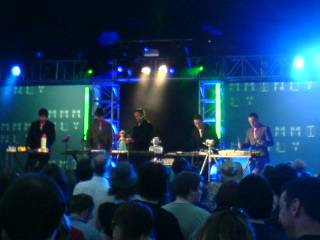 Fri 10 Aug 2007
Osama's Blue Balloon
Spotted this one at The Big Chill
Posted on the move at 14:12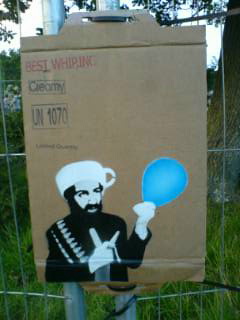 Fri 10 Aug 2007
Any Answers
Spotted this stencil in King's Heath. Nice.
Posted on the move at 14:06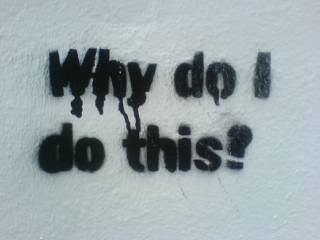 Tues 7th August 2007
I've added
new folder blog %EXT%
(ex-Liverpool, now in Smethwick) and Danny Bernardi's
From Under the Rotunda blog %EXT%
to the list of
Birmingham Bloggers
.
Sun 5 Aug 2007
Sky Lantern
Launching your six quid "sky lantern" isn't as straight forward as it might seem, even with help from the grand wizard.
Posted on the move at 20:11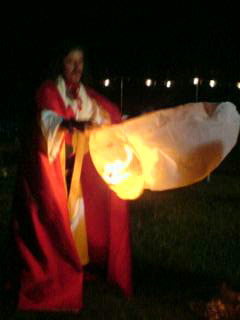 Sun 5 Aug 2007
John Hegley and The Popticians
Coming on to slightly too much dry ice, once it cleared we were treated to some classic Hegley.
Posted on the move at 20:05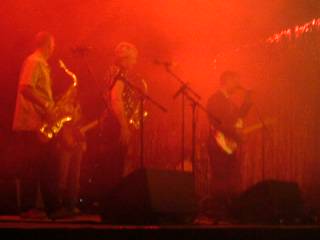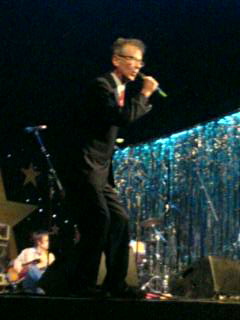 Sun 5 Aug 2007
Shaun Hughes
(Sat) Saw quite a bit of stuff up in the Big Chill Nights tent tonight. Kicked off with Shaun Hughes standup show which I've caught some of before. Lots of "adult themed" material as he kept refering to it, and it all went down well with the audience. There was a bit of wierdness with security, drunk women and a man in a dress, but it was all fun.
Posted on the move at 19:48
Sat 4 Aug 2007
Zebra People
Random scene from Big Chill.
Posted on the move at 17:02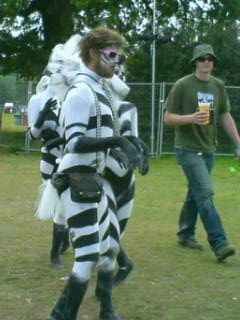 Sat 4 Aug 2007
Grass Portraits
Part of the Art Trail at The Big Chill, these photographs are "printed" on to grass, presumably by using a mask.
Posted on the move at 16:23
Thu 2 Aug 2007
Big Chill Radio
This is Big Chill radio's sequin covered disco boat, broadcasting from a lake just the far side of the malvern hills, and glittering in the sunshine

Posted on the move at 20:18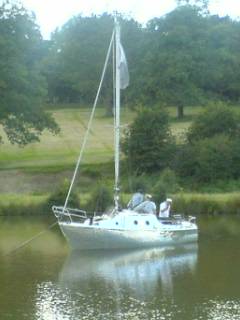 Wed 1 Aug 2007
Test Mobile Blog
Just testing, but here's a cameraphone picture of Misty's in Blue.
Posted on the move at 22:05
Weds 1st August 2007
Prev:
Blog July 2007
1 Year Ago:
Blog August 2006
Next:
Blog September 2007
---
Contact me: Website (at)
Andy Pryke
.com, try use a subject which will get through my Spam Filter! I've been having spam filter problems, so if you haven't had a response, I'm really sorry, please try again! See Also:
Web Changes
for other recent updates,
All Blog Pages
for previous blogs. You might also want to read other
Birmingham Bloggers
This is my blogchalk: United Kingdom, West Midlands, Birmingham, Moseley