Prev:
Blog August 2007
1 Year Ago:
Blog September 2006
Next:
Blog October 2007
Sunday 30th September 2007
Comedy and Improv Night at Atticus
Atticus is a venue I've never visited before, it's in Bearwood, just round the corner from The Bear and on the number 11 bus route, so relatively easy to get to from Moseley. Tonight's line up featured James Cook, Gary Delaney, Mrs Barbara Nice and Okse trying out some new material and playing improv games. If I had to make a pick of the bunch, I'd go for Gary Delaney's new material - he had some great one-liners (and some which weren't so great but which he loved so much he could hardly tell them for laughing).
More Birmingham Bloggers
Added
Peter Miller's Blog
to the list of
Birmingham Bloggers
. Peter has just moved to blogspot, and you can find
links to his archives
in his first post.
Saturday 29th September 2007
Blue Man Group on Global Warming
I went to see the
Blue Man Group
back in
March 2006
, and I've just come across this
video of them %EXT%
on the topic of global warming. Quite nice.
Thursday 27th September 2007
Beautiful,Touching and Wise
Rich Batsford's
Gig at the
Old Joint Stock
was billed as his first, although he has previously performed in various other bands, and solo at the local Buddhist centre and Church! The music was a mixture of Rich's haunting piano instrumentals, touching songs about friends and relationships and some Beach Boys covers. You can
download his first album
(of instrumentals) for free! Great gig, I just hope he records some of his other work soon, as I'd love to hear it all again.
Rich Batsford at the Old Joint Stock
Wednesday 26th September 2007
Binary Oppositions
Vivid
and
The Rainbow
in the thriving musical and arts quarter of Digbeth provided the venues to launch Binary Oppositions. Matt Price has worked (with many others) to produce a snapshot of some of the most exciting and innovative work coming out of Brum, including a CD featuring 20 artists and an exhibition scheduled to travel to Italy. Music featured on the CD includes some of my favourites:
Misty's Big Adventure
,
Kate Goes
,
Pram
, and many other excellent musicians. It really is a "must have" (or "must listen"?). There are only 500 copies in a limited "gallery edition", so act quickly! It's
available on Static Caravan Recordings %EXT%
, though currently listed as "unavailable" - I'm guessing that's because the web-page is still pre-launch. For those of you in the North of Italy, you can visit the exhibition at the
Citric Gallery in Brescia %EXT%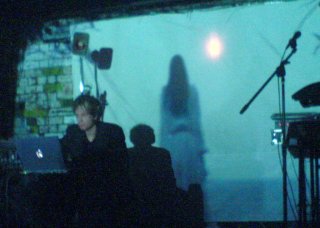 Micronormous at The Rainbow
Mike in Mono at The Rainbow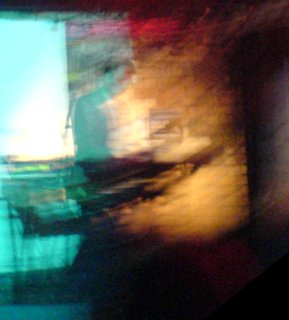 Mike in Mono at The Rainbow (Swirled)
Tuesday 25th September 2008
Cornelia Parker and Marjolijn Dijkman
Two great exhibitions at the
Ikon Gallery
. Majolijn Dijkman's hypnotic video installation
Wandering through the Future
shows clips from 70 films set in the future and drew quite a crowd. It's an hour long so I'll be heading to the Tower Room at the Ikon to chill out in front of it at some stage. Cornelia Parker's work has been suspended. Or rather, Cornelia Parker's work is suspended. Pieces which really caught my eye included chunks of earth excavated from under the Leaning Tower of Pisa, suspended in layers and completely occupying a large part of the 1st floor gallery. Another on the 2nd floor is a kind of cross section of a forest fire, with charred wood and pine cones floating silently in the centre of the room. The pic doesn't really do this one justice, but the work is interesting and worth seeing.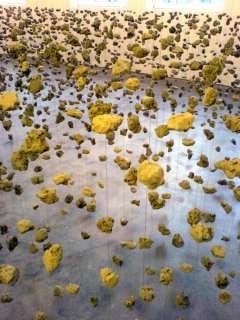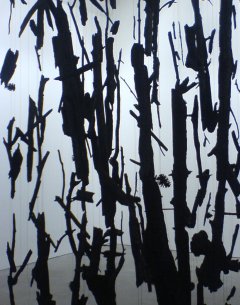 Cornelia Parker - Suspended Earth and Wood
Sunday 23rd September 2007
Pantigelli near Abergavenny
Spent the weekend at a bunk barn in Pantigelli, near Abergavenny. Pantigelli (how do you pronounce that?) isn't too far from
Pertholey
. Hmmmm...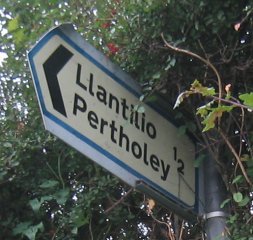 Pertholey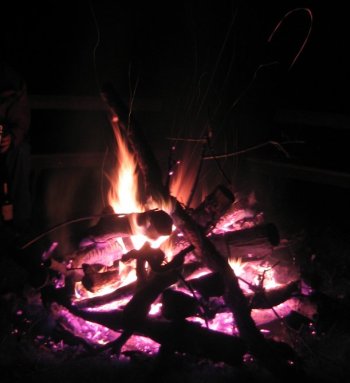 We had a great fire - is it the infra-red that made it look purple?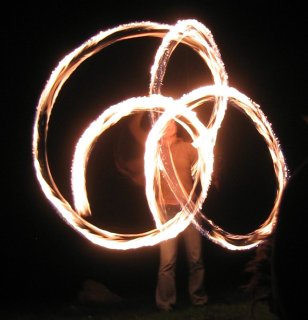 Someone brought some fire poi.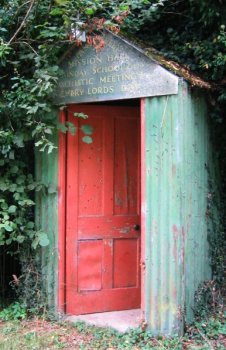 This tardis like building is
The Mission Hall
with a "Meeting every Lords Day". There is actually a building behind it but it's so overgrown that this is the only part you can see.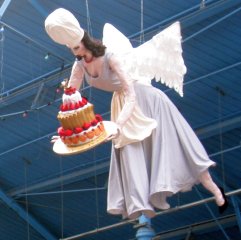 Angel, Cake. The market hall in Abergavenny had several flying chefs, a left over from the food festival the previous week.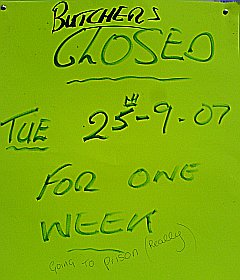 Butcher closed (due to being locked up). The butcher's shop in the market hall had this sign up. I'm not sure they wrote it all themselves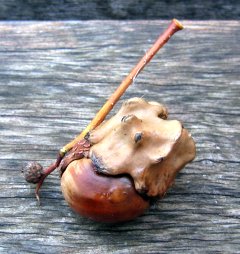 An oak apple wedded to an acorn I liked this. Somehow it seemed like a metaphor for humanity - two separate but interacting things (mind and body) welded together. (That makes me sound like a dualist. hmm. my philosophical position on "what the mind is" and "what a human is" is a bit more complex than that. Should get round to writing it up sometime).
Sunday 16th September 2007
City Hall
City Hall was open today as part of the Thames Festival. It has some amazing stairs!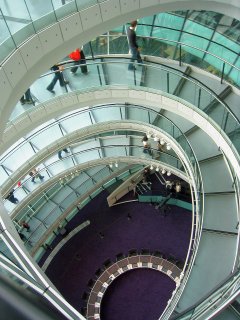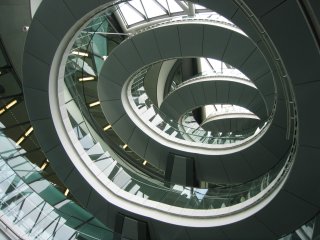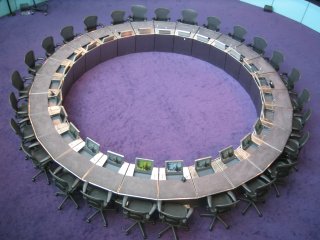 Singing in "The Scoop"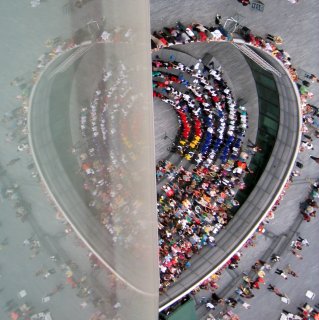 The Heart of London With the right reflection, The Scoop next to City Hall takes on a special shape. The colours you can see are the school uniforms of children forming a giant choir.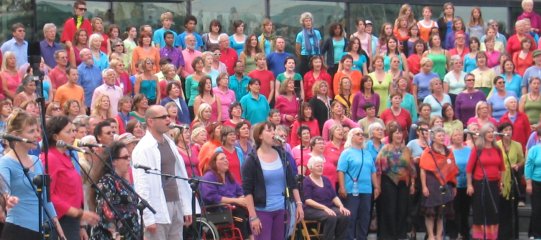 These are some of the 800 people singing together to raise money for Water Aid. The tales of Guinnea Worm and other problems certainly got me to donate.
Tower Bridge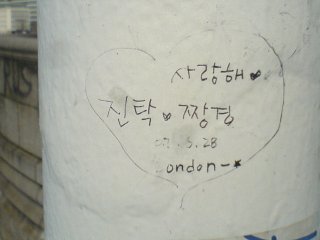 Plighting one's troth on Tower Bridge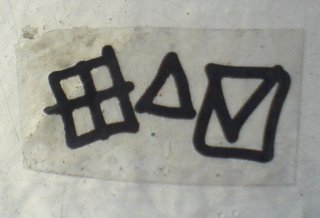 Sticker on Tower Bridge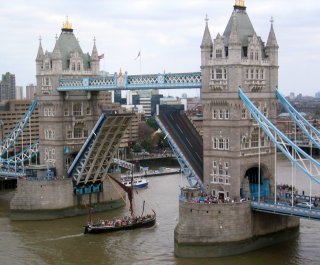 Tower Bridge open for shipping
Millenium Flame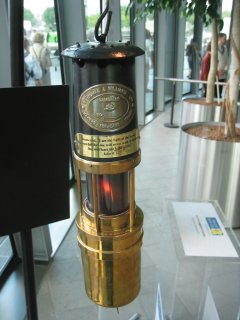 Millenium Flame - lit in 1999 and burning continuously since! This flame resides in City Hall.
No to ID. Buy your ID card here.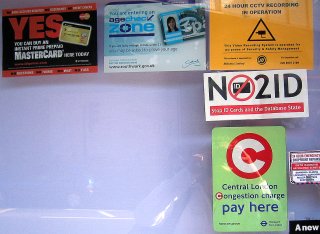 Nice display in the window of a newsagent. a "No to ID" sticker rubs shoulders with a notice about 24hr CCTV and advert for "Age Check" cards.
Thu 13th September 2007
A Victory(i)
On the bus today, I noticed an advert for "British Gas Electricity". They were claiming that their electricity has the lowest CO2 emissions of any supplier. If they think this is the criteria that people use to make their choices, then maybe, slowly, we're getting somewhere!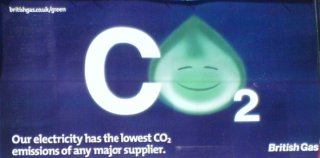 A Victory (ii)
I heard today that the application by
Moseley Golf Club %EXT%
to build a practice area on
Billesley Lane Allotments %EXT%
had been turned down - because of a clause I got inserted into the Birmingham Unitary Development plan. It was a lot of work for all of us, scrutinising and commenting on a document the size of a telephone directory (3 times), attending the public enquiry and arguing the case, but it shows that the less glamorous side of work at
Friends of the Earth %EXT%
does pay off!

I'm not claiming the credit - lots of people have done much more work than me to fight to keep these allotments, but it's so nice to have a payoff from all that work! On the downside, there's still lots to fight for to ensure this isn't overturned, but let's skip the downside for today

Thu 6th September 2007
Damian Ortega - Ikon Eastside
A fun and well attended opening at Ikon Eastside, Damian Ortega's sculptures transform rolls of sheet copper into waves, mazes and cones, with a great brilliance and colour. It runs till 21st October, though the flyer says "open Monday 15th and Tuesday 16th October" - so might be work checking the opening times/days with
Ikon
.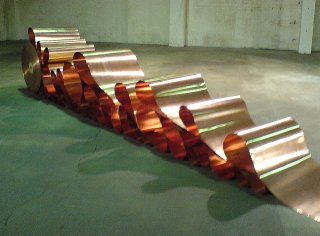 Copper Waves - "Being" by Damian Ortega
Weds 5th September 2007
xkcd Comics
Randomly websurfing and I came across
xkcd %EXT%
, a comic strip which mixes geekdom and romance, and is both funny and loveable. Here's a romantic / geeky one


and a couple of geeky ones:

and

A couple of other favourites: "
Dream Girl
", "
Candy Buttons
", "
Choices(1 of 5)
" or you can just go for a
Random Cartoon
.
Mon 2nd September 2007
Is it art?
I saw this strange "canvas" at the bus stop opposite the Birmingham Coach Station, on the little road where
The Anchor
pub is. I liked the look of it.
No. It's a burnt poster.
Sat 1st September 2007
Moseley Folk Festival
Although the cloud's didn't break until sunset, it was still a nice day to sit in the park, having a picnic and listening to music. When Fairport Convention started, I was quite near the back, and not so impressed, even though I've seen and enjoyed them on previous occasions. Before I left I though I'd wander down to the front, where I'd watched Tungg, and they were so much better close up. You could see the band rivalries and acting up which you get when people have played together for many many years. Great musicians, I'm glad I stayed to catch all their set.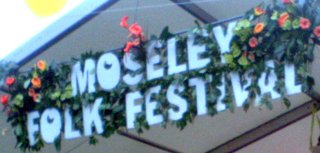 Moseley Folk Festival Sign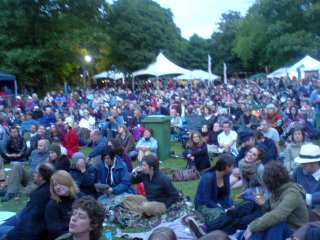 Crowd at Moseley Folk
Passwords to 100 Embassies
Swedish hacker DEranged has published
login details for 100 embassy email accounts
around the world. Apparently they are running software with well known flaws and haven't fixed them. He implies that they have been vulnerable to a simple hack for several years. Who knows how many other people have exploited this flaw to spy on embassy email traffic. His aim in publishing them is to get them and the thousands of other businesses and organisations to sort out their email security. Classic passwords include
Password
(The UK Visa Application Centre in Nepal, Hong Kong Democratic Party, Indian Defence Research & Development Organisation),
1234
(Indian Embassies in China and the USA) and
kenya
(Iranian Embassy in Kenya). There are going to be some mightly p'd off people...
Prev:
Blog August 2007
1 Year Ago:
Blog September 2006
Next:
Blog October 2007
---
Contact me: Website (at)
Andy Pryke
.com, try use a subject which will get through my Spam Filter! I've been having spam filter problems, so if you haven't had a response, I'm really sorry, please try again! See Also:
Web Changes
for other recent updates,
All Blog Pages
for previous blogs. You might also want to read other
Birmingham Bloggers
This is my blogchalk: United Kingdom, West Midlands, Birmingham, Moseley